Are you travelling soon and is starting to think about packing and products that will make your travel easier? I am so excited to share with you the travel products I found at my recent visit to Oomomo (which has tons of Daiso products) here in Toronto. The items I will mention to you below are mostly for packing and travelling to your destination. If you are interested in products that are helpful during your trip, please let me know on Instagram @makingdayscount and I would love to share that with you as well.
I wrote another Oomomo Daiso post about things you can get for your home. Most of the items are $2, unless otherwise stated. It is pretty good quality considering the price and choices available to you.
In this post, I will share some of the items I found that will be beneficial to you when you are travelling.
Whether you are preparing to go on a trip soon or later, be sure to check these items out.
Pin this for later!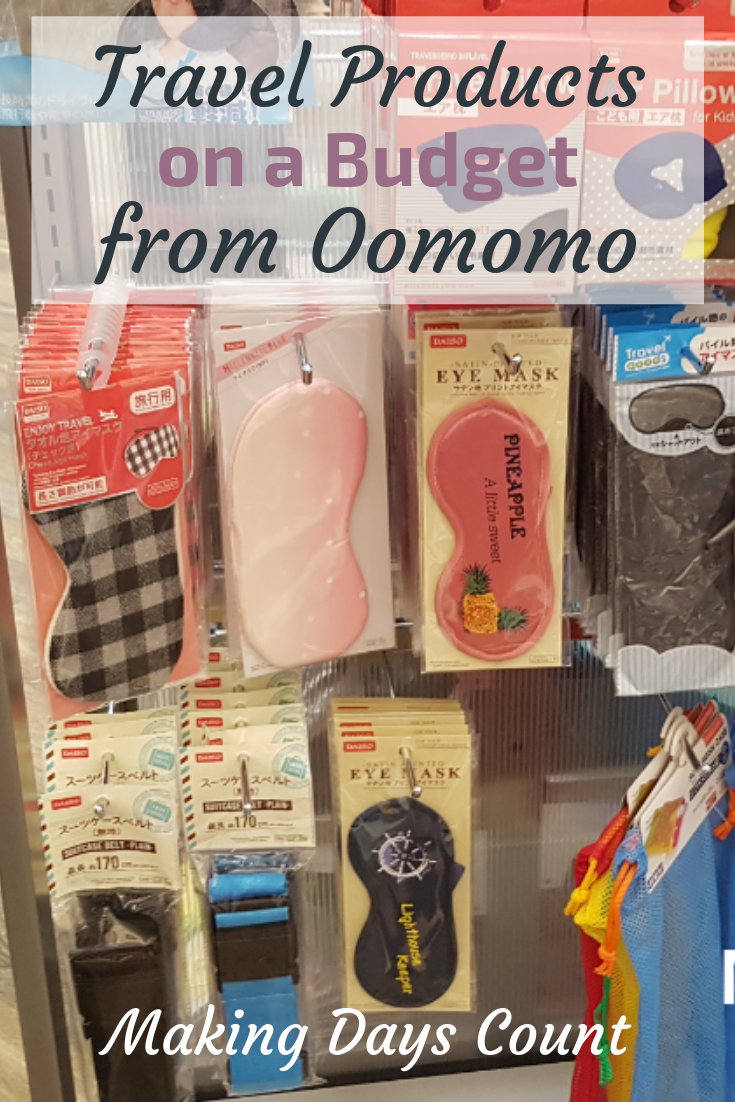 Here are 7 items you can get from Oomomo / Daiso for your travels:
BY CLICKING THE LINKS AND MAKING A PURCHASE, I MIGHT BE EARNING A SMALL COMMISSION AT NO ADDITIONAL COST TO YOU. PLEASE SEE OUR FULL DISCLOSURE FOR MORE DETAILS.
1. Packing Cubes
Oomomo sell these packing cubes for you to fold and pack your clothes in a tight compartment. They are not very big so it would be better for items such as under clothing and socks. Also, if you have lightweight clothing or clothes that can be fold in a compact way, they are great for you. However, if you have huge items such as items or hoodies, it might not be ideal.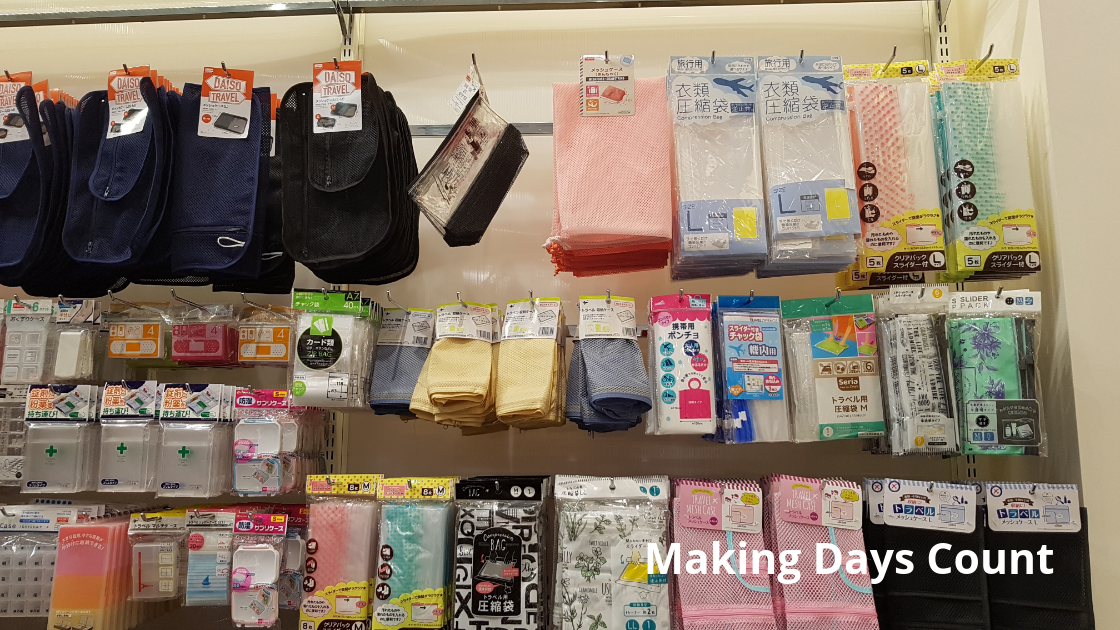 Also, if you are only planning to bring a carry-on, these are such a perfect size and you can get a few of these packing cubes for different categories of clothing you are bringing. Take a look at what you have or are thinking to bring and see if this applies to you.
If you need bigger packing cubes, here is a link online where you can get bigger ones. Unfortunately, Oomomo does not have bigger sizes so check out online stores or your local Walmart or Target for them.
2. Medication Containers
As we travel, we realized that we need to bring medication for emergency purposes. We are not sure if the place we are travelling to has the medication we need or if it is going to be significantly more expensive. Usually, we would bring them in different small bottles and it can get heavy.
These medication containers come in really handy where you can put different types of medications in them.
M was going back and forth on which on to get because there are different sizes and compartments in each. Think back to the medications that you usually bring and get the one that makes the most sense to you.
3. Mini Neck Pillow
The reason why I wrote this down as a mini neck pillow is because it did not go all around my neck (I don't consider my neck to be big). This would be perfect for kids. It was the beady kind, instead of foam.
Everyone has their own preference on which one they would prefer and you can see that there are different designs on there.
If you are looking for an adult neck pillow, click here to see the different types of neck pillows available online at Amazon. Please read the reviews before getting a neck pillow. Being comfortable on the plane can either make your trip start off well or uncomfortable.
4. Sleep Mask
Along with the neck pillow, Oomomo has so many options for sleep masks. If you are the type who needs to be in complete darkness to sleep, the sleep mask will help you to sleep better.
I think they also sell eye masks or face mask if you want to keep your face moisturized on the plane as it can get really dry.
Are you the type who prefers to sleep on the plane or the type who wants to watch all the movies available on the plane? Please let me know in the comments below.
5. Luggage Strap
Are you looking for a luggage strap to hold your luggage together? We were looking for one when we were travelling last year and only found them at the airport. It was more expensive than this one at Oomomo / Daiso.
There are a few choices there for you to choose from. Do check the measurements before you buy it. Sometimes they are for carry-on luggage versus the big ones that you check in. If you are unsure while you are there, you can look online to see what the regular measurements are for the luggage size you are thinking.
6. Laundry Mesh Bag
The laundry mesh bag is found in the home section of the store, but I wanted to include it here in my travel post. When we travel, we usually go for one week or two. However, now with a baby, we are thinking that we need to do some laundry while travelling (in case of poop explosions or not wanting to pack too much).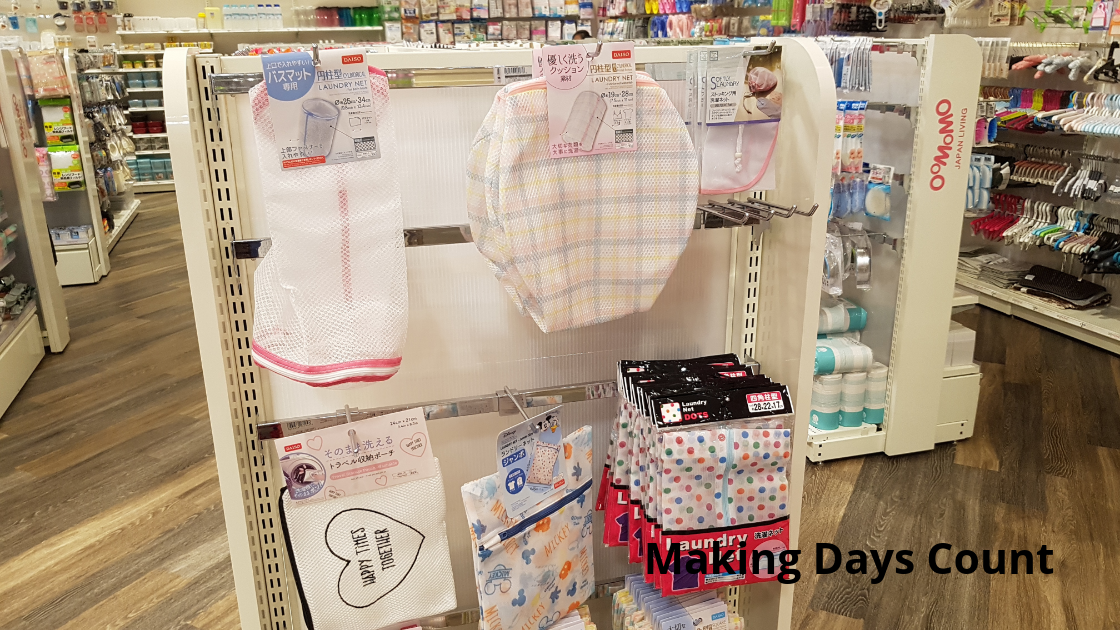 These are small laundry mesh bags for underclothing, baby's clothing, socks, and other delicate items you want to wash during your travels. Best of all, they are cheap and if they break, you can easily replace them.
7. Clear Liquid Containers
Have you heard of the 100 ml or 3.4 oz liquid rule at the airport? The rule is that you cannot bring liquids in your carry on bag that exceeds that amount. In Canada (not sure about other countries), they give you a bag to put your liquids in. You can have multiple bottles of 100 ml liquid, but they must all fit in that bag.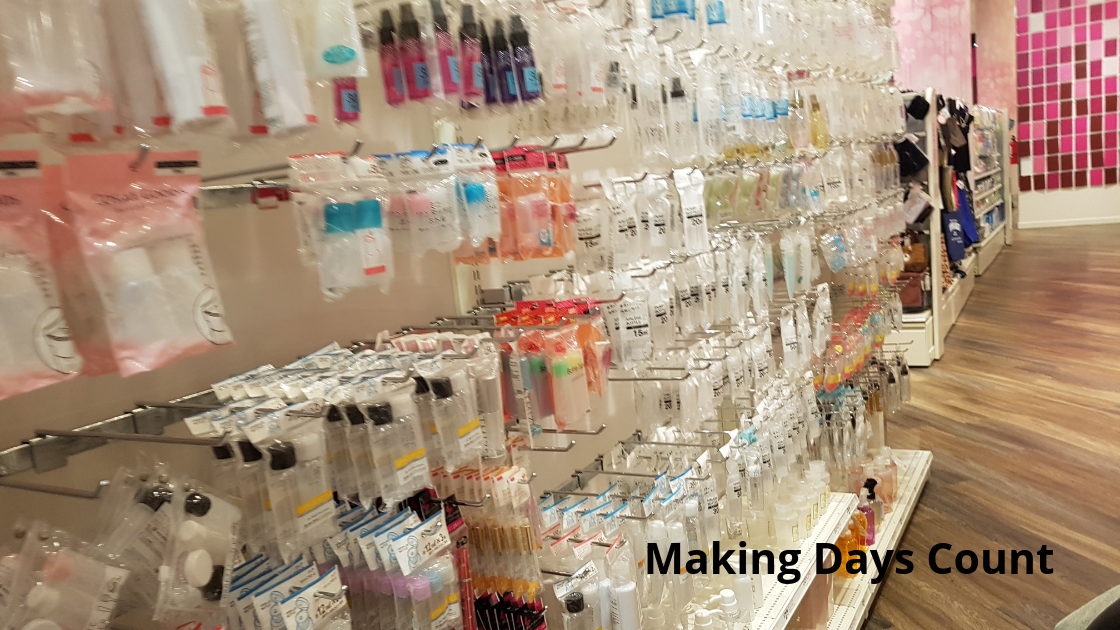 Sometimes, I just bring a Ziplock bag and it is about the same size.
There is an exception to the rule and that is if you have a baby. You are allowed to bring in water, food, formula, and milk for the baby. Please check with your airport's requirements for confirmation. This is what I know of the airport here at Toronto Pearson and we also had the same experience with the airport at Orlando (MCO).
With these clear liquid containers, you can store your liquids and not need to worry about exceeding the limit. We put sunscreen, and soap and shampoo (if we need) in these containers. If you prefer to bring your entire bottle of face wash or other products, you can check them in with no problem. Just remember to seal it well so that it does not spill everywhere in your luggage.
Thanks for reading. If you are interested in similar posts, please check these out:
If you like what you read, please pin the image below and share it with others. Thanks!