Osaka Aquarium Kaiyukan is such a fun place to visit when visiting Osaka.
It's such a huge aquarium with a ton of fish and sea creatures. I would definitely recommend you to visit if you have the time to.
When we visited the aquarium, we went in the morning and spent around 2 hours before heading for lunch.
If you are interested in Osaka, here is my 24 Hours in Osaka, Japan post.
Here are 5 things I love about the Osaka Aquarium:
BY CLICKING THE LINKS AND MAKING A PURCHASE, I MIGHT BE EARNING A SMALL COMMISSION AT NO ADDITIONAL COST TO YOU. PLEASE SEE OUR FULL DISCLOSURE FOR MORE DETAILS.
1. The website shows you how to save money on their entrance ticket
If you visit the Osaka Aquarium website, you will see that they mentioned how you can save money by combining both the Aquarium ticket and also a full day transportation pass.
It is called the Osaka Kaiyu Ticket. Here are the details: http://www.kaiyukan.com/language/eng/kaiyu.html
What I love about it is that you can get this at the train station and use it right away. Also, you'll avoid the long lines at the Aquarium. That to me makes it hassle-free and saves a lot of time.
Do you see the line on the right? That's too long. With the ticket, you can go straight into the aquarium.
2. Osaka Aquarium is huge
There are so many levels with different exhibits surrounding the giant tank in the middle that you won't feel too crowded while walking around.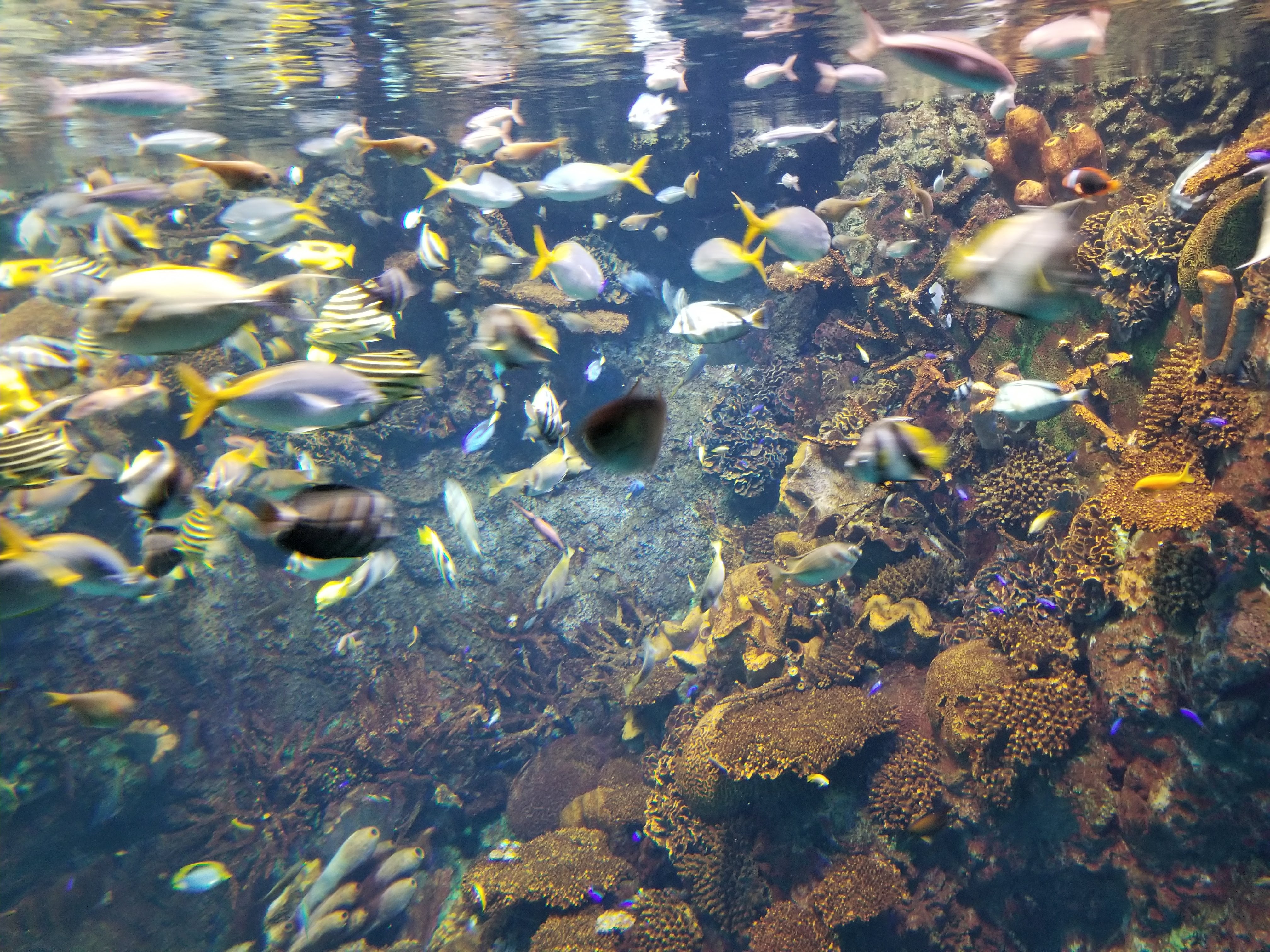 Explore the different types of sea animals and also animals that live on both land and sea.
There is a lot to see so take some time to enjoy each of the sections on the different floors.
If you prefer to see the whales and sharks, they have that. They also have jellyfish. If you would like to experience touching the stingray, they have that too. What is awesome is that they have these hand washing stations that you can wash after touching the fish.
According to Wikipedia, there are 27 tanks. That's a lot.
3. The Aquarium is family-friendly
There are so many families who visited when we were there. The kids ranged from babies to older school children.
Due to the Aquarium being huge, there are so much for the kids to see and experience.
They can experience the feeding of the penguins or watch the movements of these underwater creatures.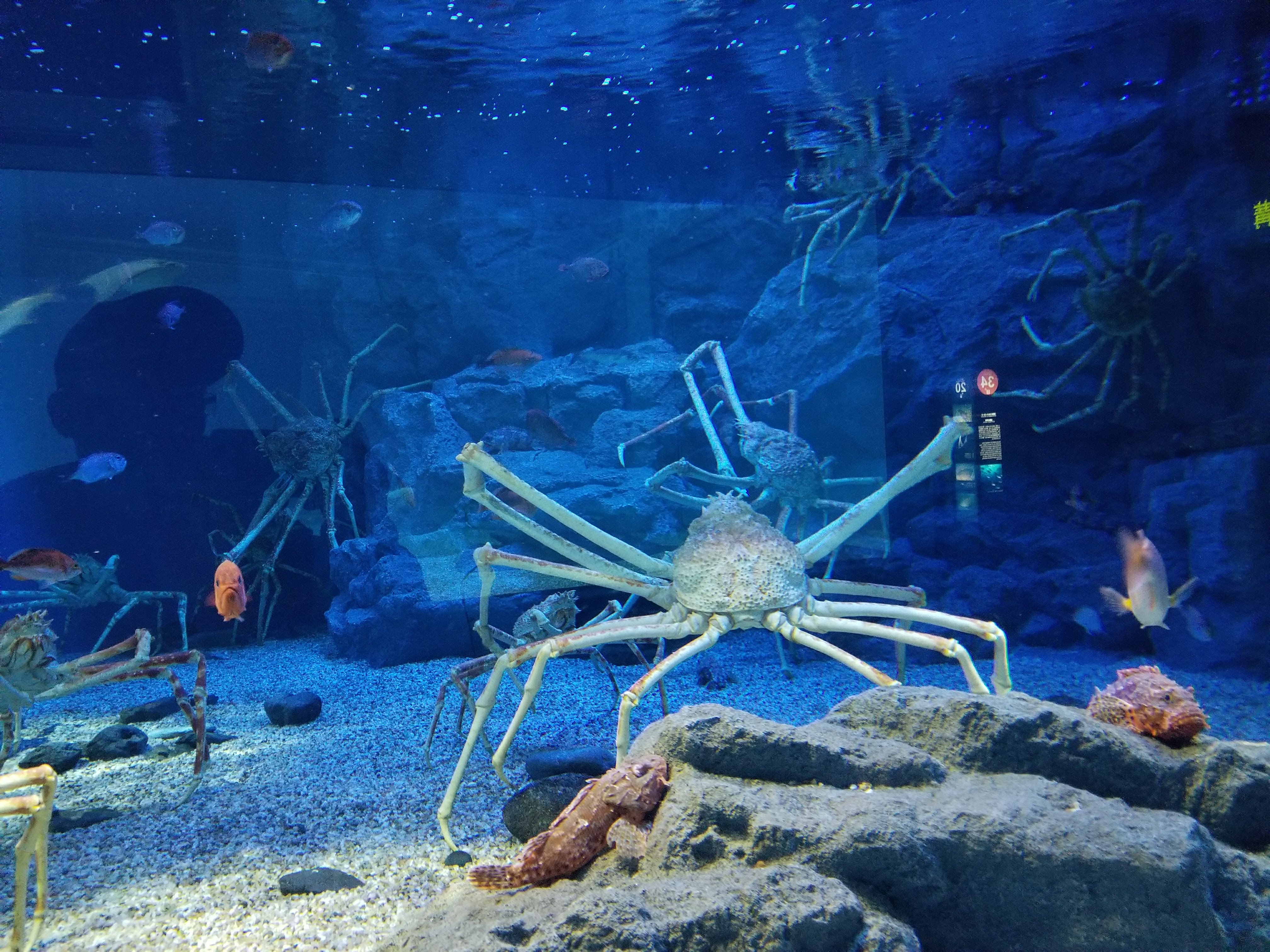 If you walk around the Aquarium, there are certain tanks that have seats nearby that you and your family can rest, if you're tired from walking around.
The children we saw there were so excited and in awe of the different species there.
4. The Osaka Aquarium has lockers
Isn't that amazing?
Similar to major train stations in Japan, the Osaka Aquarium has lockers on the main floor upon entry. You can store your items if you do not want to walk around with them.
I did not use it as we stored our hand luggage at the train station lockers.
If I was coming from somewhere other than the train station, I would use the lockers for sure.
5. Finally, the gift shop has so many cute things
I usually don't like to spend money, but the souvenirs were just so cute.
We ended up getting a small whale plushie.
If you like kawaii or cute things, the gift shop is a must-visit.
Here are more pictures:
Pin this!