Are you going to the Happiest Place on Earth? Before you can go, you will need to pack for Disney. I will share with you briefly my packing list of what I brought to Disney with only a carry on.
Packing for a trip should not be the most stressful thing, but done well can make your trip a lot more enjoyable.
Please know that we try to be light packers and if you want an idea of how to do that for Disney, I'm so glad that you're here.
Before I continue, please know that this blog post is a part of my Disney series when I share my experience from beginning to the end.
If you would like to catch up on my Disney series, check these out:
Packing List for Disney: Carry-On Only (This Post)
Pin this for later!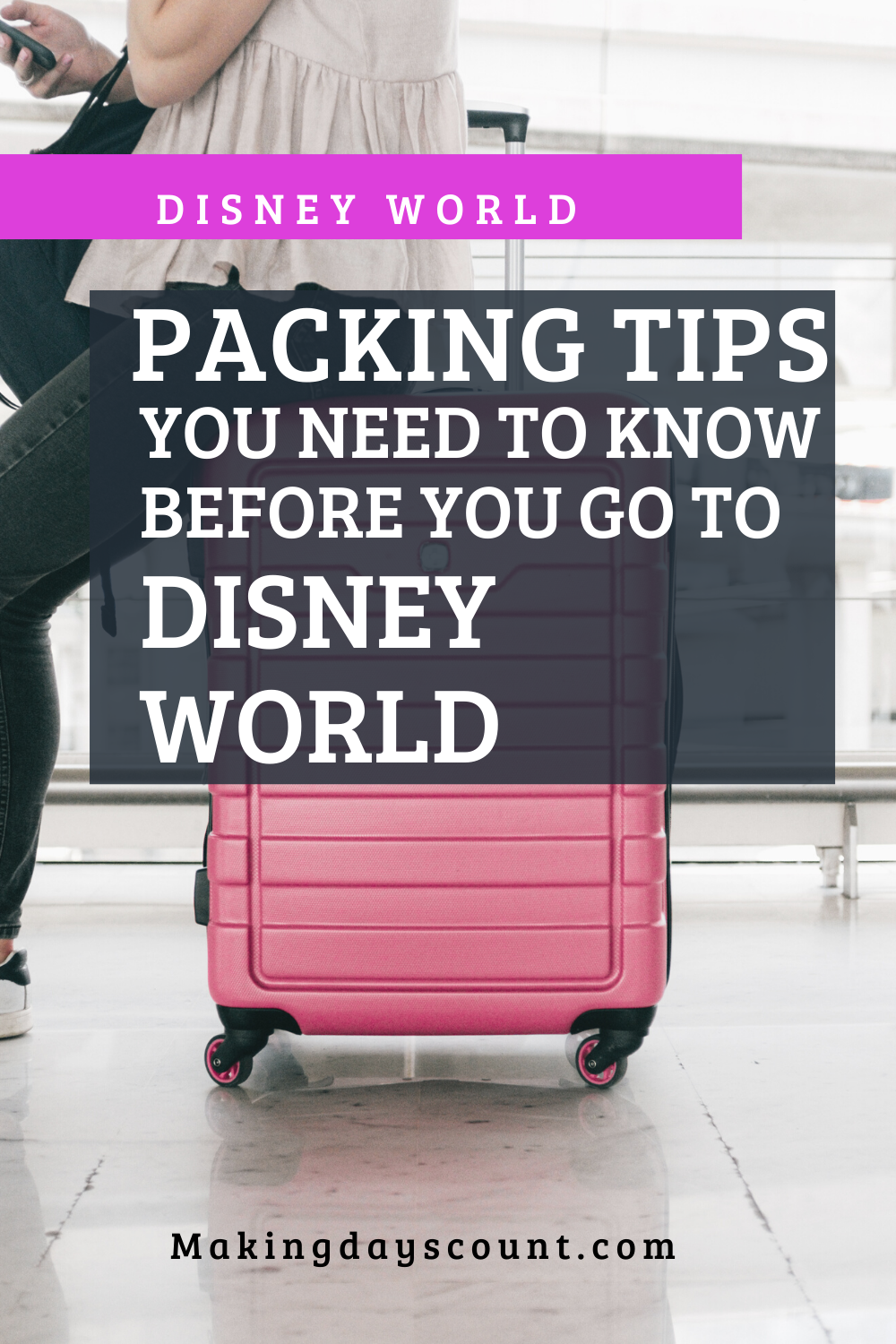 Here is how we packed for Disney using only carry-on luggage:
BY CLICKING THE LINKS AND MAKING A PURCHASE, I MIGHT BE EARNING A SMALL COMMISSION AT NO ADDITIONAL COST TO YOU. PLEASE SEE OUR FULL DISCLOSURE FOR MORE DETAILS.
Before I go into our packing list for Disney, we brought one carry on luggage, a diaper bag, and a personal bag. We chose not to check in our luggage as we felt that we did not need to and also, we want to be as hands-free as possible especially with a baby. Also, we bought a stroller from Amazon to deliver to our resort so we would be coming home with an additional big item.
One: Clothing
M and I each brought a shirt per day that we were there, two pairs of pants, one swimwear, and underclothing and socks. I also brought an extra pair of sandals to wear on a non-theme park day.
For Baby K, she had 8 to 9 outfits (I don't remember exactly), two pajamas, a hat and a cap, and swimwear.
We tried to keep everything as minimal as possible and washed whenever there was a poop explosion or dirt at the resort.  If you are interested in the poop explosion, read Baby's First Flight: 8 Mistakes To Avoid.
At Disney, there were many families who wore matching Disney-themed shirts and that looked like a lot of fun. If you are interested to check out where to buy these customized shirts, I highly recommend Etsy. You can also get personalized Mickey Ears and accessories on Etsy as well.
Two: Diapers
M and I decided that we were going to bring all the diapers for Baby K for the week. We were only in Disney for a week so we calculated how many we need.
We multiplied the number of diaper changes one day by seven. For example, if we change her 7 times a day, we would bring 49 diapers with a few extras.
The number might seem big, but the diapers do not take that much space really. We were able to fit them all in both the diaper bag and our carry on.
You can always buy more at Disney's theme parks baby center if you need to. We just did not want the hassle of finding diapers that are her size, but knew that if we needed to, we could get more there.
Three: Food and Drinks for Baby
At this stage, Baby K mostly drinks breast milk and formula, with her dinner being cereal. We have not really experimented with other types of solid food at that time.
M divided her formula and cereal into different containers and labelled them. We got them at Oomomo, but I think any small container will do. We also brought her bowl and spoon for feeding.
Similarly to the diapers, we brought all her food as they were all in powder form. We also brought a thermos (similar one here) for hot water to mix her formula and food.
If you baby has started to eat solids, you might want to do some research on what is available at the food court or restaurants in your resort. Another option is to get an Uber or taxi to the closest Walmart or Target and get your supplies there.
However, if you are stay offsite at an Airbnb and renting a car, find the closest convenience store or Walmart/Target to get your baby supplies instead of bringing it.
Side Note: You can create a free account on Airbnb and receive CAD $45 off your first CAD $90 home booking rental.
Four: Toiletries
Since the resort provided most of the toiletries, we brought our own toothbrush and toothpaste, sunscreen, personal hygiene products, and medications.
For medications, what we brought include baby Tylenol and also the NoseFrida, just in case for emergencies. Thankfully we did not need to use any of the medications we brought.
I suggest that you bring a little more than you think you need as you might not be able to find the exact medication at the resort at a last minute notice.
Five: Entertainment
I packed a book, and some toys for Baby K. She only needed them at the airport or on the plane. At Disney, there were so much to see that she did not need any additional entertainment.
Another item I packed for Baby K were these bubble sticks from the Dollar Tree. Though I did not use them at the theme parks, I used them in the resort room to distract her when she was fussy or just to entertain her while we wait for M.
For the adults, we had our phones and M brought his tablet. A lesson I learned about being a parent travelling for the first time is that if your baby is not asleep, you are their entertainment. If you are travelling with your partner or a family member, take turns to play with the baby or show the baby around, when at Disney.
Six: Accessories
One thing that I highly recommend to all of my friends for their packing list is to get the Baby Banz. It is to block off any sudden loud noises that might scare or wake the baby while at Disney or on a plane.
Don't forget to bring your Magic Bands if you have already received them. We got ours at the resort because we live in Canada. Next time, if we go back to Disney World, I will be sure to remember to bring ours.
Seven: Miscellaneous
Passports, don't forget them if you are travelling from another country (like Canada).
One of the most important things that we brought was our Ergo baby carrier. It really helped when Baby K wants to be carried and not sit in the stroller. I feel like it gave her a different perspective and she likes that, besides being close to us of course.
I saw on a YouTube channel to bring those portable fans as it can get really hot in Orlando. However, when we went, it was not too bad and I did not really use it. I think we used it once or twice during the whole week. If you are going in the summer or the fall, this might be something you want to consider in your packing list.
Think about what you would need for the parks and for non-park days. Do your research and then tailor it to your needs.
Thank you so much for reading. If you are interested in my other Disney posts, please check them out here:
Packing List for Disney: Carry-On Only (This Post)
If you like what you read, please pin the image below and share with others. I truly appreciate it.