Postpartum tips are not as frequently talked about as preparing for the baby. As moms, we can be bombarded by the information of what we need to get to prepare for the baby, how to ensure that the baby has the best this and that.
However, it is as important to talk about what happens after you give birth to the baby.
I've read somewhere that says the mom or parent needs to feel equipped and rested before they can give the best to their family. It's true. You cannot pour from an empty cup.
In this blog post, I will share with you 10 things about postpartum I wish I knew before having my first. I will definitely keep them in mind before I have my second one in this spring.
Please know that I am not a medical expert, but a mom who shares from her heart. My experience may differ from yours, but that is okay. We all have our own journeys of parenthood.
Pin this for later!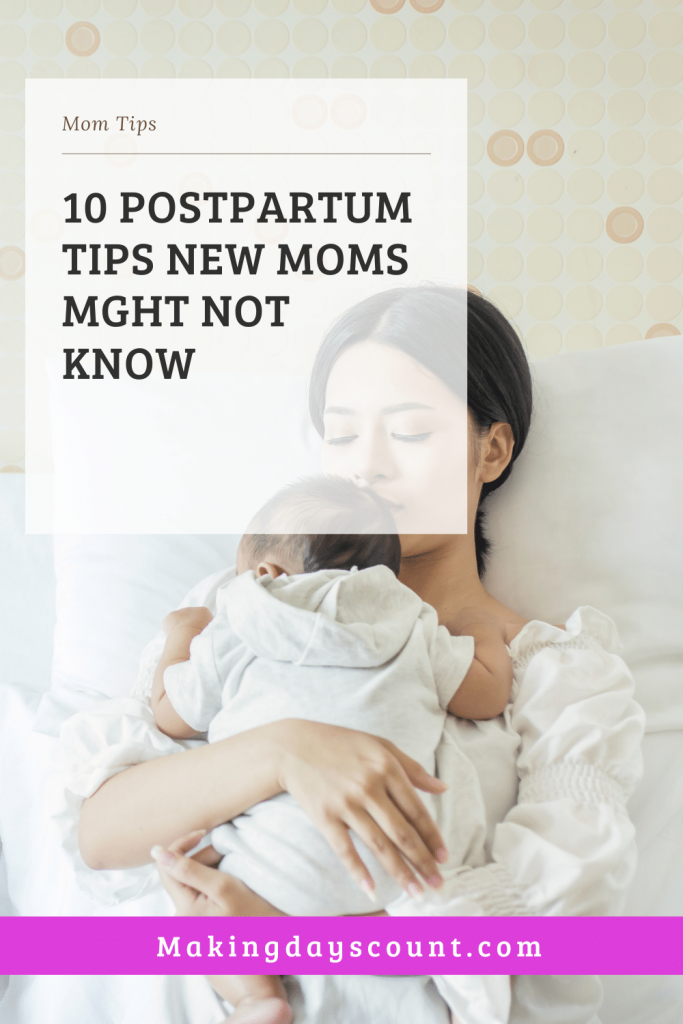 Here are 10 Postpartum Tips for the Mom-to-be:
BY CLICKING THE LINKS AND MAKING A PURCHASE, I MIGHT BE EARNING A SMALL COMMISSION AT NO ADDITIONAL COST TO YOU. PLEASE SEE OUR FULL DISCLOSURE FOR MORE DETAILS.
1. When does my period return?
This was a question I asked my mommy friends when my period didn't come for 9 months after my daughter was born.
Their answer varied from 6 weeks to 1 year.
When doing research, I read that it depends on breastfeeding and how often you do it. However, my friends also breastfed but their periods came back a lot faster than mine did.
So, what I'm telling you is that it will come when it comes. Also, it might not be back to the regular cycle right away. Every woman's body is different and reacts differently.
To prepare for your period, you might want to wear a liner in case you have an inkling that it might come.
Another thing that I read is that it is still possible to get pregnant even when your period has not returned yet. You can decide what you want to do with your family planning, just keep this in mind as well.
This postpartum tip is to tell you that don't worry too much about when your period comes back. When it does, just put a pad on and go with the flow. Your body will adjust to the new routine with time. If you are concerned, do check with your healthcare provider as they might have better answers for you.
2. New level of lack of sleep
Speaking of new routine, my friend once told me that there is no sleep, just naps when you have a newborn.
It is the harsh truth.
This saying actually helped my husband and I get through some really tough nights.
Whether you choose to train or co-sleep with your baby, the lack of sleep is real the first few weeks (or months).
Some tips to help you get through this:
Go with the flow, sleep when baby sleeps (or binge watch something if it makes you feel better)
The first point of going with the flow is to be adaptable with whatever baby throws your way. Every day is a different day. They might sleep well one day and not the next. Just know that you are not alone.
Sleeping when the baby sleeps might not allow you to have enough time to do what you want, so do what you want. If you want to sleep, go ahead. If you want to finish that episode of your favorite show, do it.
You need it.
2. Invest in a swaddle or baby sleep sack
The swaddle or sleep sack helps the baby feel like they are being hugged, just like in the womb.
Some people swear that it makes a huge difference. Others say that their babies are ninjas and are able to get out of the swaddle as quickly as you put them in.
I personally found it helpful for my baby to sleep a little longer.
There are different types of swaddles:
3. Get help from family, friends, or hired help if you can afford it
Sometimes as mothers, we need our break.
We cannot do everything at once and also stay sane at the same time. Sometimes, something has to give, whether it's house chores, meals, or another priority in your life.
If you can, ask for help. A friend or a family member to just watch the baby nap while you go do something, that'll be helpful. Breathe some fresh air, have alone time, or even talk to another adult. It'll be refreshing to you and you can come back even better to take care of your baby.
3. Mood changes
This can be a sensitive topic as many might not think that it affects them.
Let me share my story.
After having my daughter, I started having anxiety about my daughter's safety and the things I was doing throughout the day. My husband would listen to my worries and also pray with me to help me feel better.
Over time, the anxiety went away and it is a concern that I have for this new baby too. What if I feel the same way?
Another type of mood changes could also be frustrated easily or being upset that something does not work like I thought it would.
Hormones after giving birth is also unpredictable just like it can be for some people during pregnancy.
Mood changes might happen for you, or it might not as we are different people. However, if it is a concern or you feel like you might have postpartum depression or anxiety, please speak with someone. Remember that you are not alone, even though times can seem overwhelming.
4. Getting used to the new reality
I mentioned in my previous point that getting used to a new level of sleep or naps is something that we need to get used to.
What I was told was that after having a baby, we will all have a new normal.
The normal that we all used to know is never going to be the same again. Your morning routine, night routine, and what you do throughout the day will now be mostly focused on the baby. Or at least, the baby will be heavily influencing what you do or not do throughout the day.
This is not to tell you that you will never get back to normalcy (whatever that means to you). However, take it a day at a time.
Figure out your new life and schedule as a parent to a newborn. Slowly adjust and you'll be fine.
If you have an old child or children, there might not be a drastic change but still a change to your routine with the new baby in the mix.
One of my favorite postpartum tips is to prepare yourself and your family members for what is to come and how everyone can make life a little easier and fun.
5. Hair changes
Whether your hair will start falling like mine after giving birth or increase, your hair will do its own thing.
As your hormones might be all over the place after giving birth, it can be hard to prepare for what truly might change in your own body.
My postpartum tip for you is to not stress about it. Yes, you might not feel your best with the hair changes, but your body is doing the best to adjust to the new life, routine, and if you breastfeed, provide the nutrients for your baby.
Interestingly enough, when I'm pregnant this time, my hair actually is falling like usual if not a little more. I wonder what my postpartum hair will be like this second time after giving birth.
6. Alone time
Moms, dads, listen to me.
You do not need to be with your baby all the time if you can leave them with your spouse or someone else you trust with all your heart.
Alone time is not just taking a shower or going to the groceries.
It is about having that time to do what YOU want.
Watch that episode, go for a run, or just sit in the car listening to your favorite music. Why not?
In the beginning, it might feel weird to just not be with your baby. However, after a few times, you'll feel better about yourself, your life, and also you'll be more refreshed coming back. Yes, even if you're just in the other room.
I found it difficult and very weird to leave my daughter with my husband alone. He's the best dad for my children, but it definitely was a strange feeling for me since I was with her all the time.
Over time, I feel a little better to have my alone time. I feel so much better after an hour or two going to a store nearby. You should give it a try when you can.
7. Surrounding yourself with support
It's so important to surround yourself with support, whether in person or online.
There are two types of support you'll need:
One, it is the parents support group.
Whether you have friends who are fellow parents, or you participate in online forums, it is good to have this support. You can ask them questions, listen to their stories, and also know that there are others who are experiencing the same thing as you.
I was very blessed to have friends who had babies around the same time as I did. Also, I'm grateful for those who have kids a year or two before me.
They received my late night messages and give me tips when I needed it. I found those who had babies closest to mine are most helpful as they remembered if something similar happened with their babies.
If you can find fellow parents for this support, it'll help make parenthood a little easier.
Secondly, support within your home.
This one can be a luxury for some.
If you can get some support within your home to do chores or even to watch the baby, that would be helpful for you.
Sometimes, as moms, we can forget to eat during the day when we're so busy taking care of our babies. If your spouse can help with making sure that you eat or take care of the baby while you do xyz, it'll truly make a difference.
8. Prioritize with your time and energy
You can only give so much.
There, I said it.
With a newborn, it can be difficult to do everything the same way as you used to. You'll have to decide what is worth doing and what is not.
Start saying no to the things that will not benefit you or your child.
If the dishes can wait one more hour or overnight (and you get some rest), it's okay. I'm not going to judge you.
You'll have to be firm on what you think is good for your family and sanity.
In preparation for your baby, you might want to do some freezer meals and throw them into the instant pot when it's time for dinner. Or, you can automate some bill payments for a month or two if it helps you keep on track.
In my first post of the year, I talked about organizing baby's clothing with these closet dividers. These can help you keep clothes organized how you would like it to be so it's easier to get them dressed in the morning, or mid-day in case of a poopy explosion.
Find ways to save your time and energy before you have your baby. Make informed decisions to help your life a little easier when you have your newborn.
9. Hacks and tips from family and friends
When someone has a baby, it's very easy for others to share their hacks and tips on what worked for them.
I've heard the following (might or might not work for you):
Putting cabbage leaves in the freezer and then in your bra to soothe the engorgement of your breasts
Don't bother with button up sleepers, just the zipper ones (easier to dress them and remove)
Place the clean diaper under the dirty diaper, so that when you remove the dirty diaper, you can just put on the clean one on the baby right away.
You might hear other hacks and postpartum tips from family and friends.
What I'm encouraging you to do is to take note, but not take it to heart. We are glad that these tips work for our family and friends, but they might not necessarily work for us.
You can definitely try it out and if it works, great! If it doesn't, at least you tried.
Remember that all babies are unique in their own way and respond to things differently. So, as parents, we do what we can.
10. Know that you're doing great
This last but the most important of the postpartum tips is that you are doing great. Know that you are this baby's parent and only you know what is best for your baby.
Not matter how hard the day is, your baby still loves you for the way you are. They think that you are the best parent ever.
Even if we don't feel like it, you are doing the best that you can and that's enough.
I hope that you're able to learn some tips from my experience as a soon-to-be second time mom. Wishing you all the best and feel free to message me on Instagram @makingdayscount if you have any questions.
Related:
Thank you so much for reading my blog post on "Postpartum Tips: 10 Things to know". Be sure to check out my baby closet dividers printables here! If you like what you read, please pin the image below and share it with others.  Thanks!