Thinking about what to get someone a baby shower gift or registering for gifts for the baby in your belly? This can be such an exciting time to see what is out there for babies. But hold up, I'm going to share with you gifts that are practical.
These are gifts that I personally found really useful as a first-time mom.
You can get cute gifts too, but be sure to include one of the baby shower gifts on this list.
Babies can be expensive, yes, even breastfed babies. From all the big items such as cribs that you need to buy to tiny items such as pacifiers, it can really add up.
In the list below, I'm sharing with you 11 practical baby shower gift ideas that you can get for the mommy to be.
You can share this list with others if you are expecting and you don't know what to ask for.
Pin this for later!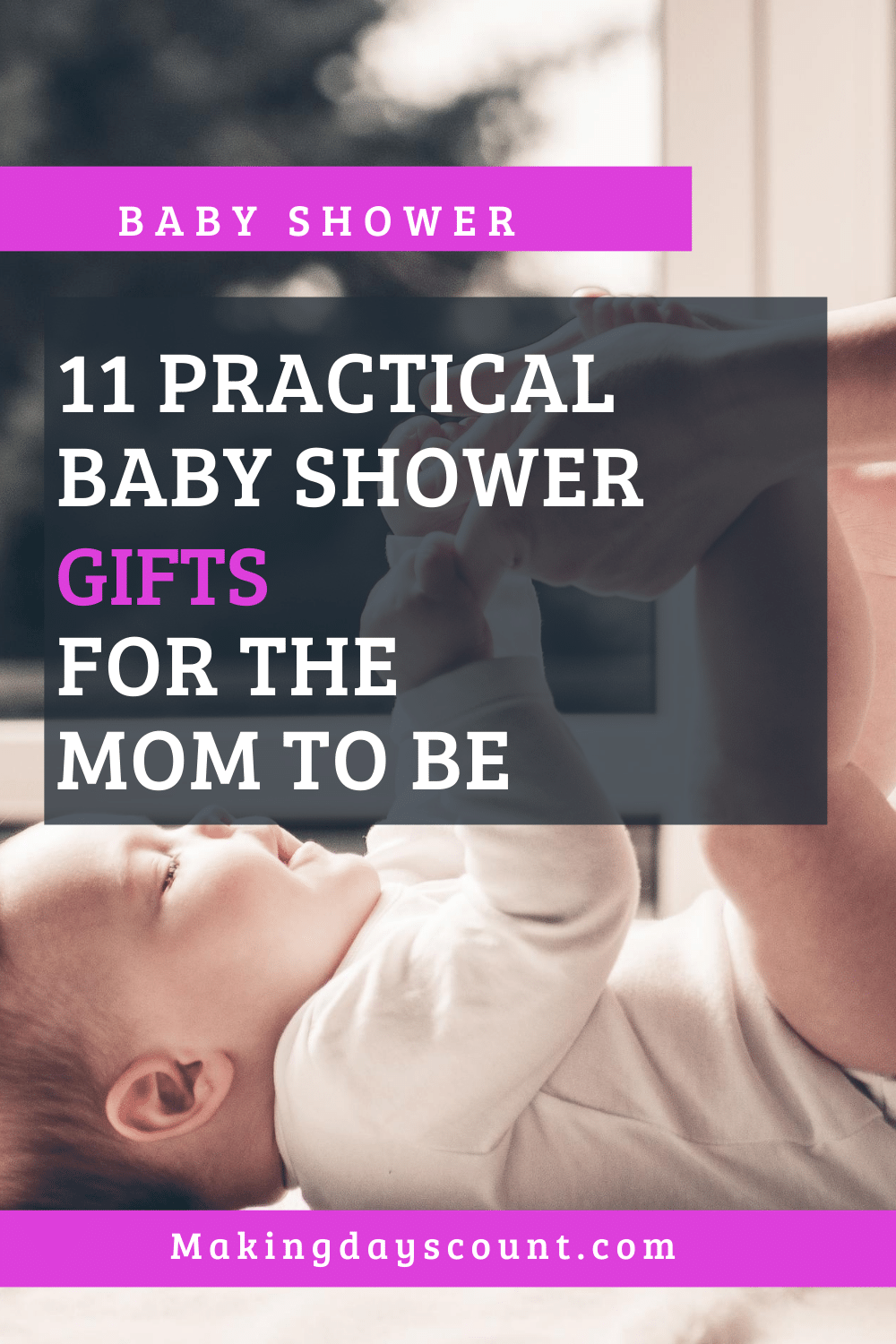 Here are 11 practical baby shower gift ideas that you can give:
BY CLICKING THE LINKS AND MAKING A PURCHASE, I MIGHT BE EARNING A SMALL COMMISSION AT NO ADDITIONAL COST TO YOU. PLEASE SEE OUR FULL DISCLOSURE FOR MORE DETAILS.
1. Diapers and Wipes (Ask for the brand)
One baby shower gift idea that could be great is diapers and wipes.
You'll want to ask the parents to be for their brand preference before going out to buy one.
For diapers, you can make a diaper cake. I saw on Pinterest that you can stake them 6 on top, 9 in the middle, and 23 on the bottom. Play around to see how you can put them together.
Or, you can just send it to their house from Amazon since it might be easier. You can sign up for Amazon family to get additional discounts on the diapers and wipes.
For the wipes, you can also send it to their house from Amazon similarly to the diapers.
Having diapers and wipes is super helpful as the babies use a lot in their first year.
This baby shower gift is great for second and third time moms too! It's really practical and much appreciated.
2. Mommy Self-Care Kit
It's really important to take care of the mom as well, not just the baby.
You can give her a self-care kit like this.
Or you can put together a basket of items such as these:
Their favorite tea bag or coffee pods
Lip Balm
Eye mask
Small package of pads
When a person becomes a parent, especially moms, they only think about their baby and can forget about taking care of themselves.
A mommy self-care kit is a great baby shower kit for the mom.
3. Bigger clothing sizes
You know the tiny, most adorable baby clothes you've ever seen? Yes, you can get them for the baby but they grow out of it so fast!
What I would suggest is for you to get the bigger sizes as you do not know how big the baby will be when they are born.
Some babies are 5 pounds when they're born while others are 10 pounds. Bigger babies might not fit the newborn size clothing.
It is probably best to size up and your gift will actually be worn more often. Most people tend to gravitate towards the tiny baby clothing like newborn and 0-3 months sizes but as a first-time mom, I greatly appreciate the 6 to 9 months and above clothing.
I am also guilty of buying more of the smaller newborn sizes than the larger sizes.
Someone gifted us 6 to 9 months clothing and it was pretty smart. I did not have many of those sizes and my daughter wore them more often.
4. Gift Card
This baby shower gift idea might not seem like you're putting a lot of effort but is actually greatly appreciated.
You can buy what is on their registry list, but with a gift card, they can choose what they want to buy.
Initially, my in-laws gave us their baby car seat as it was not expired yet. So, when people asked me if there were big items that I needed to buy, I did not have any.
However, later, we learned that my sister in law was also expecting so we returned their baby car seat to them.
With the gift card that was given to me by my work colleagues, I was able to purchase part of the baby car seat and stroller combo (similar one here).
If you're getting a gift card, be sure to do it through Rakuten and get some cash back. It's a win-win for both of you. If you sign up through this link, you can get $5 cash back after spending $25 on your purchases through Rakuten.
5. Pajamas with hand and feet covering
I've mentioned this in my "Top Items New Parents Must Get For Baby's First Year", but these pajamas with hand and feet covers are really useful especially for the younger ages.
Babies scratch themselves unconsciously with their long nails. Though their skin heals rather quickly, it can be upsetting to see all the scratch marks on their faces in the morning when we wake up.
These pajamas with hand and feet covers are perfect to keep them from scratching themselves.
I would not recommend mittens as they can get lost rather quickly.
6. Face cloths
As mentioned in the Top Items post as well, face cloths are a wonderful practical baby shower gift idea.
It's really useful to have a pack of face cloths around for different purposes such as wiping drool, bath time, and also wiping mess off the table.
Here are some of the recommended face cloths on Amazon that you can get.
You can choose different patterns depending on your preference.
7. Bottle Sanitizer (with gift receipt)
Another great practical baby shower gift is a bottle sanitizer. This helps sanitize the baby bottles and breast pump parts.
With the lack of sleep and the constant list of what parents need to do, the bottle sanitizer is easy to use and very convenient.
This is also something that can be used for a long period of time until the couple is done having children.
Do include a gift receipt in case the parents to be already have one or if they would prefer a different brand.
8. Picture Books
Picture Books are really great for newborns and babies alike.
The best ones are the cardboard ones where the durability is great. You can also get the soft cloth books as well.
Here are some of my recommended books for babies:
Paperbacks are not a bad option, but the baby might tear it accidentally or bite on it. So cloth and hardcover books are probably the best for this age group.
9. Easy to Clean and Durable Toys
There are so many options of toys out there for babies. It can get pretty overwhelming.
You'll want to get toys that are safe, easy to clean, and toys that lasts for a long time as the baby will spend a lot of time with it.
Some toys you can check out include:
With younger babies, you do want to be cautious of the size of the toys as they will most probably put things in their mouth. Not all babies do, but many do. Check out the reviews before you buy these toys. The reviews can be really helpful to see from other parents' perspectives or even the usability and durability of the toys.
10. A Coupon Book
This can be a really fun yet practical gift for newborn parents.
You can get it made for you on Etsy here or do it yourself at home.
Here are some ideas to get you started:
Good for one hour of babysitting (while the mom naps or does what she needs to)
Good for one girls night out
Must claim: the best takeout food ever (if you know what they like, it'll be even better to write that)
Good for one listening phone call (sometimes parents need to rant as they figure out parenthood and need some encouragement)
Good for one babysitting session for the older child or children
Be as creative as you want with this but do keep this in mind as they might take you up for it.
11. Growing Baby Care Kit
It is also important to have a baby care kit for new parents. What this consist of are items that will help the parents take care of the baby's growing needs.
What you can include are:
They do sell some of these items as a set on Amazon so you can just get them online. Another option is to get the items separately and put it together as a gift basket for the parents to be. This would be another great baby shower gift.
Related:
Thank you so much for reading my blog post on "Practical Baby Shower Gift Ideas". If you like what you read, please pin the image below and share it with others. Thanks!