Are you planning to go to Walt Disney World soon and thinking whether you need to get Magic Bands? We went to Disney in April and loved our experience with using our Disney World Magic Band. They were so useful that we'll be sure to use them the next time we go to Disney.
We received them when we checked into our resort, Walt Disney World All-Star Sports Resort, and even got one for our almost 7 month old. I will share more about what it was like to use these Magic Bands as first time users.
Before I continue, please know that this blog post is a part of my Disney series when I share my experience from beginning to the end.
If you would like to catch up on my Disney series, check these out:
Rookie's Guide to Disney World's Magic Bands (this post)
Here is my Rookies Guide to Disney World's Magic Bands:
BY CLICKING THE LINKS AND MAKING A PURCHASE, I MIGHT BE EARNING A SMALL COMMISSION AT NO ADDITIONAL COST TO YOU. PLEASE SEE OUR FULL DISCLOSURE FOR MORE DETAILS.
What is a Magic Band?
According to the Disney's website, they are "all-in-one wristbands" that will allow you to travel lighter and enjoy your vacation without worrying about bringing the Disney cards, as long as they are linked to your My Disney Experience app.
Now that you are familiar with what it is, let's talk about what you can do with these Magic Bands.
Things to do with your Magic Bands:
1. Get access to the parks
After going through security and bag checks, scan your Magic Band and fingerprint and you will have entry into the parks. It is quite a quick process. You'll just need to remember which finger you used because you'll need to use the same one every time you go.
Please note that you will need to activate your tickets at the Customer Service booth before scanning. We didn't know that so we lined up, scanned our Magic Bands only to be told that we needed to activate our tickets on our Bands. So, don't make the same mistakes as we did.
2. Pay for your food onsite
You have the option of adding your credit card to your Magic Band. You can use it to pay for food and certain merchandise. We mostly used cash because of the exchange rate, but we did use our Magic Bands to pay for room service. It'll super helpful when you're also dealing with a tired baby at night.
I've read that people bought discounted Disney gift cards to pay their credit card off at concierge, but I did not try that. Please let me know if you do.
3. Scan for your Fastpass
When you have connected your Magic Band to My Disney Experience app, not only you can scan for entry, but also scan for your Fastpass entry.
Fastpass at Disney World are absolutely free. You can choose them up to 60 days in advance if you are staying on Disney property, and up to 30 days if you are not staying on Disney property.
4. Connect to Disney Photo pass
Throughout the Disney parks, there are these Disney photographers as iconic spots such as in front of the Cinderella castle at Magic Kingdom, or at character greetings. They will take your pictures with their cameras and scan one of your Magic bands to load the pictures on your My Disney Experience app.
You can prepay for a package for all your pictures or pay separately for the day. Is definitely cheaper to prepay, check the Disney website for the price.
Alternatively, you can also ask the photographer to take a picture with your phone after they take your picture with their camera. They are willing to do that and it's free.
5. Entry to your Disney resort room and pool
When you get to your room, all you need to do is tap your Magic Band against the handle area and it will allow you access to the room.
Everyone in your party has access to the room, yes, even the baby's magic band. We tried Baby K's Magic Band and it worked.
If your pool requires you to scan before entering, be sure to wear it and not worry as it is waterproof.
6. Match your Disney outfits
We saw many families have these matching Disney shirts, which seemed like a lot of fun! You can also add these Magic Bands as a part of your matching Disney outfits.
The matching outfits we saw look like this:
There are options where you can personalize with your name, the year you are going, etc. The options are endless.
7. Adjust to fit you or your baby
The length of your Magic Band can be adjusted. For adults, you can wear it like a watch.
For younger children or babies, there is a part of the Magic Band you can remove to shorten the Magic Band to fit them.
Baby K was 7 months and it fit her too. Such a cutie!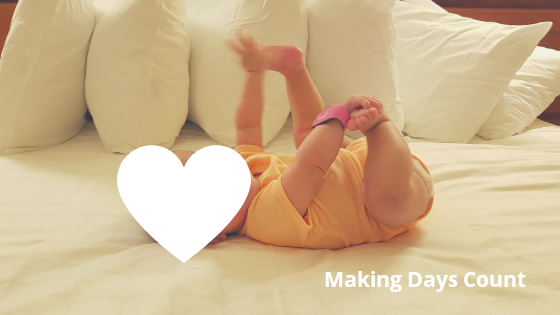 8. Reuse on a later trip
Save the Magic Bands for a later trip. The account linked to the Magic Bands will remain the same.
If you're staying at a Disney resort, you will receive another set of Magic Bands. However, you can reuse the ones you have if you like. Or get different colours for the next trip.
Where to get your them?
You can get your Magic Bands free if you stay on site at a Disney resort. They'll give them to you upon your arrival and check in as you'll need it for your room. What I like about this option is that it's free and it would confirm that the Magic Band is properly linked to My Disney Experience app.
Another option is to get them online at Disney Shop or Amazon. There seemed to be a lot more choices online than in the store and definitely more than the standard ones the resort gives to you. You will need to link the My Disney Experience app to the Magic Band yourself or wait until you get to Disney.
The third option is to buy them at the Disney store at your local mall. You can also wait until you get to the parks to buy it. Depending on the area or theme park you are in, you will see exclusive characters and design available to you. You will need to enter the parks with a ticket if you plan to buy your Magic Bands in the park.
What should you do after you bought or received your Magic Bands?
1. Check to make sure the Magic Band is linked to your My Disney Experience app.
This will include your access to the theme parks, Fastpass, dining reservations, etc. You can always ask your concierge to help you to link your account to the band if you're staying on Disney property or customer service at the theme parks.
2. Personalize your Magic Band
Whether you are adding your name on the Magic Band through the app (we did this at the same time as choosing our colours for the Magic Band), or add your personal touches, personalize it to your liking.
There are these decals you can add to your Magic Band 2.0:
Alternatively, you can add the decal to change the look completely:
These look like the monorail that you can take to Magic Kingdom. Take a look around Etsy and see how you could personalize your Magic Bands.
3. Remember to bring your Magic Band
I think I left our room once without wearing my Magic Band and M, my hubby, needed to run back to the room to get it. Good thing he noticed it before we got on the bus to go to a theme park.
You'll need it for all the purposes I mentioned earlier such as entry to the parks, Fastpass, and getting back to your room.
4. Take it home
After your trip is over, keep it and not toss it. You can use it again for your next trip or display it so you can relive the wonderful magical moments at Disney world.
Thanks for reading. I would love for you to check out the other blog posts on my Disney series:
Rookie's Guide to Disney World's Magic Bands (this post)
If you like this post, I would love for you to pin and share it. Thank you so much!