Animal Kingdom Lodge is such a fun resort to check out. You can stay at one of their rooms and enjoy watching the animals from your window. The restaurants offer some of the exciting flavors in their food with influences from India and Africa. If you are not staying at Animal Kingdom Lodge, you can visit the restaurants to experience the ambiance and see the animals in the Savanna.
We were staying at the All-Star Sports Resort and thought that we would drop by Sanaa, one of the restaurants at Animal Kingdom Lodge before heading to Animal Kingdom.
In this post, I will share our Sanaa Restaurant review.
Before I continue, please know that this is part of my Disney series. It would be great for you to check the other posts too:
Sanaa Restaurant Review at Animal Kingdom Lodge (this post)
If you have following my series, thank you so much.
Here is our experience at Sanaa Restaurant in Animal Kingdom Lodge, Disney World:
BY CLICKING THE LINKS AND MAKING A PURCHASE, I MIGHT BE EARNING A SMALL COMMISSION AT NO ADDITIONAL COST TO YOU. PLEASE SEE OUR FULL DISCLOSURE FOR MORE DETAILS.
How we got our reservation:
Sanaa is a quick service restaurant for breakfast. You will need to make a reservation for lunch and dinner.
It's always good to check Disney's website whether you will need a reservation for the restaurant of your choice. For more popular restaurants such as Ohana at the Polynesian Resort and Be Our Guest in Magic Kingdom, you will need to reserve in advance.
Arrival and Atmosphere
Since we were staying at Disney's All-Star Sports Resort, we need to first head to Animal Kingdom by bus, then take another bus to the Animal Kingdom Lodge.
When we got on the bus, the driver will ask you which restaurant you will be going to because there are two parts to Animal Kingdom Lodge. One is the Jambo House and the other being Kidani Village. He or she will let you know which stop to get off. For Sanaa, it is the first stop at Animal Kingdom Lodge.
Once you arrive, go to the front lobby and walk right. There should be an elevator to take to go to the lower level. If you are unsure, you can always ask the front desk before heading down. When we arrived, there was a cast member standing in the lobby and we asked him.
After you leave the elevator, there are signs that will point you to the restaurant.
Upon arrival, you will first order and pay for your food at the counter before choosing your own seats.
They will give you an animal with a number after you pay at the front so that the servers would know where to deliver the food.
Compared to the previous two restaurants I reviewed, Sanaa is a more intimate and relaxing restaurant. We felt like we can come and go at our own pace.
When choosing your tables, try to get one close to the windows where you can see animals roaming around while you eat. There are other tables available throughout the restaurants as well if you can't get a table near the windows.
We were able to get a table quickly near the window and saw some birds there.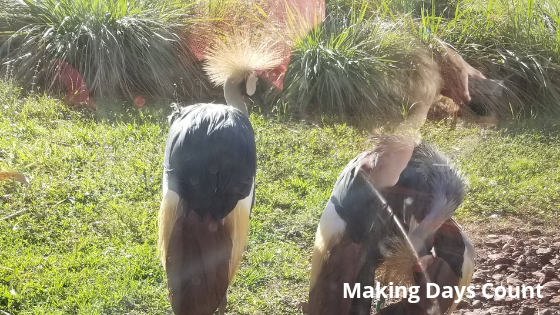 It's pretty exciting, especially for young children who are learning about the different animals and the sounds that they make.
The downside is that it can be difficult to take a well lit picture in the morning when the sun is behind shining towards the camera.
Food and Drinks
We ordered the Boere Breakfast and Safari Waffle. Also, M got coffee.
I had the Boere Breakfast and it came with these Tanzanian Hash Brown and Corn Johnny Cake.  It was my first time trying them.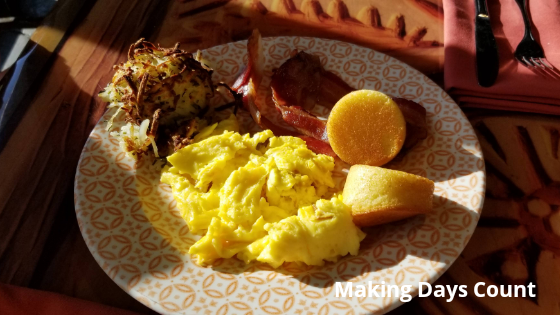 M mentioned that the coffee was good, so be sure to give that a try if you visit Sanaa.
For more information on the menu, check out Disney's website for Sanaa restaurant.
Overall, we enjoyed the theming of Sanaa restaurant, the view at the windows, and the trying of new foods.
Once you are done with your food, you can head outside to see the animals. There are signs with information about the animals that you might see in the savanna.
Thanks for reading. I would love for you to check out the other blog posts on my Disney series:
Sanaa Restaurant Review at Animal Kingdom Lodge (this post)
If you like this post, I would love for you to pin and share it. Thank you so much!