Singapore is such an amazing place to visit with kids. They have so many attractions throughout the city-state including Sentosa Island. If you are considering to go to Sentosa with a baby, I would love for you to read these 7 tips.
My family and I went to Singapore a few months ago and we had a lot of fun. Our daughter had just turned 1 and was really curious about everything around her. When we decided to go to Sentosa, I wanted to make sure that not only it was fun for the adults, but also for the baby.
Unfortunately, it was scheduled to rain the day that we wanted to go. However, the showers were sporadic so we were still able to enjoy the day at Sentosa.
Before you continue, please know that this is part of my huge Asia series. Please read the other posts here (will update as I continue to write):
Sentosa with a baby: 7 Tips (this post)
Pin this for later!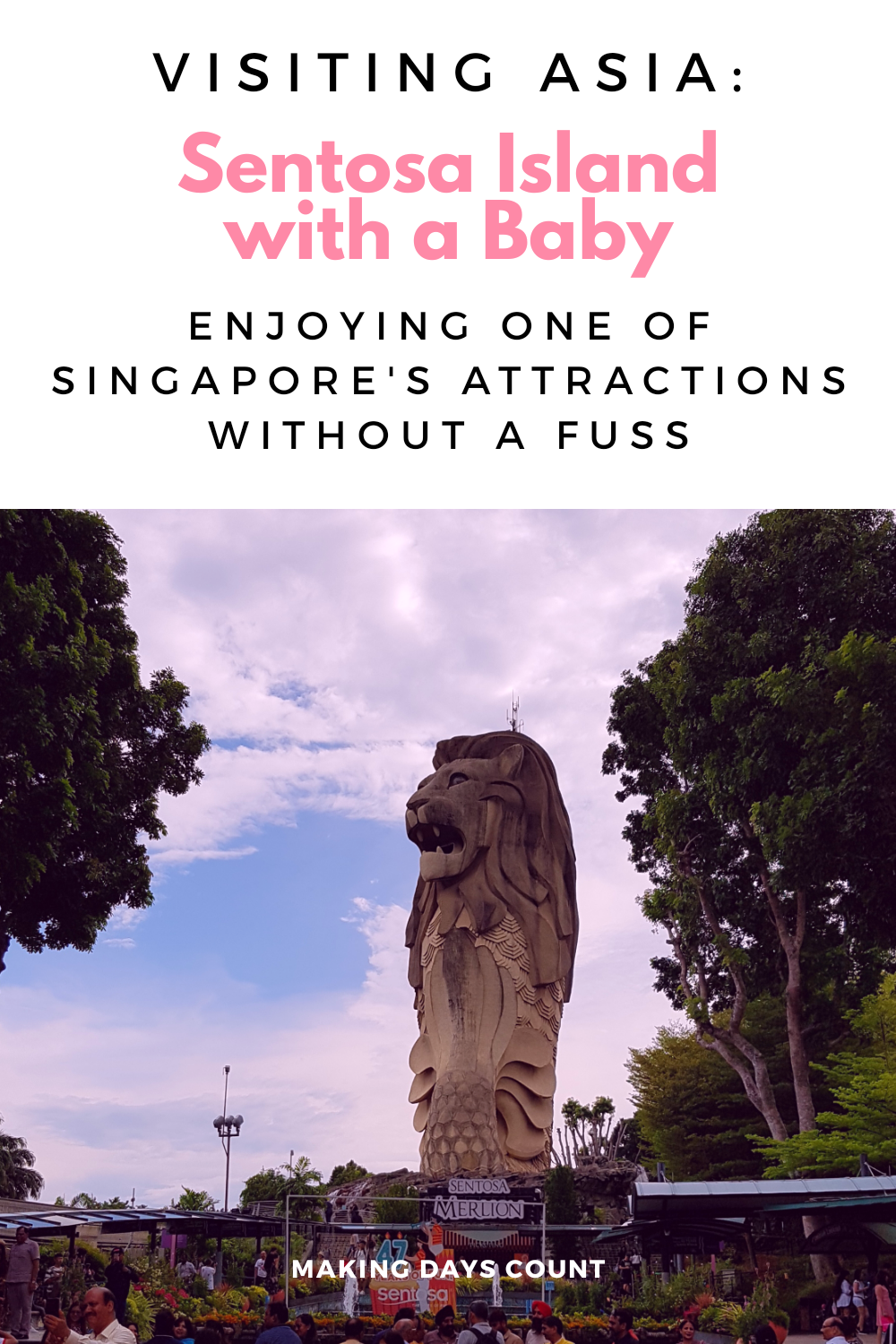 Here are 7 tips for going to Sentosa with a baby:
BY CLICKING THE LINKS AND MAKING A PURCHASE, I MIGHT BE EARNING A SMALL COMMISSION AT NO ADDITIONAL COST TO YOU. PLEASE SEE OUR FULL DISCLOSURE FOR MORE DETAILS.
1. Planning for the baby's food, snacks, and drinks
Depending on how old your baby is, they might eat solids or just drink milk.
If your baby is younger and you breastfeed or give them formula in a bottle, prepare what you need to feed them. I'm not sure that you are able to get supplies if you bottle feed them.
When we went with Baby K, she still drinks formula so we had a hot water flask (similar to this) that can keep the water hot. We also had a container (similar to this) that could divide the formula just in case if she needed more than one bottle of milk.
Prepare what you need for your baby and know that there is a nursing room where you can get hot water if needed.
If your baby is a little older and eat some solids, you can either bring your own food or eat at the restaurants there.
It can be difficult to cook if you are staying at a hotel, but I have a solution for you.
A travel size hot plate with a pan (It took me a while to find this amazing item on Amazon). It's not my idea really, my aunt had it and it was so convenient to cook for Baby K. This way we can save money and also know exactly what we are giving her.
You can choose to eat at the many restaurants available on Sentosa Island. There are more budget conscious options and fancy restaurants as well.
Here is what I ate: Char Kuay Teow at the Malaysian Food Street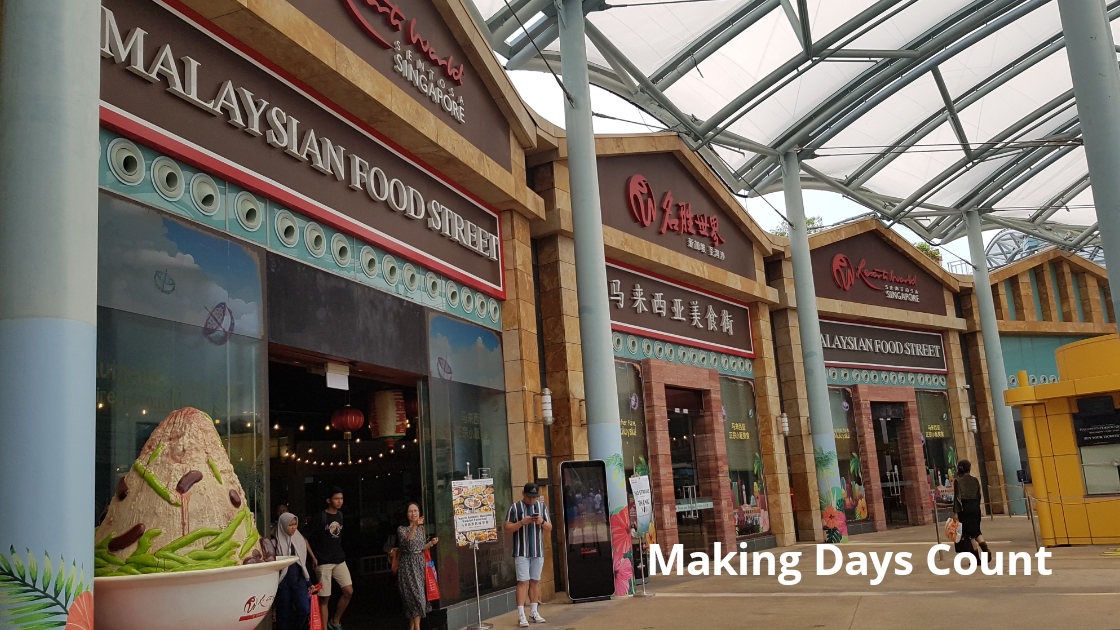 I definitely recommend for you to pack snacks and drinks for your baby and yourself. It can be really hot in Singapore and it'll be really convenient for you to have those on you. You can always check out 7 Eleven or Cheers at Sentosa if you need to buy some snacks and drinks.
2. Bring a portable changing pad and diapers
Let's be honest here. Even though Singapore is a very (extremely, really) clean country, we are not sure who has used the changing table before us. I find it super useful to have my own portable changing pad (similar one here) when I go out, even here in Toronto.
You know that it will be clean (to your own standards) and that you can trust it to put your baby's bare bottom on it.
Sentosa has a nursing room with hot water provided if you need, but it would be safer to have your own portable changing pad. Here are some great options by Jolly Jumper (with pockets for diapers), Skip Hop (also with pockets), and Leke Baby (with pockets at the top).
The only downside that I find with the Sentosa diaper changing room (right in the middle near the Merlion) is that there is a glass window where people can see from outside. It's a little weird to me, but I can block others from seeing my child's bare bottom by standing right in front of it. Also, I think you can't really lock the door so anyone can come in.
This is just something you want to be cautious about.
3. Let the baby nap in a stroller or carrier
Unless your baby does not nap when you go out or if you live at a hotel on the Sentosa Island (I highly recommend getting a room with Booking.com as they have occasional deals such as 20% until March 31st, 2020), your baby needs to nap during the day.
There are two ways that they can nap: either in a stroller or a baby carrier.
We found both to be really useful.
With the stroller, you can adjust the seat to recline backwards. Some strollers can go all the way back. Be sure to do your research and try it out if you can at the store or trust the reviews given online.
Some people also like to have their own portable white noise machine. My friend has this Vtech Noise Machine and found that it works well for her baby.
We brought our Ergo Baby Carrier and it was so helpful to have it with us.
Baby K, our daughter, was able to be close to us, nap on us, and also see everything at a higher height.
If you've read in my previous posts, I really love our Ergo Baby Carrier. I still use it now even though she's a toddler. It helps me to be hands-free when I need to do chores around the house.
So, both the stroller and carrier are great things to bring to Sentosa if you have both. Either options work well.
4. Bring an extra change of clothes
Sentosa is on an island where there are a few beaches you can hang out with your baby.
Bring a swimsuit, towel, and extra change of clothing for everyone in the family.
Especially for a baby, bring 2 sets of extra clothing in case of diaper blowouts. I don't want to talk about my experience with diaper blowout in this post, but you can read it here on what to avoid on baby's first flight.
I found one tip to be useful is to pack each set of the baby's clothing (onesie, pants, etc.) in a ziplock or small cloth bag. This way, you won't be scrambling to find one of everything and have all of it in one place.
Just grab that, your diaper bag or portable changing pad, and the baby to change them after a day at the beach (or a blowout).
5. Expect to explore Sentosa at a slower pace
As you might already know, travelling with a baby is very different than travelling by yourself or with a spouse.
There is quite a lot to see if you take a stroll around Sentosa.
Take your time. Walk around. Take some pictures and have a great time with your baby.
Check out Klook for a discounted price for the Sentosa Fun Pass. We saved a bit of money and time with Klook so I didn't need to worry about lining up too long after arriving at Sentosa.
6. Do research on baby-friendly attractions
Depending on how old your baby or toddler is, you want to consider which attractions you want to go to.
Here are some questions you can ask yourself:
Are you going to take turns going to an attraction or go everywhere as a family?
What can we experience here in Sentosa that is not available at home?
How does the weather factor into this? Is it an indoor or outdoor attraction?
Is it baby friendly?
Which attractions are worth it to me and my family?
When you go on the Sentosa website (not affiliated), you can filter attractions that are family friendly. Look through them and see what you want to do. If you find that you want to explore Sentosa without breaking the bank, you can opt for the Sentosa Fun Pass and check out their other free attractions on the island.
We went to the SEA Aquarium and also Madame Tussauds.
The reason we went to the SEA Aquarium was because I heard so many good things about it. It was definitely worth bringing your kids there. The place is really big and also very accessible for strollers. They also have a nursing room in there if you need to change your baby before going to the main area.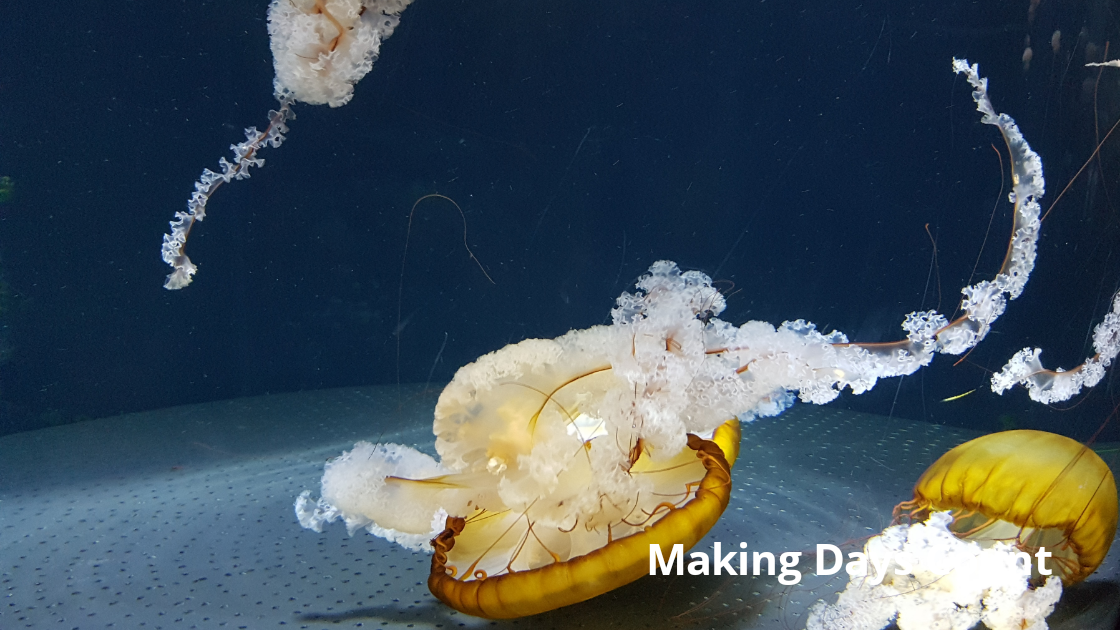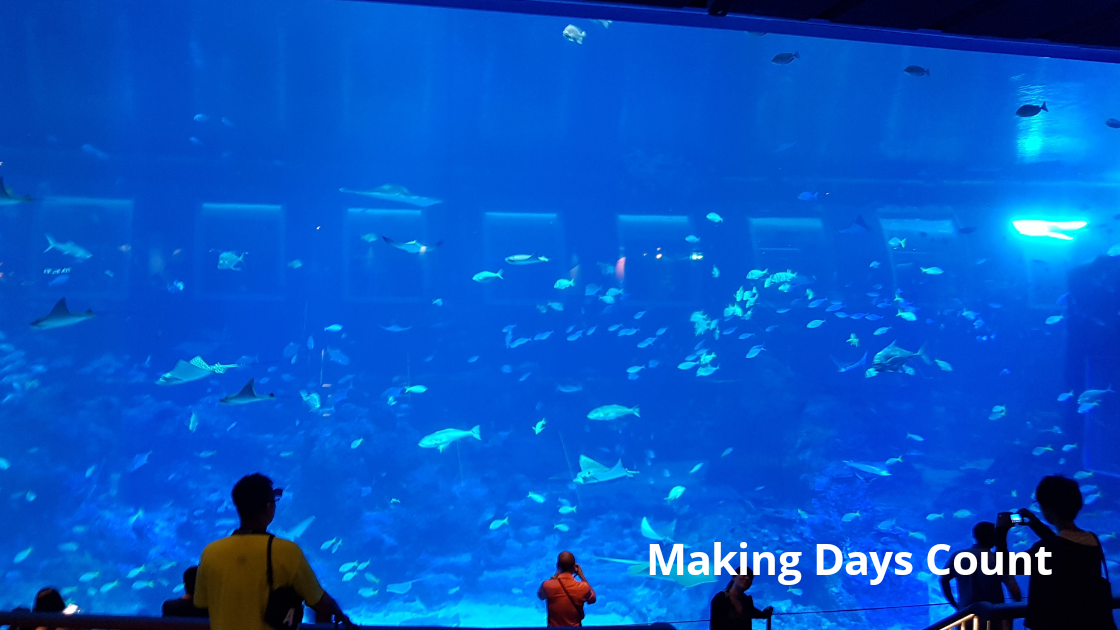 Another place that we decided to go is Madame Tussauds, mostly because of the Marvel 4D Experience since M loves Marvel.
Here are some pictures: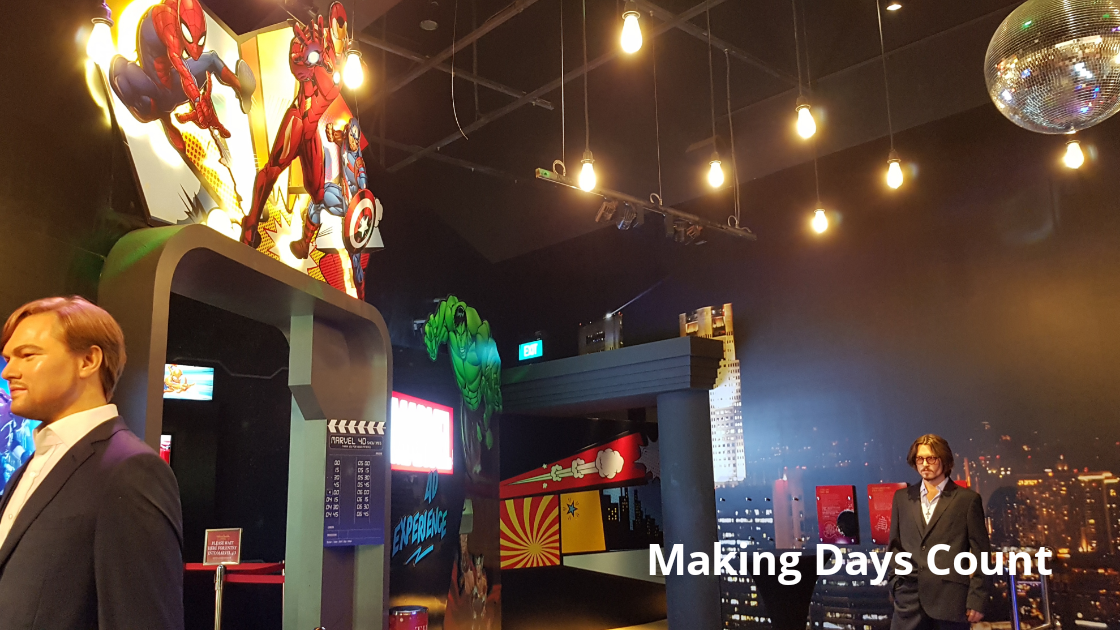 I would not say that it's completely baby-friendly as you have to go through a live show. That can be scary since there will be loud noises and dark spaces. You also cannot bring your stroller inside and will have to park it outside the attraction.
We also had to skip the boat ride as babies are not permitted on the ride.
So, I will choose something else that is more baby friendly next time (if we have another baby).
7. Bring sunscreen, hats, and mosquito spray
These are necessities. Please remember to bring sunscreen, hats, and mosquito spray. No, I'm not trying to be a nagging mom but Singapore is hot and has mosquitoes (and other bugs).
We bought this baby sunscreen for Baby K and a regular sunscreen for the adults. It's pretty hot so we all sweat and have to remember to reapply every once in a while.
If you forget, there are vending machines along the Sentosa boardwalk where you can buy sunscreen and other stuff (I forgot what they are). It is just more pricey than at the store or brought from home.
Thanks for reading my blog post "Sentosa with a baby: 7 Tips". To see more on our adventure to Asia, please read the posts below (will update as I write them):
Sentosa with a baby: 7 Tips (this post)
If you like what you read, please pin the image below and share this with others. Thank you so much.