Stella and Dot Unboxing Review
I have a small wrist. Literally measured it, and it came out to be 5.5 inches in diameter. Because I have a small wrist, it's extremely frustrating being unable to buy a bracelet that fits me.
I'm not kidding.
Unless I get one of the stretchy ones, it's not easy to find one that fits. Maybe in Asia, I might be able to find one. Trust me, I have been searching. The watch I wear has to be adjusted to my wrist because, again, small wrist.
The struggle is real.
I looked online to see what size I belong to in the women's sizes. It came up as a child's size.
So what do I do? I just don't buy bracelets. My mom had to return ones that she bought for me. The bracelet gifts I received during my wedding are in a box. Sorry, can't wear them.
I was so happy when I finally found something that fits.
Pin this for later!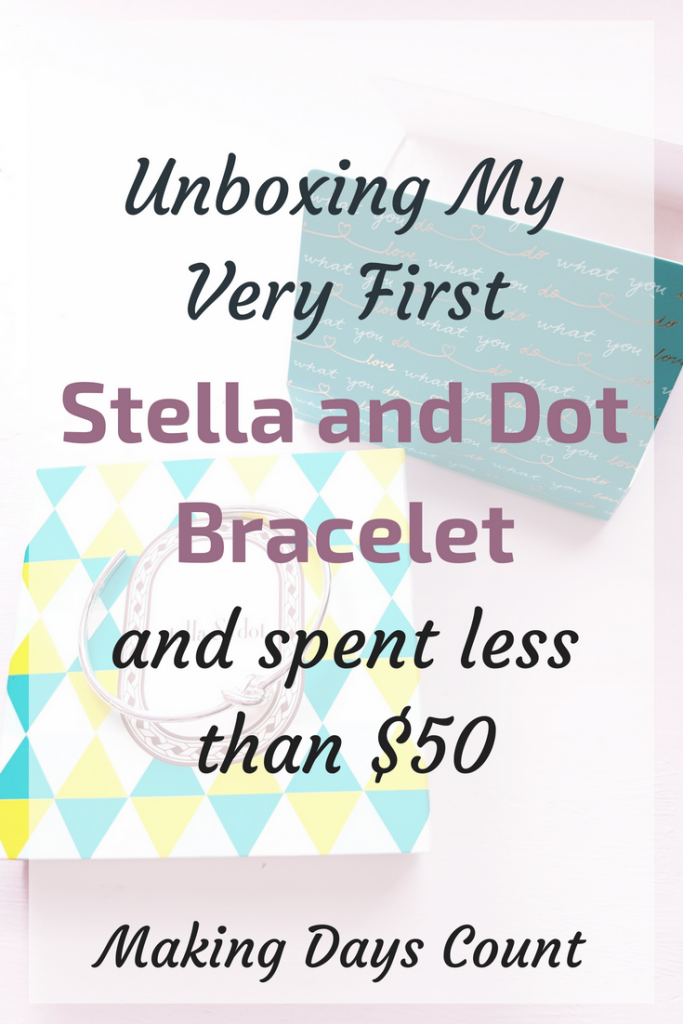 Here is my experience with Stella and Dot:
BY CLICKING THE LINKS AND MAKING A PURCHASE, I MIGHT BE EARNING A SMALL COMMISSION AT NO ADDITIONAL COST TO YOU. PLEASE SEE OUR FULL DISCLOSURE FOR MORE DETAILS.
Here is the story: A professor invited a bunch of us to her place for lunch. She also mentioned that a stylist from Stella and Dot would be coming if we're interested to buy jewelry. I had to leave after lunch, but I ordered the Simple Knot Cuff (Silver) from Stella and Dot.
It came within 3 business days. I'm already impressed!
Isn't this a beauty? The box itself is worth keeping. I love it.
The colors on this box is so bright and so pretty to look at. When I got this box, it already made me happy even before I looked the bracelet that I got.
Why I chose this bracelet?
It's so simple and it's malleable (I checked before I bought it), so you can adjust to your wrist size. Isn't that Amazing?! For me, it was for sure.
It was elegant and yet dramatic by itself. If you like to stack your bracelets, this is a good one to add to your collection.
I've also gotten a lot of compliments wearing this bracelet to work and also on a casual day.
Maybe you prefer simple jewelry like me and I was pretty happy with this. (Update Jan 2020: I don't think they sell this bracelet anymore, but here is a similar one)
The "love what you do…do what you love" phrases repeat throughout the box is super inspirational.
When you open the box, there's a cotton layer protecting the bracelet (I've removed it to take the picture below).
I love it! I put it on and press it slowly to fit my small wrist.
It fits!
I guess that I am just so easily amazed by jewelry that fits my really small wrists.
Best of all, it only cost $39 before shipping or taxes. This might be a splurge for me, but it is definitely a good price. More importantly, I love it! If you're interested to get your own or just check out their website for other beautiful pieces.
Update in January 2020 (1.5 years later)
I still really like this bracelet. It does get a little rusty but I think that I should be able to get it off with baking soda and water (that's what Google says).
Even though I don't wear this bracelet often now as I do not need to at home with a baby, it's still a nice one to have.
Now if only my wedding ring stays on like this bracelet. After loosing the baby weight, my fingers got skinnier (or at least my ring finger). I almost lost my ring twice! I guess I could resize or add a ring adjuster.
Unfortunately, this specific bracelet is not available on their website anymore. However, there are so many other ones that are really beautiful as well. Be sure to check out the Stella and Dot website for beautiful jewelry whether for yourself or as gifts for others.
I would love to see what you got from Stella and Dot. Please follow and tag me on Instagram @makingdayscount and I can't wait to see what beautiful jewelry you've bought.
Related:
Thank you so much for reading my Stella and Dot unboxing review. If you like this post, please pin the image below and share it with others.