Are you going to Europe and traveling on a budget? It's highly possible to visit the beautiful town of Freiburg which is located in Germany. It's pretty close to the Black Forest too if you love to take hikes.
Freiburg is a beautiful town where you need to take some time to enjoy. The weather as I remember can vary throughout the summer. During good weather, it can be hot with a nice breeze. Or, it can be raining and you do not wish to go outside. Overall, the transportation around Freiburg is pretty good. There are trains, trams, and buses. It's also a place where you can ride your bike and there are tons of bike parking options, especially at train stations.
When I was a student, I took advantage of my location and used Freiburg as my central base to travel to nearby places and countries. The Eurail pass helped to save the cost for trains, especially when I was travelling for 15 days in a row.
I was studying in Freiburg for 4 months from the beginning of April until the end of July. During those months, I had plenty of opportunities to travel around the country and also neighboring countries in Europe. I also highly recommend for you to get the Eurail pass if you plan to travel around Europe by train.
Since I had to live there for four months, I thought that I should check different things that are happening in this university town.
Pin this for later!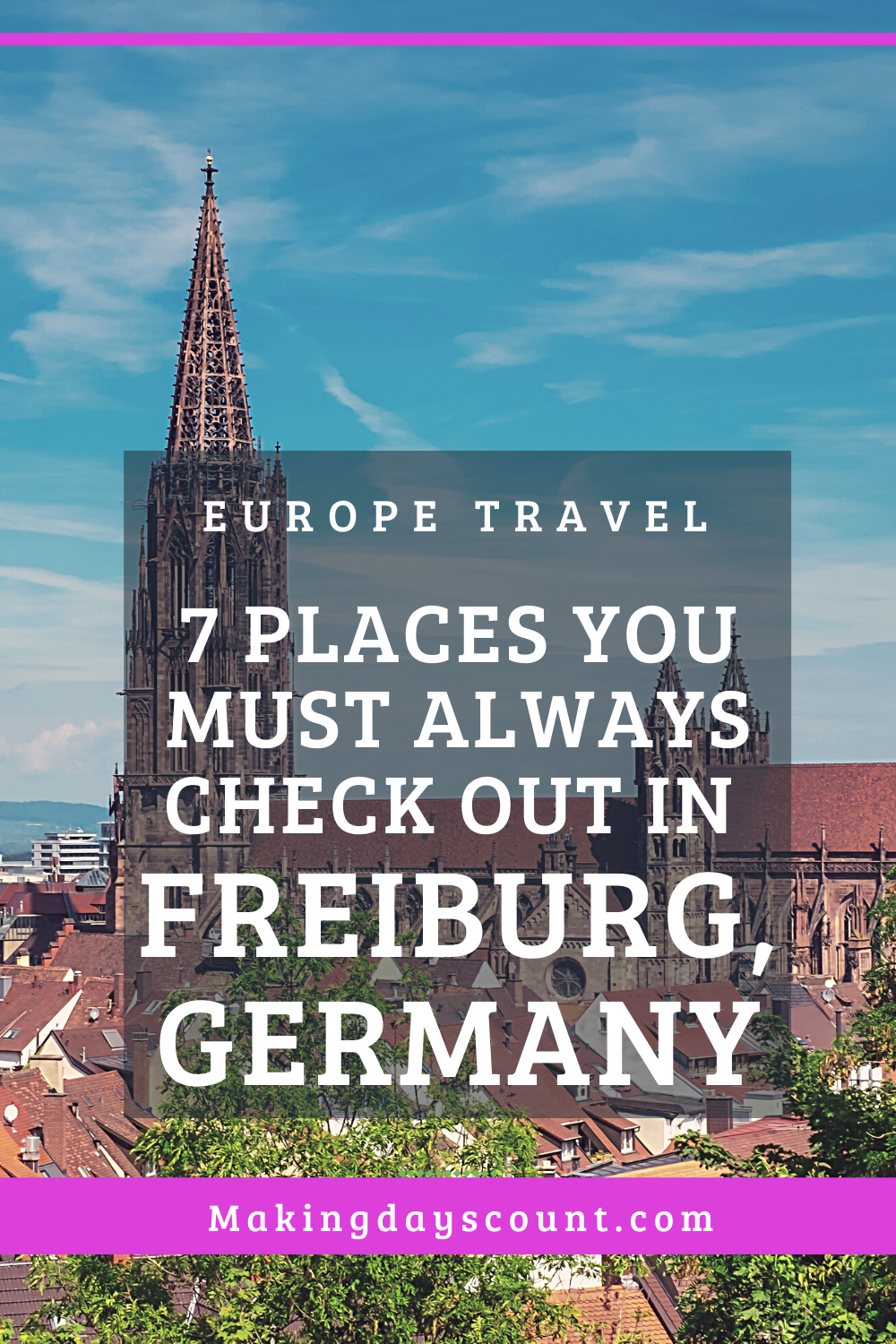 BY CLICKING THE LINKS AND MAKING A PURCHASE, I MIGHT BE EARNING A SMALL COMMISSION AT NO ADDITIONAL COST TO YOU. PLEASE SEE OUR FULL DISCLOSURE FOR MORE DETAILS.
Some of the exciting things were:
Exploring "downtown" Freiburg
Flea Markets
Freiburg Munster (Cathedral)
Farmer's Market
Schlossberg (Mountain View)
Black Forest Hike
See park
Exploring "downtown" Freiburg
Downtown Freiburg is very different from what I expected using my own experience of interpreting the word Downtown. I felt like I was entering a storybook with these cobblestone roads and drains around the town. Each building has a different colour and it's just so cute.
You can choose to explore with a tour guide or just walk around by yourself. Just try not to fall into the drain as myth say that you'll marry a Freiburger if you do fall into the drain. Even though downtown looks like a storybook, they have quite a few modern shops such as H&M.
To go around downtown, you can choose to walk or take a tram. It feels really safe and comfortable to walk around by yourself. I am curious how some women wear heels with cobblestones all around downtown. Certain shops close early, especially on Saturday and might not be open on Sunday. Restaurants and certain grocery shops are usually open every day.
Flea Markets
Similarly to other places in the world, Freiburg has flea markets. They have one in the parking lot of Padgogische Hochschule Freiburg on one of the Saturdays in a month. I think it's the first Saturday of the month. Maybe flea markets are not your thing, but I like to see what people have to offer and the price they are expecting for unique items.
Another one that I know of is called Flohmarkt Freunde. Here is the website for more information: http://www.flohmarktfreunde.de/. This tells you the different locations they will have their flea markets and that people can sell their items there as well.
Some of the items my friends and I bought included a leather book jacket (it was at an amazing price of 5 Euro), miniature English-German dictionaries, and a bicycle which cost less than 20 Euro. You can choose to walk around and see what is interesting to you and if you wish, to ask about the story behind the items that you like. Choose items that you can bring home with you and only if you truly like it. With flea market items, you cannot get a refund or even figure out where your vendor live.
We went to another flea market, but it was indoors. I wanted to get this glass vase, it was so beautifully made. However, it was a bit more expensive than I had hoped and I figured that it would be a bit more difficult for me to figure out how to bring it home with me.
Freiburg Munster
When you walk around downtown Freiburg, you might come across Freiburg Munster. It's a cathedral with intricate designs all around it. If you are into checking out all architecture, this is a good place to check out. When I was there, they were doing some maintenance around the building so I wasn't able to go inside.
For my friends who visited before, they climbed to the top of the Munster and got a good view of the city. It has a lot of steps so be prepared for endless amounts of steps. If you exercise regularly, you should be fit enough. My friends who did the climb mentioned how tiring and hot it was to make it to the top.
It was a nice place to visit and you can also visit the nearby restaurants and sit outside to join your view of the Freiburg Munster.
Farmer's Market
On Monday to Saturdays, there is a farmer's market outside of the Freiburg Munster. You can buy fresh fruits, flowers, handmade goods, and delicious treats at the market. Some words that might be useful are:"Guten Morgen" (Good morning), "Entschuldigen" (Excuse me), "Wieveil Kostet Das" (How much is this?), "Danke" (Thank you), and "Tschüss" (Bye).
Also, remember that they are not open on Sundays because it's a rest day for them and also for many other businesses. Sunday is when people spend time with their families.
Schlossberg
The view of Freiburg from the top is pretty nice, but it's a bit of a challenge to get up there. You need to figure out which bus to take and also if you want to walk up there, you have to prepare yourself that it's a hike.
Once you get there, there is this structure that you can climb the stairs to get a higher, elevated view. If you are not afraid of heights, you'll truly enjoy the view.
If you do take pictures, please tag me on Instagram at @makingdayscount so that I can see your view of Freiburg from Schlossberg.
Black Forest Hike
As a child, I loved Disney's Snow White which took place in the Black Forest. During the day, you can explore a small part of the Black Forest and walk around while you're in Freiburg. It feels pretty good to be surrounded by fresh air and tall trees as you walk into the Black Forest.
If you are adventurous, you can walk around and explore the different parts and take more challenging hikes in the forest. If you are braver, you can try hiking for a bit at night. I'm not a fan of going out in the night, especially at unfamiliar places. My friends and I went at night because they thought it was fun. I was pretty terrified and held on to my friends for dear life. Haha. If you do, please be safe.
Please take pictures of the black forest as you hike and tag me on Instagram at @makingdayscount. I would love to see your pictures of the infamous land where Snow White's story took place.
See Park
If you want to have a picnic, enjoy the views of a lake while relaxing, and take a stroll, See Park is a great place to do all that. It's a nice size park with a beautiful lake. Pack some food, bring a picnic blanket, and enjoy time with family and friends.
If you are excited to travel around Europe (especially a part of your summer in Freiburg), I recommend getting the Eurail pass (not an affiliate yet) as a way to travel around by train. Read my review of the Eurail pass here.
It's so much fun to go to Freiburg. If you are planning a stay at a hotel, I highly recommend for you to book with Booking.com. However, if you prefer to stay at an Airbnb, here is the link to get CAD $45 off your first stay.
Thank you for reading my blog post on what to see at Freiburg, Germany. If you like this post, please pin the image below and share it with others.