Imagine this, your baby sleeping by themselves in their own room at night while you finish doing the dishes or taking that well deserved bath for the first time without worrying about waking up your baby. That is an amazing feeling.
When we moved our daughter to her own room and she was finally asleep, it truly made a difference for us. We were able to watch a show together in the family room, enjoy a few hours by ourselves without being confined to our room, and not needing to whisper all the time.
In this blog post, I will share tips on transitioning your baby to their own room and also some sleep training methods that helped me. Hope that it helps you too!
The very first tip that you need to know is to be intentional about transitioning your baby to their own room.
You have to be firm and also be in agreement with your partner that this is what you guys are going to do. Once you are in agreement, set a date and start the process of transitioning the baby to their own room.
Pin this for later!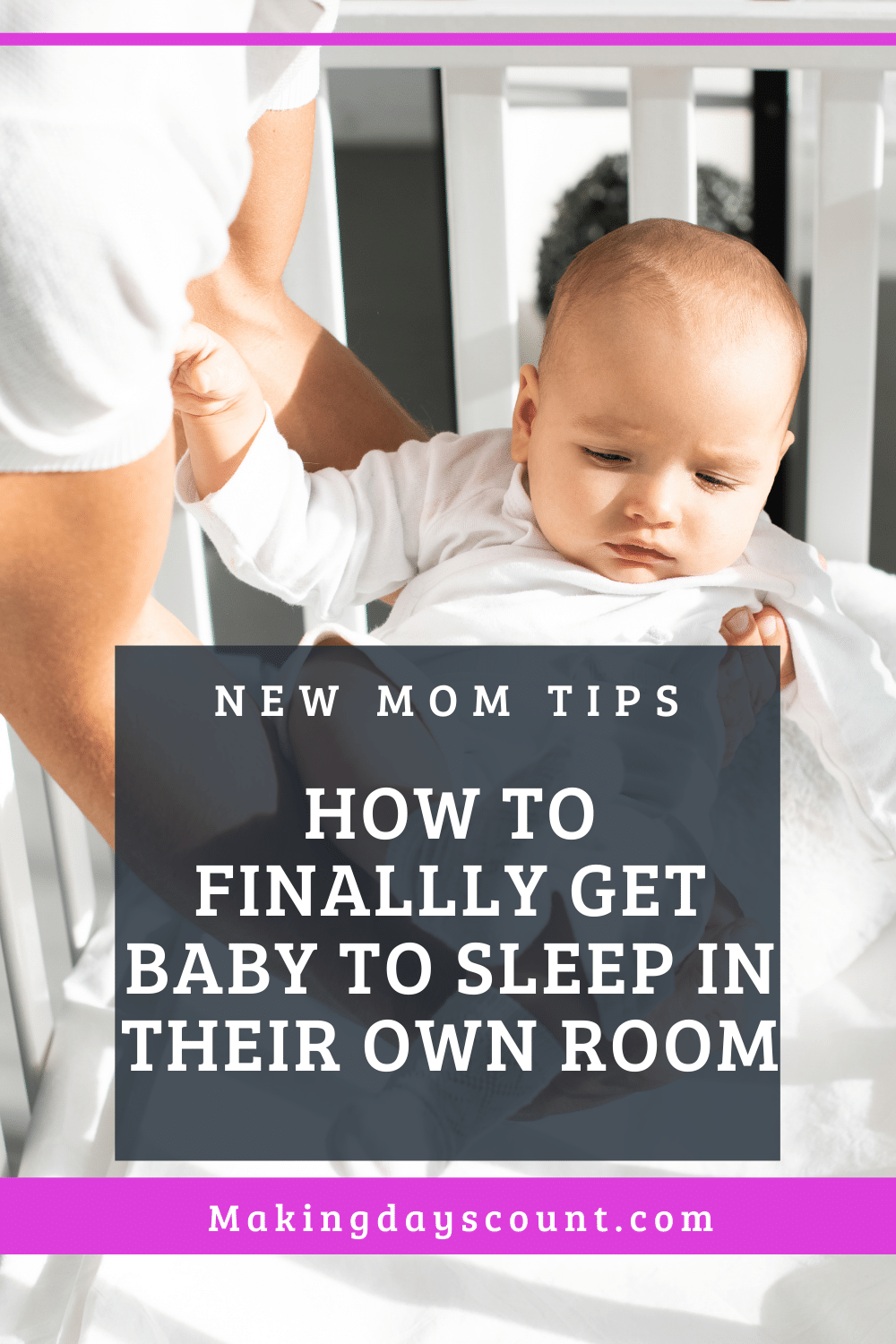 Here are 7 tips for transition your baby to their own room:
BY CLICKING THE LINKS AND MAKING A PURCHASE, I MIGHT BE EARNING A SMALL COMMISSION AT NO ADDITIONAL COST TO YOU. PLEASE SEE OUR FULL DISCLOSURE FOR MORE DETAILS.
1. Same Bedtime Routine
What I found is that having a bedtime routine really helps your baby to know and expect when it is time for them to sleep. They might not want to sleep, but it will help make the process a lot easier.
You need to figure out what you want to include in your bedtime routine.
Here are some suggestions:
Taking a bath
Brushing teeth and gums (depending on the age)
Wiping their face
Reading a story
Singing some lullabies
Keeping lights dim (We use this night light)
The key to having a great bedtime routine, which I learned from my sister in law, is that you need to be firm about when you start the bedtime routine.
I believe her, since she gets her 6 year old to sleep between 8 to 9 p.m. every single day since he was  a baby.
Having a set schedule will help your baby sleep better as well.
When you are transitioning your baby to their own room (or literally just moving their crib to their own room), having the same bedtime routine will help keep some things the same.
Even though they are in a different space than before, the bedtime routine will give them some normalcy as they adapt to their new environment.
2. Expect resistance and be flexible
This process is not easy. There I said it.
You need to be prepared and embrace the fact that your baby might not like the change. They might try to push the bedtime to later, or whine to be in your arms until they fall asleep.
If you're transitioning a toddler, they might find different excuses of why they cannot go to bed at that time. Why they need to be in your room as per 'usual'.
As parents, we must expect some resistance as it is pretty normal for children and even adults to have some hesitancy when experiencing change.
Just be flexible and see what works.
For us, my husband and I decided that after a certain hour, we would bring my daughter back to our bed. First, it was 3 a.m. then slowly moved to 5 a.m. since she was starting to sleep through the night. Anytime before that, he or I would go to her room and try to soothe her back to sleep.
Sometimes we are successful in following that, but other times, we're too tired and she's in our bed earlier than we wanted.
The inability to always do what you want as a parent is perfectly fine, as we can get really tired too.
Start this process of transitioning your baby to their own room knowing that your child might have resistance, set some goals of what you want to do, and be flexible as you go through this process together.
3. Try one method for a period of time before trying another one
Whichever method you want to try transitioning your baby is really up to you. You will know what works for your family the best.
Whether it is just moving their crib over and starting that very day or naps first before night time in the room, you need to see what works.
You might find that they respond better when you tell them beforehand, or it might be worse. You have to figure out what is best for your child.
To get your baby sleeping in their own room, you might need to sleep train them again (if you did before). If you have not, it'll be a good time to start so that you can actually sleep in your own bed without waking up every hour throughout the night.
There are gentle sleep methods and cry it out methods, which again, is best for you to decide what you want to do.
Some people swear by this book "The Happiest Baby on the Block". You can check it out and see if it works for you.
I have friends who did the cry-it-out method and loved it. However, I have other friends who decided not to train at all. They would just go to their child's room whenever they are called.
Whatever you decided to do, try it out for awhile to see if it works for your child (and every child is different). If it does not work out, then explore other methods to see which one sticks.
At the end of the night, you are the parent. You need to decide what is not only best for your child, but also what is best for you.
I am personally more on the sleep training side because I experienced what it means to have the free time after my baby falls asleep in her own room. However, with development changes, sleep training seems like an ongoing process. I will talk more about that later.
Related: Mistakes to Avoid When Sleep Training Your Baby
4. Keep track of what works and what does not
When you transition your baby to their own room, take notice of what might help with the whole process.
Here are some questions to help you think and keep track:
Do they have a favorite toy or plush that they can sleep with?
Are they fine with a small night light or prefer the room to be completely dark?
How do they react when both parents versus one parent in the room for their bedtime routine?
What are some calming activities that they enjoy before bed?
What are some activities to avoid because it stimulates them too much before bed?
Pay attention to what your child reacts to and their preferences to help ease their transition into their own room. This might also change as they get older, but again, as parents, we adapt as we usually do.
If you find that they need to be held for a long time before they're comfortable to sleep, do that in the beginning. You might gradually shorten the time that you hold them so that they will eventually be okay for a lingering hug.
With babies, they are quick learners so hopefully they will be okay with being in their own room at night when they sleep.
5. Understand development changes
Babies grow up so fast. It might not feel like that at the moment, but looking back, it does feel like time has come and gone quickly.
With them growing up, there are so many things that they are constantly learning.
These learning moments can also affect their sleep as they process them in their mind at night.
Even after a successful transition, sleeping through the night in their own room can have great nights and not-so-great nights.
The key here is to understand that there could be different reasons why your baby might not be sleeping as well.
Some reasons include:
Teething (know that some babies might experience fever due to this, but not all babies)
Going to a new place during the day
Meeting lots of people and new faces
Encountering a stressful moment or challenge during the day
Basically, it could be anything, but just keep doing what you're doing. There will be days where you give in and let them sleep in your bed. It happens to me even now with these development changes. What we do and I suggest that you do is to keep the same bedtime routine, assuring them that they are fine, and this will pass.
Oh, the nights that they sleep through the night in their own bed will come.
6. Consult your mom friends and online forums
Whenever you are stuck, do not feel that you have to do this alone.
There are so many resources around you that can help you with your transition. Whether online forums such as Baby Center (which is the one I use), or even your mom friends, reach out to see if others can help you in your baby's transition to their own room.
Listen to other people's experiences, and see what worked for them. However, you can try them out and see what works for your child. Know that your baby is not their baby, and what works best for you might not be the same as others.
Take all that you hear with a grain of salt.
Of course, try them out and see that if it works. If it does not, that is okay. Try something else.
It's good to get ideas from others, whether online or in person, but you'll just need to test it out.
7.  Keep on and See the light at the end of the tunnel
No matter how you decide to transition  your baby to their own room, or getting them to sleep on their own in the room, keep going.
Enjoy the little moments of success.
As parents, we need to do what works best for our family. When your baby sleeps in their own room, you'll have enough time to rest and do whatever you need to do. It will be a wonderful time for everyone.
Related:
Thank you so much for reading my blog post on "Tips for Transitioning Baby To Their Own Room". If you like what you read, please pin the image below and share it with others. Thanks!