Our babies grow up so quickly. It feels like they were just a baby not that long ago, but now they're toddlers. In this blog post, I want to share which toys my 22 month old toddler loves to play with.
As a first-time mom, it can be overwhelming to see all the toys available out there.
At the same time, I don't want to buy all the toys out there. Only things that she is interested in.
My daughter, K, will be 2 years old in 2 months.
The toys that she loved before, some of them, she does play with them and others not so much.
Please feel free to take a look and see what your child or grandchild will be interested in as well.
Pin this for later!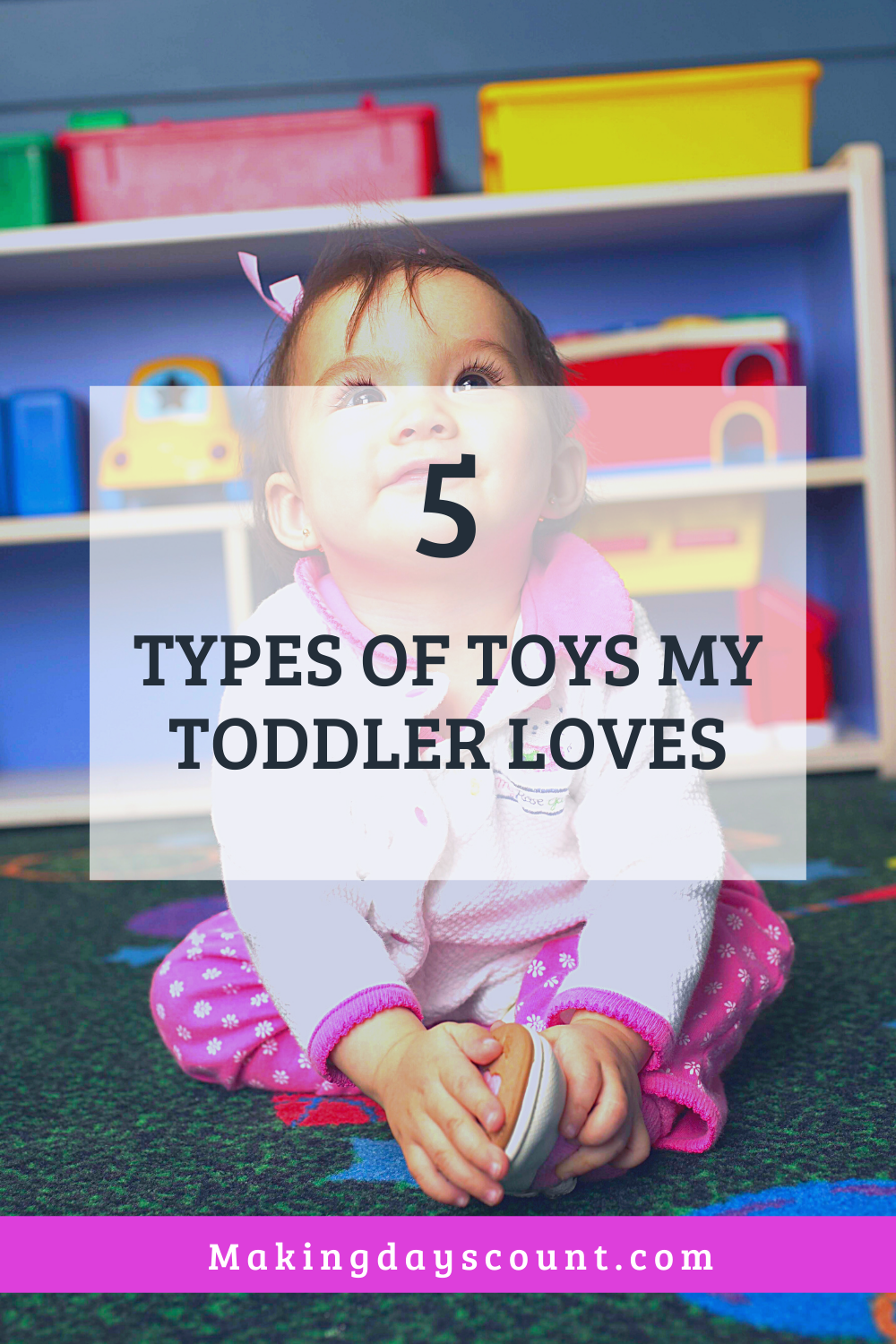 Here are 7 types of toys my 22 months old loves:
BY CLICKING THE LINKS AND MAKING A PURCHASE, I MIGHT BE EARNING A SMALL COMMISSION AT NO ADDITIONAL COST TO YOU. PLEASE SEE OUR FULL DISCLOSURE FOR MORE DETAILS.
1. Food and cooking toys
We received this picnic basket and also this cashier with food basket from a friend. When K, my toddler, was younger, she did not really seem interested in them.
A month or two ago, I decided to get her a tea set (here is an alternative you can get online).
The reason was that our family doctor asked me if she was doing any pretend play such as feeding her plush animals, and I said no. It made me worried that she was not getting enough stimulation.
Hence, I bought the tea set to have tea parties with her.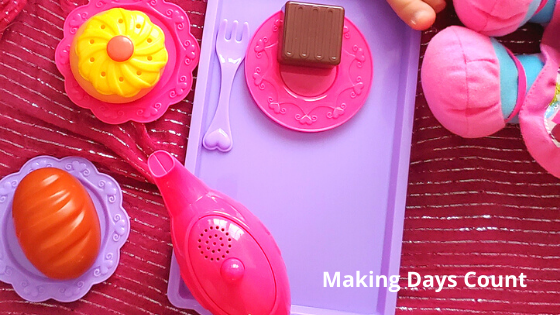 Maybe it was the age or just the timing, but my daughter LOVED the tea set (alternative one here). She started to show interest in the other food toys we had since learning more about pretend play.
When we talk to her grandparents virtually, she would pour tea and serve it to them.
It's really cute to watch!
Some of the other food toys that might be interesting are the ones where you can slice up like this fruits one.
What I really like about food and cooking toys is that the kids can play with them even when they are older. They can open a restaurant and you can pretend to order from them. Food and cooking toys are really great for toddlers and young kids.
2. Animals
Animals are a big thing for my daughter.
I mentioned in a previous post, 5 Types of Books My 21 Month Toddler Loves, she loves animals.
You can get different packs of animals like this wild life animal set for your toddler to play with.
I would suggest to get the regular size animals and not the miniature size, even though it's cheaper to do so.
These regular size animals are easier for them to hold and less of a choking hazard.
I bought my daughter farm animals from the Dollar Tree, so you can also go there to look for them (if it is safe for you to do so).
I'm considering to add these animals to my daughter's collection but maybe later on.
If your child loves animals and the Old MacDonald song, these farm animal toys would be a great choice!
3. Water table
My daughter loves playing with water at the water table.
She actually started singing and giggling being so excited to open it out of the box that day it was delivered to us.
It definitely made us as parents really happy.
The water table we got was from Costco, but you can find a similar one here online.
My toddler likes to splash the water everywhere making herself wet. Also, she enjoys watering the flowers with the water from the water table.
This is a great activity for her, especially when it gets really hot outside.
There are different kinds of water tables out there with its accessories. Choose one that fits your space as well as your budget.
4. Plush toys
Recently, my toddler started to play with plush toys and sleep with them in her bed.
She especially loved panda bears and would want to watch the YouTube live stream of panda bears.
Also, with the tea set that I bought her (alternative one here), she would feed them and make them drink the tea as well.
Some of her favourite plush toys include the panda bear (alternative one here), polar bear (alternative one here), and Hello Kitty (alternative one here).
She really likes to hug them and also feed them, just like how we feed her.
5. Balls and balloons
One of the toys that my toddler continues to play with since she was younger are balls and balloons.
She enjoys throwing them, kicking them, and passing it to us.
We have a mini basketball and basketball hoop (alternative one here). She likes to be carried to throw the ball into the hoop.
It's pretty fun for her.
As for balloons, we like to pass it around between the three of us (my husband, my toddler, and I). She's trying to put a balloon through a cut out hole in a huge cardboard box in the picture below.
You can get balloons at the dollar store or online.
There are many creative ideas to play with balloons. I often check Pinterest to see what other activities I can do with my daughter.
6. Wagons and strollers
There's something about pushing and pulling objects around that is interesting to my toddler.
When she was learning how to walk, I gave her a diaper box to push around and she was happy to do that.
We were gifted this dog stroller last Christmas and K, my daughter, pushes it around occasionally.
She might not put the plush dog in there but other items or toys that she finds around the house.
We bought this wagon that was on clearance. At first, she was interested in it and the toys that came with it. However, it seems like she uses it as a portable stool and music station. She would press on the buttons for music while she sits on it.
It's pretty funny to watch.
7. Light up & Battery operated toys
There's something about toys that light up and have music that my toddler loves.
We bought her this bowling ball and pins set when it went on sale. She really likes to shake the ball so that it'll light up before throwing it at the pins.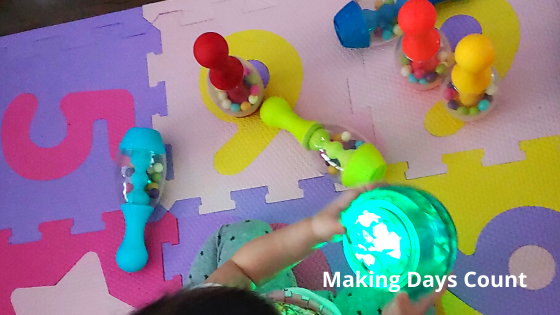 She also really like toys that have sound like this picnic basket and also the cashier as I mentioned earlier.
The only downside to this is that we'll need to buy batteries to keep it going.
However, we haven't bought any for the picnic basket and cashier yet. Perhaps it does not use a lot of energy to say the different catch phrases and sounds.
If you're more interested in interactive toys that do not require batteries, here are some fun toys:
Special mention: Reusable Stickers
These reusable stickers were a recommendation by my cousin. She said that it worked really well to keep her daughter busy. However, I find that it's a hit and miss with the stickiness of the stickers. It could be that it sticks better in humid weather (for my cousin) as compared to us in Canada.
They do stick better in the summer for us.
If you want to get stickers but prefer if they're reusable, check out these ones for sure. You do need to watch your toddler and prevent them from eating these stickers as some pieces can be small compared to others.
Related:
Thank you so much for reading my blog post on "Toys my 22 month old toddler loves". If you like what you read, please pin the image below and share it with others. Thanks!