Baby K is 9 months old already, time really flies. She loves exploring the world around her. Crawling everywhere, even when I say no, is what she loves to do.
There are some toys she prefers over others at this stage of life. I will share with you the ones that cost me less than $20.
What I learned is that babies can be expensive but at the same time, we can look for good deals and provide them with the toys they need and like.
These are items and toys Baby K, a 9 months old baby, likes to play with. Please know that some of the toys I mentioned might be recommended for older children, but I am closely monitoring Baby K while she plays with these toys. See what applies to your own baby and decide what they will enjoy.
Pin this for later!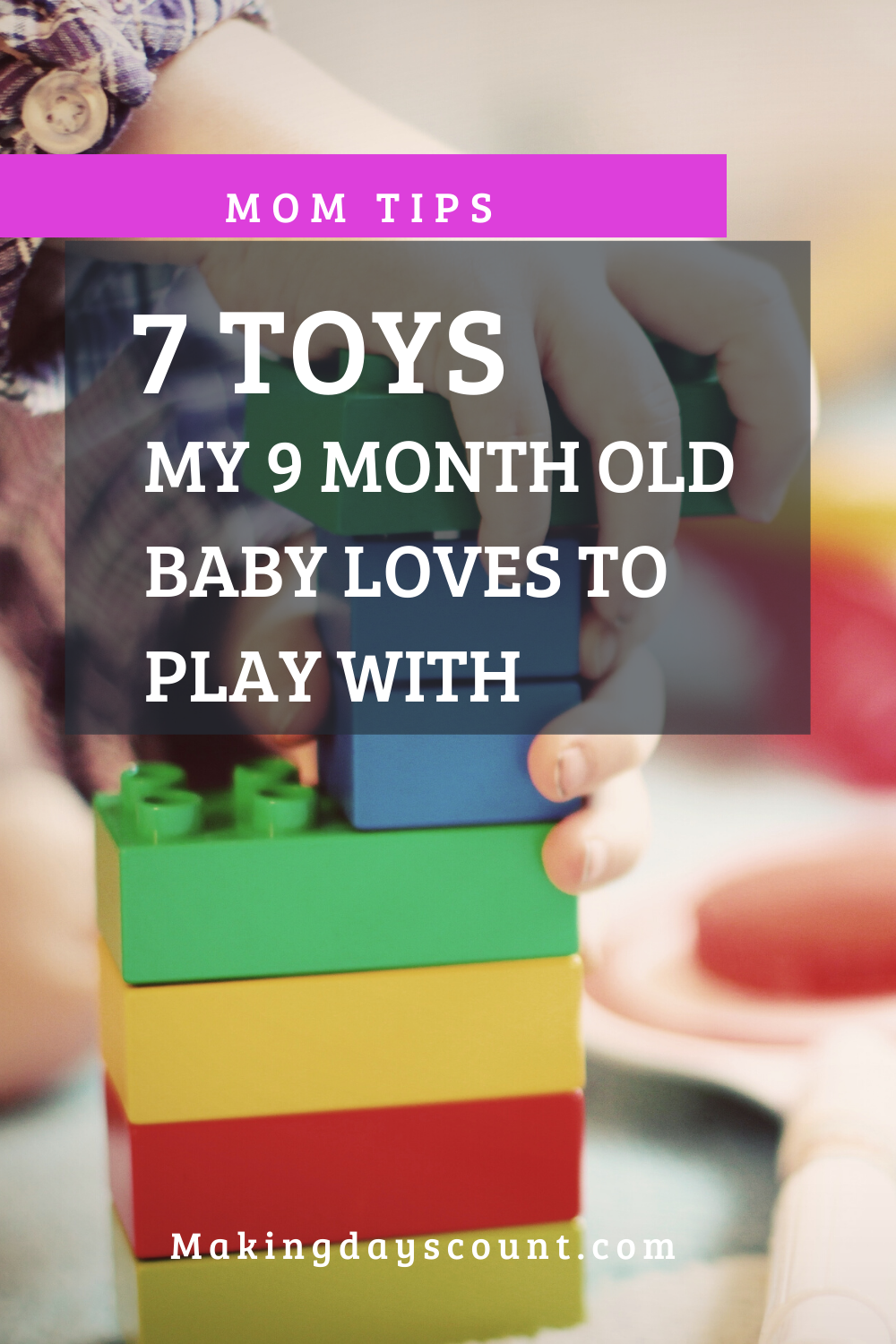 Here are 7 conventional and unique toys my 9-month-old loves:
BY CLICKING THE LINKS AND MAKING A PURCHASE, I MIGHT BE EARNING A SMALL COMMISSION AT NO ADDITIONAL COST TO YOU. PLEASE SEE OUR FULL DISCLOSURE FOR MORE DETAILS.
I bought this cube box when it was on sale for less than $10 on Amazon. The reason for my purchase was really for her to practice sitting up while she kept busy with this cube toy.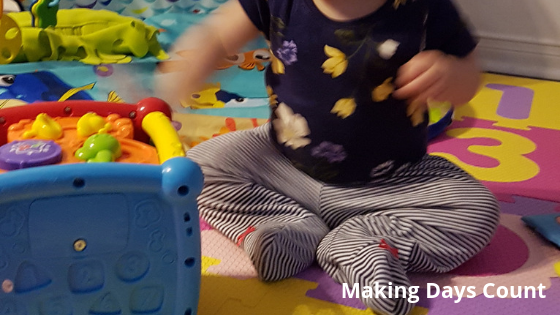 There are 5 sides that are interactive, but Baby K also likes hitting the bottom of the cube. She enjoys playing with the cube and hitting the buttons or the instruments.
I highly recommend this toy for your 9 months old baby, but be prepared to hear the repetitive songs and sounds that come with it.
2. Paper
Baby K loves crumbling and tearing paper. I think it's a part of her learning process of how to grab and hold a piece of paper.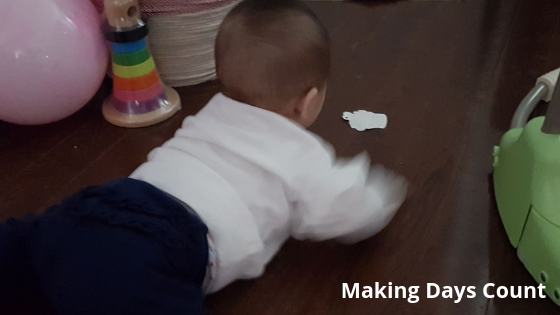 I have given her flyers, construction paper, and bookmarks to play with. The downside is that we need to be careful with the sharp corners.
Also, she did accidentally tore one of her flap board books. I guess the flap part of the page was a regular paper, so I have to repair the page.
Overall, she is pretty happy if I give her paper to play with.
3. Cups
Similarly, with paper, she likes to hold cups, look inside the cups, and toss it around. I also play the game where I will make noises into the cup and then put it near her mouth. She gets a bit shy but smiles so sweetly whenever I do that.
The cups I give her are the reusable ones so that I can wash them when it touches the ground and can be reused.
4. Empty Diaper Boxes
Yes, my baby likes to play with empty cardboard boxes. Whether it is to push around, climb on top, look inside, or just hit it with both hands, she really likes empty boxes.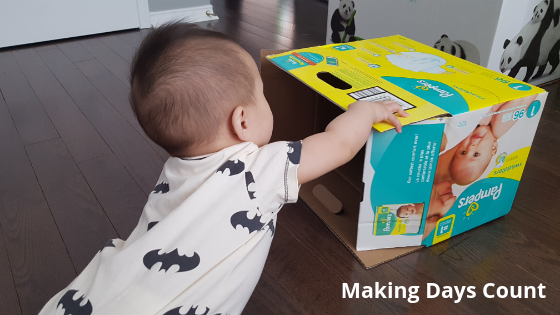 Anyone else can relate?
They seem to be more excited about the box than the present itself! Sounds like a cat haha.
It's definitely free and promotes imagination. So, why not?
We received this interactive book as a gift for Baby K, and she likes it. She would press on the bears' faces to hear the sounds and songs that they sing.
Every time I turn on this musical book, she crawls over to look at it. I think that she's curious about the music and lights coming from the book just like the cube toy.
6. Melissa and Doug Beads Set*
I bought this at a thrift store for CAD$2.99 (USD $2.25). It needed a good wipe down, but was in pretty good condition.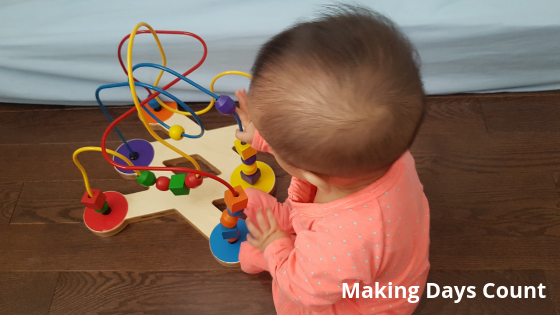 Baby K was not sure how it worked initially, but now she likes to push the beads up and down. I think when she gets older, she will understand the concept of pushing the beads all the way to the other end.
You can get this online on Amazon, but it is more than $20 (therefore the asterisk). Another option is to look at Facebook marketplace for gently used ones. I have seen them selling from $10-15.
7. Rubber Balls
My mom got Baby K these lightweight rubber balls. I believe that they were under $5 for two. You can get similar balls at Walmart.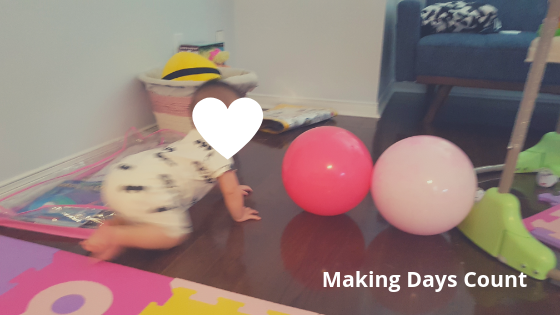 When I first bounced the balls in front of Baby K, she was frightened by them. Now as she's older, she would crawl towards them.
It's funny because she is figuring them out, whether she can balance her hand on the ball. She also watches as they roll away from her as she unintentionally pushes the balls.
It is so much fun for me as her parent to observe what she enjoys playing with and the facial expressions she makes when interacting with these conventional and unique toys.
Related:
Thank you so much for reading. Please share it with others and pin the picture below.