Are you travelling with your baby for the first time and thinking whether how many diapers you should be bringing? I had the same question when we were going to Disney and am also figuring out for our international trip to Asia.
It's such a huge question, because now with a baby, there are so many more things that we need to bring and consider. If you were a carry-on only person like myself, it is still possible but we really need to edit down what we want to bring on the trip. The wonderful thing is that you have more space at the end of the trip with the usage of the diapers.
Before I continue, here are some baby-related travel posts that you might be interested after reading this post:
Pin this for later!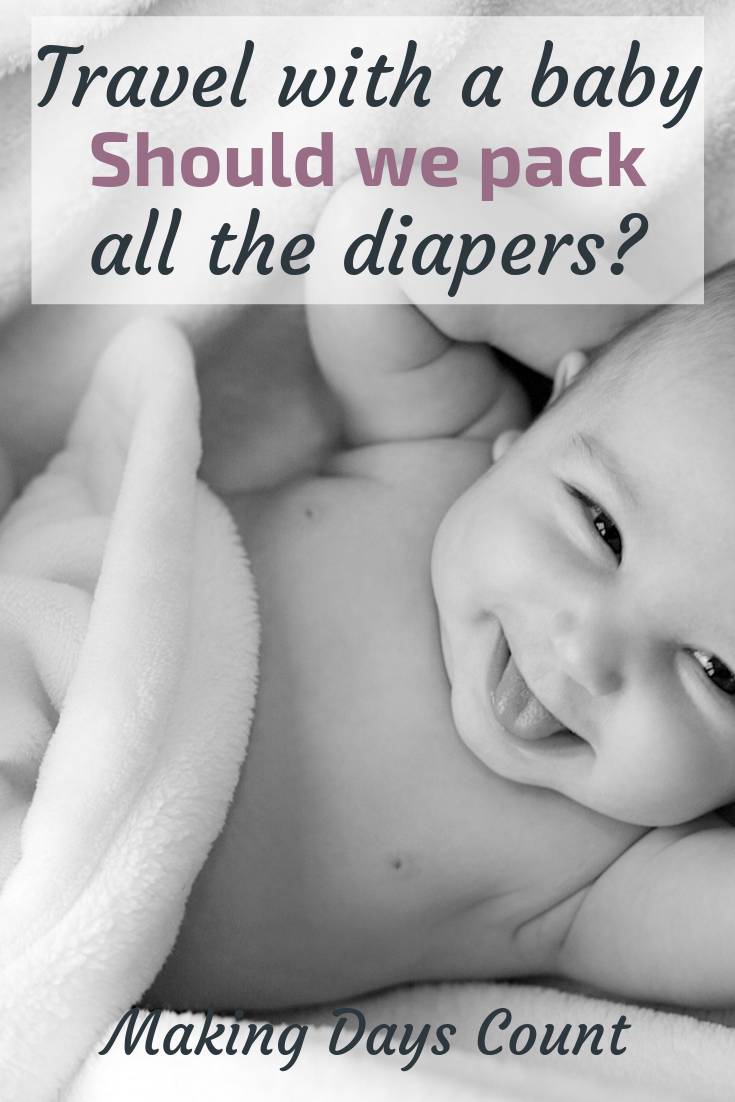 Here is my take on bringing diapers when travelling with a baby:
BY CLICKING THE LINKS AND MAKING A PURCHASE, I MIGHT BE EARNING A SMALL COMMISSION AT NO ADDITIONAL COST TO YOU. PLEASE SEE OUR FULL DISCLOSURE FOR MORE DETAILS.
There are two ways of going about this: One is to pack some for the flight or travelling day and buying the rest at your destination. The other is to pack everything so you do not need to worry about it at your destination.
Packing some diapers for the flight
You can decide to bring enough diapers for the flight or for your travelling day if you are going by car, bus, or another transportation. This is the best option for you if you want to travel lightly and not carry so many diapers in addition to carrying your baby and your own luggage. We did not do this option, but it might be for you.
You have more space in your luggage
If you have a lot to bring such as baby books, toys, souvenirs, your own clothing, shoes, it can be overwhelming to bring the diapers as well. With packing only what you need for the day or the first few days, you will have plenty of room for the other things you need to bring.
Also, if you are used to travelling light, bringing fewer diapers will lessen your anxiety of what you need to carry around. After all, you can buy the diapers at your destination.
You will need to figure out where to buy more diapers
The downside to bringing a few diapers is that you will need to get some more.
If you could research before your trip of where you can buy more diapers, it would be a lot easier. Check to see whether they have a Walmart. If you are going to another country, search up where people buy their diapers as they might not have the same big box stores that you have in your country.
Another option is to see if Amazon can ship the diapers to your hotel or a nearby pickup location. You can check with the Amazon specifically to the country and see what is available for you.
Things to consider: Pricing and Accessibility
Two things to consider by buying diapers in a different place is their pricing and accessibility. If the price is affordable, it might be worth just buying at your location. Based on the research I have done for Asia, it is more expensive for the same brands that we are using here in Canada. It might be cheaper to get a local brand, so be sure to do your research.
Another option is accessibility. How easy is it for you to get these diapers? Do you need to travel far to get these diapers or you are taking a trip to the store anyway for other items? If they can ship to your hotel or nearby place to your Airbnb (click here for my booking experience), it would be a lot more convenient.
Do your research on the specific place you are travelling to and see if it is worth buying the diapers there. It might be fun to explore the different brands of diapers around the world, if that means that you can travel light and not worry about carrying all of them around.
Packing all the diapers
When we went to Disney, we decided to bring all her diapers. It was our first time travelling with a baby so I guess we were over-prepared. Though we had a carry-on, one diaper bag, and a personal bag between the three of us, we were able to bring all her diapers and her food (which at that time included formula and baby cereal). Now that she's older, I'm not sure if we'll bring all her food as she can eat solids, but I think we will try to bring all the diapers (but in a checked in bag) as well.
When travelling with a baby, you need to decide whether it is worth bringing all the diapers or not.
No need to worry about buying diapers
One thing about bringing all the diapers is that you do not need to worry about buying diapers. If you are going to a foreign country where you are not sure where you can buy diapers, I would highly recommend bringing them all. Or, if you are going on a cruise ship or a resort (which might not have diapers available), this will be one less thing to worry about.
For us, we could buy diapers on our trip but based on our research, it is more expensive to buy in Disney unless we grabbed a taxi to go to Walmart or Target (which adds to the cost since we were staying on a Disney resort). Do your own research to see if it is better to buy diapers at your destination. Or, just to bring all the diapers to save the hassle.
Less space in your luggage
The downside to bringing all the diapers is that you will have less space in your luggage for you. When we are thinking for our trip to Asia, I want to bring some gifts for family and friends. With the items that we need to bring for Baby K, these gifts also take some space in our luggage. I need to consider their size and also weight.
We will bring less clothing as we can do laundry when we stay with family or at an Airbnb (click here for my booking experience).
How to calculate how many diapers to bring?
Here is how we calculated how man diapers we need to bring for our trip:
We multiplied the number of times we changed her during a regular day by the number of days we will be there. I think we brought (6 * 8) 48 diapers. She was a size 2 so the diapers were smaller. If your baby's diaper size is bigger, then it will take more space.
Another thing to note is the wipes. We only brought one box of wipes for the week and had leftovers. You can also bring more than less for the wipes as it has multipurpose. You can use it to wipe their hands, the table tray, and anything else that needs to be wiped down.
As for diapers, you can decide how many you need and how convenient it is to get them.
Thank you so much for reading. If you are interested in more baby-related travel posts, here are some for you to check out:
If you like what you read, please pin the image below and share this with others. Thank you so much.