You are going to visit Singapore. One of the countries in Asia with amazing food and different types of cuisines available from around the world. They have many unique restaurants in Singapore that you can enjoy not only with your stomach, but also with your eyes too.
When we went to Singapore last year (2019), we had the opportunity to explore around and try different food.
Oh man, even typing this now is making me hungry and want to go back for more delicious food.
Singapore has delicious eats that are really affordable and also high end restaurants that are a little more pricey.
In this blog post, I will share with you the unique (and mostly high end) restaurants we have tried in Singapore and you'll find out why we recommend for you to tr it out.
Before you continue, please know that this is part of my huge Asia series. Please read the other posts here (will update as I continue to write):
8 Unique Restaurants in Singapore (this post)
Pin this for later!
Here are 8 unique restaurants to splurge on in Singapore:
BY CLICKING THE LINKS AND MAKING A PURCHASE, I MIGHT BE EARNING A SMALL COMMISSION AT NO ADDITIONAL COST TO YOU. PLEASE SEE OUR FULL DISCLOSURE FOR MORE DETAILS.
Please note that this list is no particular order. Read up on what you think you would enjoy and go check them out. Most of these restaurants are on the higher end of budget and quality as well. Also, I am not sponsored by any of these restaurants but if they want to, I would love to visit them again!
1. Penang Seafood Restaurant
Address: 32 Aljunied Road, Singapore 389817
Their website/menu: https://www.facebook.com/Penangseafoodrestaurant/
We were brought here by a relative who wanted us to try something different. Have you heard of a volcano chicken dish? Here is a picture:
Literally, the chicken was on fire for a second or two. Place on top of a soup, it was so delicious.
Other dishes worth ordering are the La La Noodles and the other dish that I forgot to write the name down. Please see pictures below.
If you want to try what we tried, maybe show them the picture and they can tell you what it is?
The closest train station is Aljunied. It's within walking distance to the restaurant.
The only downside for us was that the straps on the high chair they provided did not work. We ended up holding the baby to eat. If your kid is older and can sit properly, it might work out better for you.
Overall, it was a great experience at this restaurant.
Would we go again? I think if we are in the area, we don't mind. I would recommend for you to go if you are in the area.
2. Black Tap at Marina Bay Sands
Address: 10 Bayfront Ave #L1-80, Bay Level, The Shoppes at Marina Bay Sands, Singapore 018956
Their website/menu: https://www.marinabaysands.com/content/dam/revamp/restaurants/restaurant-details/black-tap/menus/BT-Menu.pdf
Thanks to Food King for introducing us to this restaurant. Though this is not a Singapore only restaurant (as they have branches in the States as well), they do not have this in Canada so we thought to try it out. I will mention a Singaporean surprise and I'm so glad that we tried this in Singapore.
Initially, we were going there to try their Crazy Shakes. If you love desserts and sweets, this is a must try. However, if you prefer savory foods, we were surprised to find out that they served Salted Egg Fries.
I tried looking and cannot find it on the menu. We're not sure whether it was a seasonal item, but it was on a paper menu served to us when we got there.
Let's talk a little bit more about what we had.
We got the Sweet N' Salty Crazy Shake to share. It's definitely good, but a little too sweet for our taste. Like I said earlier, if you love desserts and sweet food, this is a must-get.
To go with that, we ordered the Salted Egg Fries. That, to me, is such a Singaporean staple. Is Salted Egg food overrated? Please let me know in the comments below.
It was so good. Maybe we are more savory food type of people so we loved it more than the Crazy Shake.
The environment was nice as it was in the Marina Bay Sands mall. They do offer high chairs for babies and toddlers so you can bring your kids there as well.
Would we go back? Yes, I want to try their burgers as it looked really good and also if they have the salted egg fries. So good!
3. Lokkee in Plaza Singapura
Address: Plaza Singapura, #03-01, 68 Orchard Rd, Singapore 238839
Their website/menu: http://www.lokkee.com.sg/?page=menu
Have you ever seen bacon dripping on a salad?
Sorry if you are vegetarian. You can eat other veggie dishes here too (not just with meat). Also, I have a vegetarian recommendation below at #5 called Joie.
When that dish came out, I was really surprised by the presentation and also the taste. It's pretty good.
There are other dishes which I will show you in the pictures below.
What I especially like about this place is that it is located in a mall, which is pretty convenient to get to. You can walk around and check out the mall after the meal to digest the wonderful dishes you enjoyed at Lokee.
Would we go again? It's pretty good, so it's a good choice if we are going to the Plaza Singapura area.
4. The Colony at Ritz Carlton
Address: 7 Raffles Ave, The Ritz-Carlton, Millenia, Singapore 039799
Their website/menu: https://www.ritzcarlton.com/en/hotels/singapore/dining/colony
Fancy buffet, chef cooking laksa for you in front of you, and all you can eat dessert area.
Do I need to say more?
It is a little pricey with the buffet (as compared to Canada), however, the quality was amazingly high.
It is in the Ritz Carlton hotel, where staff waits for guest to come and provide them with a towel the second they walk into the hotel.
Going into the buffet, you are greeted by the dessert station. It is not just like a tiny area, it has so many types of desserts that you do not know where you start.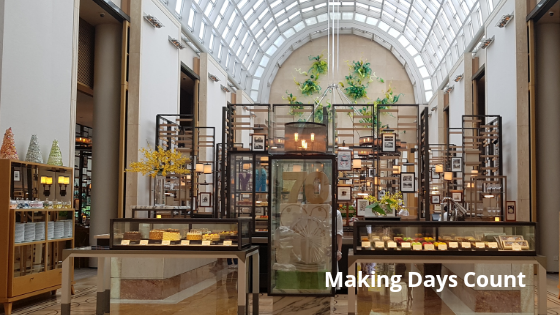 The other areas included the hot food station and the cold food station.
Experiencing someone cook laksa in front of you with the different ingredients (at a buffet) was not something I expected at all.
If you want dim sum, they've got it. Also, you want a cup of juice, walk over to the juice bar and grab what you like.
Here are some more pictures:
I can't even remember everything that they had and was a little embarrassed to take too many pictures at this fancy buffet.
I mentioned to them that M and I were celebrating our wedding anniversary and they got us a cake! How thoughtful of them.
Would we go again? Maybe, if we are going with others. There are other buffets that we want to try if we visit Singapore again.
5. Joie Restaurant By DOZO
Address: 181 Orchard Rd, #12-01 Orchard Central, Singapore 238896
Their website/menu: http://www.joierestaurant.com.sg/menu/
For all the vegetarians out there, I've got you.
Joie surprised us on how good vegetarian food can be and even how it can almost taste like meat. Maybe I don't have a lot of experience with vegetarian food. Once was in Barrie (Ontario, Canada) and this was my second experience. Both are AMAZING.
It was such a pleasant experience as we were seated in our indoor private room facing the outdoor garden. The waiter came by to explain what is on the menu and recommend the dishes to us.
Here is what we got: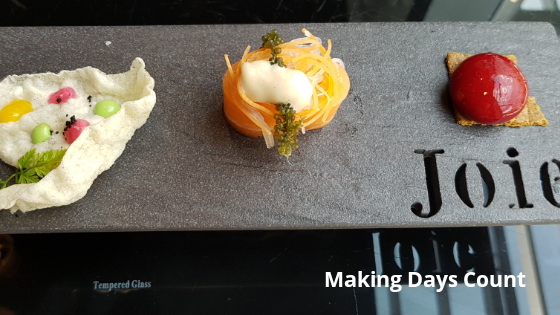 They blew us away with the really good food.
Would we go again? Yes, if we are celebrating a special occasion with others, however, it is pricey.
6. Yard Bird at Marina Bay Sands
Address: Marina Bay Sands 2 Bayfront Ave #B1-07 The Shoppes at Marina Bay Sands, Singapore 018972
Their website/menu: https://www.marinabaysands.com/restaurants/yardbird-southern-table-and-bar.html
I was debating whether to put this on this list as it is not in Singapore only. However, we did not have them here in Canada so we went to eat there in Singapore.
M had the famous Chicken N Watermelon N Waffles. I forgot the name of my order.
It's interesting to say the least. They spiced the watermelon and I cannot really put my finger on what it is. However, the chicken was really crunchy and good.
The downside for us is that we had to wait for a seat to be available on the lower level of the restaurant so that we can have Baby K eat with us. There were only stairs to the upper level and the tables not suitable for the high chair.
Other that than, we were able to get a seat in about 30 mins. They also ask you for your phone number, but we were not able to give it to them as we're just visiting so we hung around the area and return occasionally.
Would we go back again? Yes, but only for the chicken. I do want to try their crab cake benedict though! Check it out if you have not tried Yard Bird before.
7. Hua Yu Wee Restaurant
Address: 462 Upper East Coast Rd, Singapore 466508
Their website/menu: https://www.facebook.com/pages/Hua-Yu-Wee/168868969797523
When you think of Singapore, besides the Hainanese Chicken Rice, what other food do you think of?
For us, it is Chili Crab and Black Pepper Crab.
This was a recommendation by one of my relatives. Before I get into the food reviews, the restaurant itself is in a house-like building. It's a bit distant from the train station (we took a bus there), but it is so WORTH the journey.
You get into this little house and you can choose to sit inside with air-condition or outside.
Being with a baby (and other families we were eating with), inside was definitely preferred.
Here is what we ordered: Black Pepper Crab, Chili Crab, Coffee Ribs,  Roasted Chicken, Fried Rice, and Vegetables.
Overall, the food was really good. We could really taste the love and effort put into making these food.
Would we go again? Yes, I think so. It does take a while to get there from where we stayed so have to keep that in mind.
8. Da Shi Jia Big Prawn Mee
Address: 89 Killiney Rd, Singapore 239534
Their website/menu: https://dashijia.business.site/
Thanks to Food King for introducing to us this place. M ordered the Da Shi Jia Wok Fried Big Prawn White Bee Hoon and really enjoyed it. I did the regular menu where I picked the size of the prawn and the noodle. If you are nearby and can walk to this place, M definitely recommends for you guys to try the Big dish.
Here is what I got:
The big dish is a little more pricey than the one you can find at a hawker stall but it is a lot. You can share it with others for sure if you want.
The shop is a little quaint one, but we were able to bring our travel size stroller in the shop. We put Baby K in it and used the stroller as a 'high chair'. Otherwise, you might need to hold your baby if they cannot sit by themselves.
Would we go again? Yes, M really likes this dish and can't wait for the next time.
Let me know if you do get to try any of these restaurants and tag me in your Instagram or stories @makingdayscount. I would love to see them and respond.
Thanks for reading my blog post on the 8 unique restaurants we tried in Singapore. To see more on our adventure to Asia, please read the posts below (will update as I write them):
8 Unique Restaurants in Singapore (this post)
If you like what you read, please pin the image below and share this with others. Thank you so much.