Are you planning to go to the most magical place on Earth, Disney World? We went last month with Baby K and had lots of fun! Yes, it is possible to enjoy Disney World, especially Animal Kingdom with a baby.
We were in Disney for a week and visited Animal Kingdom during one of our four theme park days. It was fun to see the animals, go on rides, and eat the different types of food the theme park has to offer.
Before I continue, please know that this blog post is a part of my Disney series when I share my experience from beginning to the end.
If you would like to catch up on my Disney series, check these out:
Visiting Disney World's Animal Kingdom with a baby (this post)
Thanks for checking out my Disney series. Without further ado, let's dive in!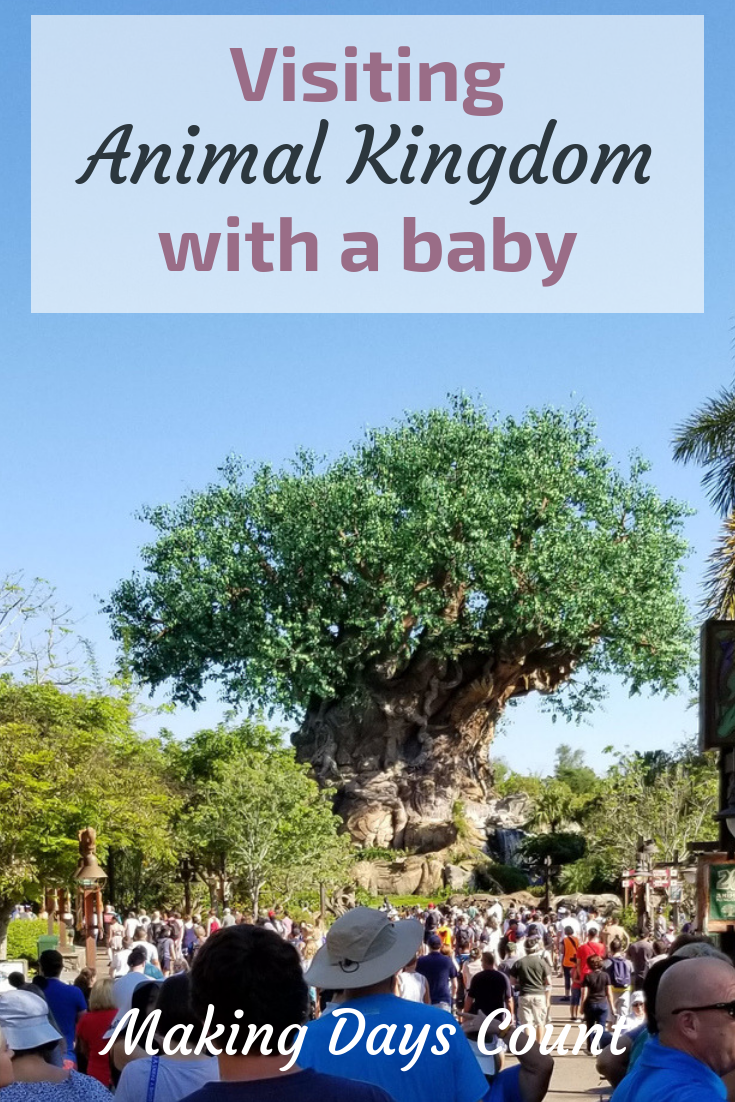 Here are my experiences visiting Animal Kingdom with a baby:
BY CLICKING THE LINKS AND MAKING A PURCHASE, I MIGHT BE EARNING A SMALL COMMISSION AT NO ADDITIONAL COST TO YOU. PLEASE SEE OUR FULL DISCLOSURE FOR MORE DETAILS.
Rides
There weren't many rides suitable for babies at Animal Kingdom. We went on two popular rides: Na'vi River Journey and Kilimanjaro Safaris.
There is also the ride, "It's tough to be a bug", but I think it would be too scary for Baby K.
Kilimanjaro Safari was the best ride as you can see the different animals and the driver/tour guide was very informative. Getting a FastPass for the Safari was definitely worth it as the line was really long.
We saw ostriches and giraffes very close to the truck. It was such a cool experience.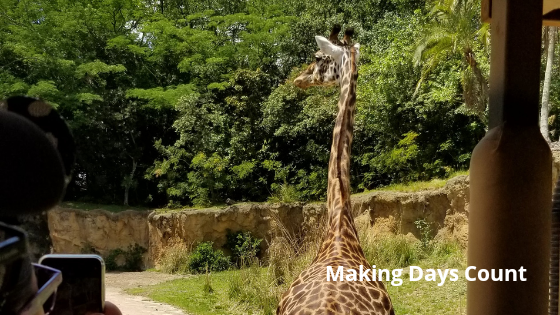 Na'vi River Journey was worth getting a fast pass as well. The rides at Pandora have really huge lines. I was surprised that Baby K did so well even though it was dark in the ride.
There were so many things to see in this ride and I think she enjoyed herself.
Character Greetings
Did you know that Animal Kingdom is the only place you can take a picture with Mickey and Minnie together?
I found out afterwards and am so glad that I booked a Fastpass for it.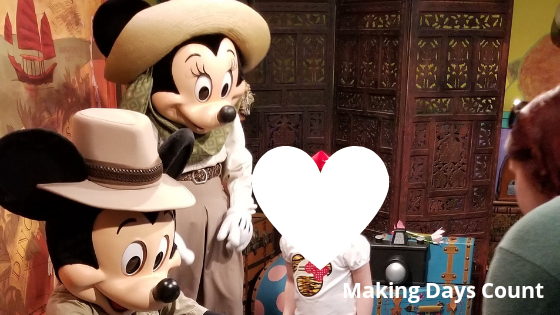 When we arrived, we were able to get our picture taken with Mickey and Minnie within 10 minutes.
You need to park your stroller on the side before going in.
There are other characters you can take pictures with like Russell and Kevin from Up, and Pocahontas (Note: She was behind the Tree of Life).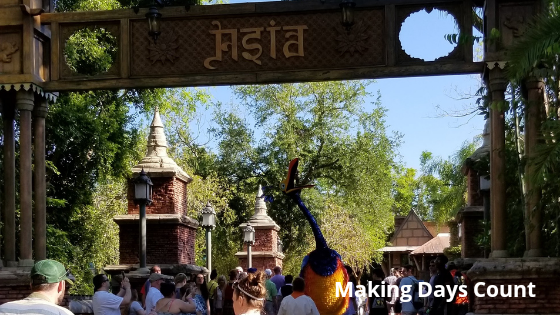 Be sure to look up if the characters you want to see are at the park you're going to.
Shows
We watched two shows at Animal Kingdom. One was Finding Nemo the musical, and the other was Up! A Great Bird Adventure. Also, we checked out two performances at Pandora, one with the ranger and the other with the drummers.
Finding Nemo the Musical
Finding Nemo the Musical takes place in the theater and has tons of seating available. We got a Fastpass, but I think you don't necessarily need one unless you want to sit really close to the front.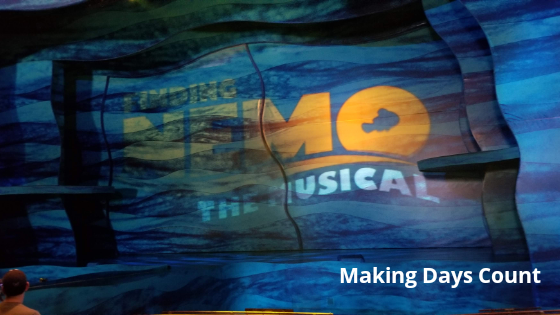 It's pretty comfortable in there, as it has air conditioning while being indoors. We were able to settle down before the hour-long show began.
One of the best purchase we did before this trip was to buy Baby K her own Baby Banz headphones. Though it is not a noise canceling headphones, it does muffle some of the sounds. She was able to watch the show without the sudden loud sounds frightening her.
There were instances that she got scared, and we think that it might be Bruce the shark and also when it got dark and scary. She would turn to us and we'll try to distract her or just hug her until the next scene begins.
Up! A Great Bird Adventure
This show takes place in an outdoor setting, but it is covered and guests seat on stadium bleachers. With this show, you do not need a Fastpass either as there were plenty of seating.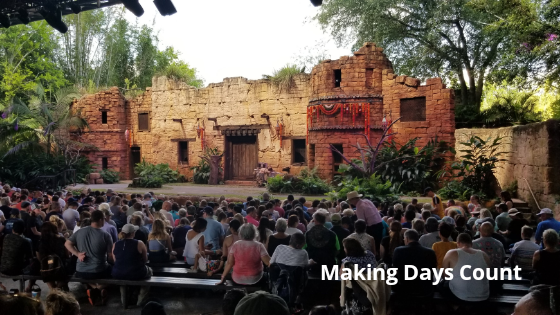 You'll get to see different birds along with the characters from the movie Up! such as Dug and Russell.
This 30 minute show has different birds flying in and out, which is fun for children who are interested in watching these animals.
They even had an interactive part where the audience build a roof with their hands and the bird wil fly underneath their hands. My favorite memory was when the parrot sang O Macdonald.
Pandora Rangers and Pandora Drummers
When you enter Pandora – The World of Avatar, you might hear drumming and people singing. These are the Pandora Drummers – Swotu Wayä.
High energy and very interactive with guests, these drummers are a must- watch if you're in the area.
Pandora Ranger is a guy in those machines that you can see in the movie, I think. It has been a while since I last saw the movie, but it was cool.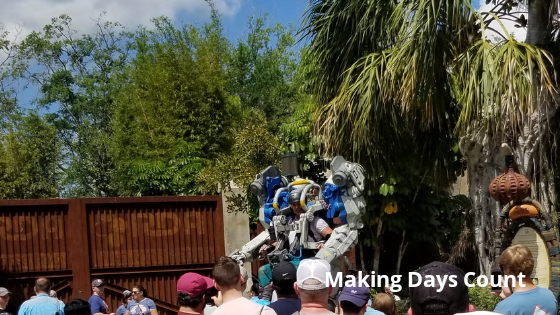 He would interact with the audience around him and move the machine from one spot to the next. It's located outside Satu'li Canteen, which I love and talk about later in the blog post.
Bonus: DiVine – Stilt Tree Walker
It would be so cool if you can find DiVine the stilt tree Walker. We saw her close to the entrance before the Tree of Life.
Let me know in the comments below if you do get to see her.
Animals
You can't go to Animal Kingdom with a baby without seeing the animals. One place to see is the Kilimanjaro Safari, which I mentioned earlier. The other way to see animals is to just walk around as they are scattered throughout the park.
We went on the Maharaja jungle Trek, and saw a few birds and tigers. You can also see flamingos in the front part of Animal Kingdom.
Be sure to download the free My Disney Experience app as it has maps, wait times, and also you can book fastpasses on there prior to your trip.
Feeding baby
Whether you are planning to breastfeed or bottle-feed your baby, there are some places in Animal Kingdom.
You can find seating on the side near the washrooms or rides. If you're near the Baby Center, you can use their facilities. Another option is to find quiet trails or between the different areas of the park to feed your baby.
One of my favorite things is that some of the quick service restaurants at Disney has free hot water for you. You can use it to make formula or baby cereal. It's pretty convenient that we didn't need to bring hot water from our resort.
CHANGING DIAPERS
Every washroom we been to at Animal Kingdom has a change table for babies. We didn't use the baby center though I heard good things about it.
Whether it was M or my turn to change Baby K, both male and female washrooms were equipped with a change table.
Similarly to the other parks, Baby K does not like the change tables, even with a padding that we brought from home. I guess it's just a new space for her and lots of strangers walking by.
Nap time
Baby K was able to nap in both the Ergo Baby Carrier and also in our stroller.
We made sure to put enough baby sunscreen on her and cover her when we can while she naps.
I am so grateful that she could nap while we walk around.
If your baby needs a quiet space, there is the baby center and also seats around the park (though not as obvious as Epcot).
Food and Drinks for adults
While at Animal Kingdom, we had snack, lunch, and dinner. We went by Sanaa restaurant at Animal Kingdom Lodge for breakfast.
Snack
Our snack was the Mickey Pretzel. It came with a cheese dip. I mean, we were at Disney World and should try it once.
It was salty and the cheese dip was good, but again salty. If you have read my other reviews, it seems like Disney uses a lot of salt in their food. It's still tasty, we just feel really thirsty afterwards.
Lunch at Satu'li Canteen
This place is amazing and the food tasted healthier than the other food we've been eating at Disney. It's located at Pandora – The World of Avatar.
You can customize what you would like in your bowl and the price isn't bad. For their menu, please check Disney's website.
It's a fast casual dining, so you'll order, pick up your food, then choose a table to sit. There are tables available inside and outside as well.
We were able to bring our stroller in, which makes things easier for us.
We got the Slow Roasted Slice Grilled Beef bowl and the Chopped Wood-Grilled Chicken bowl.
They were pretty good and not as salty as some of the other food at Disney. If I could, I would eat there again for sure.
Dinner at Flame Tree Barbecue
Similarly to Satu'li, Flame Tree was a quick service restaurant where you order, pay, and then pick up your food from the counter before choosing your table.
The table and seats are outdoors but covered. Occasionally, there are birds that will come by to eat off the ground or if people are feeding them.
We ordered the St. Louis Rib dinner and Smoked Pulled Pork sandwich.
Unfortunately, I don't have pictures for you because Baby K was super fussy and we were trying to eat as quickly as possible.
It was the first and only park we went back to for dinner after hanging out at the pool. So, note to parents, if your baby did not have enough rest, they might be super fussy and have a meltdown.
Lesson learned.
My pulled pork sandwich was not bad, though I prefer the one at Be Our Guest as it had more sauce.
M had the rib dinner and it looked good.
Overall, the food at Animal Kingdom is good. Be sure to check Satu'li Canteen if you're in the Pandora – The World of Avatar area.
Thank you for reading this long post. Please check out the other posts of my Disney series:
Visiting Disney World's Animal Kingdom with a baby (this post)
If you like what you read, I would love for you to pin it and share it with others. Thanks!