Are you considering whether you should go to Walt Disney World, the most magical place on earth, but people keep telling you that your baby will not remember anything? You are just going for you? That's what we heard as parents to a 7 month old baby. We went anyway and enjoyed it, yes, even Epcot with a baby.
We enjoyed it and spent one out of the four park days at Epcot.
I will be sharing with you our experience when we visited Epcot with a baby.
Before I continue, please know that this blog post is a part of my Disney series when I share my experience from beginning to the end.
If you would like to catch up on my Disney series, check these out:
Visiting Disney World's Epcot with a baby (this post)
Thank you so much for check out my blog. Let's get into it.
Here are my experiences visiting Epcot with a baby:
BY CLICKING THE LINKS AND MAKING A PURCHASE, I MIGHT BE EARNING A SMALL COMMISSION AT NO ADDITIONAL COST TO YOU. PLEASE SEE OUR FULL DISCLOSURE FOR MORE DETAILS.
Epcot is a huge place and is divided into two areas: Future World and the World Showcase. Be prepared to walk a lot if you want to explore everywhere by foot (there's a boat option too!).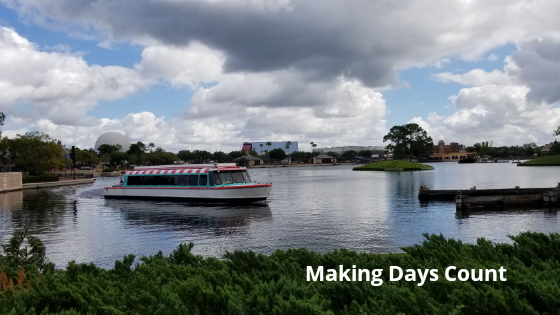 Rides
We didn't go on many rides in Epcot as compared to Magic Kingdom because there are not too many rides available for babies.
The one of the rides I got a Fastpass for was Frozen Ever After. If you want to ride this ride, be sure to get the Fastpass on the My Disney Experience app. It's free and you get to avoid the long lines.
The rides we went on were:
Frozen Ever After
The Seas with Nemo and Friends
Living with the Land
Gran Fiesta Tour Starring The Three Caballeros
There are other rides suitable for Baby K but we didn't have enough to check them out.
Also, please know that there are two drops in Frozen Ever After. If your baby might be scared, it might be a good idea to skip it. We didn't know until we walked in and saw the sign. Thankfully, Baby K was fine with them. We were more worried than needed to be.
We did get an opportunity to check out the Gallery in the Japan Pavilion. They were showcasing the Kawaii culture that is popular in Japan.
Character Greetings
Based on my research, there are many characters that you can meet at Epcot.
From Elsa and Anna from Frozen, to Joy and Sadness from Inside Out, they are located throughout the park.
At first, we weren't sure if we wanted to wait in line for these characters. I then looked up the My Disney Experience app to see that there's a Fastpass that became available to meet Mickey, Minnie, and Goofy.
Since we were able to get the Fastpass, we went to meet them and it was fun. This was Baby K's first encounter with these characters (this was before she met the characters at Magic Kingdom or at Ohana), and she did so well.
Baby K was interactive with the characters and especially liked Minnie. I think it's because Minnie was wearing red, her favourite colour.
After this experience, we went to line up to meet Baymax. Both M and I enjoyed the movie so we didn't mind lining up.
If you don't mind waiting in line, you can meet princesses and other characters throughout Epcot. It depends on your baby's temperament and how important it is for you to meet the specific character.
World Showcase
Is the World Showcase worth bringing a baby to visit? Yes.
Not only each place is designed thoughtfully, you can do a few things there.
You can take pictures of the buildings and architecture, meet characters from the country like Mary Poppins in England, and eat food that is from the specific country. I think Disney also hire cast members that are familiar with the language and culture of the country.
Epcot International Flower & Garden Festival
As of this writing, it is the Epcot International Flower & Garden Festival. Epcot have different events throughout the year that are really popular.
I am grateful that we were able to come during this time because I love looking at flowers. Also, I appreciate the creativity and thoughtfulness behind these greenery.
I do have a few favourites, such as Elsa and Anna:
The Lion King: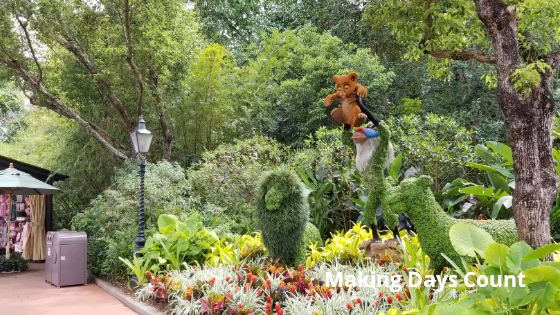 Peter Pan and Captain Hook:
They were so much fun to just take pictures of.
If you get a chance to check it out, please let me know which is your favourite.
CHANGING DIAPERS
Every washroom we been to at Epcot has a change table for babies. We didn't use the baby center though I heard good things about it.
Whether it was M or my turn to change Baby K, both male and female washrooms were equipped with a change table.
Similarly to Magic Kingdom, Baby K did not enjoy being changed in the washroom due to the hardness of the changing table even with a change pad under her.
Breastfeeding
One amazing thing about Epcot, especially in the World Showcase are the benches. There is at least a bench or two every Pavilion, or a place to sit and rest.
Some might be under a shade, but not all of them are.
If you don't mind breastfeeding with a cover (based on your preference), just sit on a bench and do your thing.
If your baby gets easily distracted, you can try going to the baby center where I heard is quiet and nice for you and your babe.
Another option is to feed in the galleries or museums in one of the Pavilions. There were hardly anyone when we went.
Nap Time
Baby K was able to nap in the stroller we bought for her so we just pushed her around while checking out the stores and Pavilions in the World Showcase at Epcot.
Visiting Epcot with a baby is pretty relaxing for us as we can go at our own pace to look around.
We decided to go counterclockwise when exploring the World Showcase because of our Fastpass for Frozen Ever After. It was a good decision as there were fewer people in the beginning and slowly increasing at the end.
Baby K woke up after the German Pavilion, so it was perfect timing. We got to take a picture with M holding Baby K, with Simba and Friends.
Food and Drinks for adults
Epcot is such a special place for foodies as they feature different types of food around the world.
We had breakfast at Sunshine Seasons which was in the same building as Soarin and Living With the Land rides.
The one thing I wanted to try was the Kakigori, the shaved ice, from the Japan Pavilion.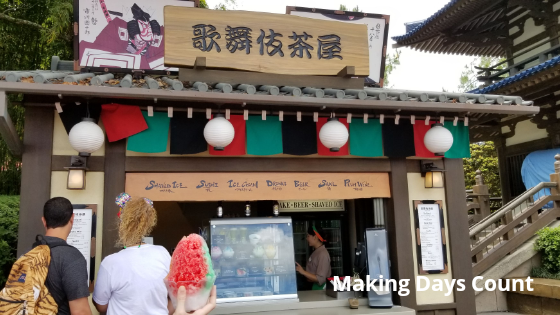 It was really big and not bad. It's just shaved ice and syrup. It's refreshing in the hot weather.
The other item from the World Showcase we tried was the Toasted Pretzel bread from the Outdoor Kitchen Bauernmarkt: Farmer's market in the Germany Pavilion. Unfortunately, I didn't take a picture of that but it was good. It's a little small in size but still delicious.
One thing to note is that the prices can add up, so either set a budget beforehand or just know it'll be costly if you want to try everything.
There are restaurants at each Pavilion, I believe. If you're hungry while walking around, you can dine wherever you're at.
Final thoughts: Visiting Epcot with a baby is possible. It focuses more on exploring the different countries and going on some rides. If you have older children, Kidcot is a fun activity to do with them around the park.
Thank you for reading all the way. Be sure to check out my other Disney posts:
Visiting Disney World's Epcot with a baby (this post)
Like this post? Please pin it and share with others. Thank you!