Thinking about going to Disney World, but people keep telling you that your baby will not remember anything? You are just going for you? That's what we heard as parents to a 7 month old baby. We went anyway and enjoyed it, especially Magic Kingdom.
We really enjoyed it and spent two out of the four park days at Magic Kingdom.
This blog post is part of my Disney series where I share our experiences of this trip from beginning to end.
Here is a list of my Disney series blog posts:
Visiting Disney World's Magic Kingdom with a baby (this post)
I hope that you get a chance to read them and come back as I continue to write and update the list.
Here was our experience going to Magic Kingdom with a baby:
BY CLICKING THE LINKS AND MAKING A PURCHASE, I MIGHT BE EARNING A SMALL COMMISSION AT NO ADDITIONAL COST TO YOU. PLEASE SEE OUR FULL DISCLOSURE FOR MORE DETAILS.
Update May 2021:
I am not sure what are the new protocols and policies of Disney World, especially now that things are opening up again after the pandemic. Please do check their website to see the latest update of rides and rules that they have now at Disney World. This blog post is our experience going to Disney in late Spring of 2019.
Rides
We went on so many rides with Baby K. The first day was a Tuesday. The crowd levels were not too bad and it rained occasionally.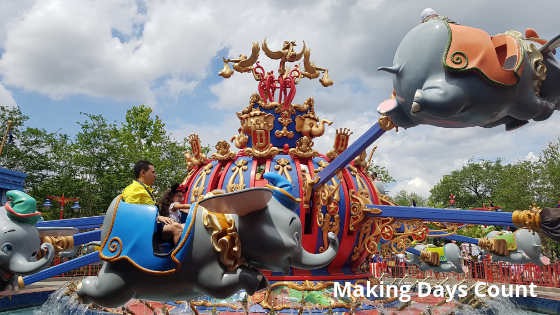 Due to those factors, we were able to get a lot of Fastpass throughout our time there in between naps as well.
The rides we went on the first day included:
Peter Pan's Flight
The many adventures of Winnie the Pooh
Buzz Lightyear's Space Ranger Spin
Dumbo the flying elephant
"It's a small world"
Mad tea party
Walt Disney's Carousel of Progress
Mickey's Philharmagic (she got frightened by the loud sounds, highly not recommended without Baby Banz – more on that later)
I was and am pretty impressed that we could go on all these rides even though we didn't arrive at rope drop (though we tried), had a lunch reservation at Be Our Guest restaurant, and left around 3 p.m. during the Disney Festival of Fantasy Parade.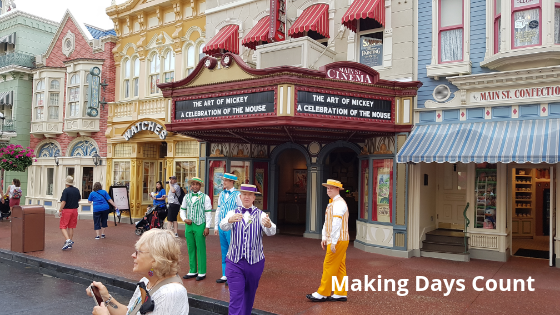 Baby K really enjoyed the rides with lots of sounds and lights. We could see that her eyes opened wide and her head would turn to look at different things on the rides. We would cover her eyes when we felt something on the ride was scary looking. She would try to push our hands away haha.
The second day we went to Magic Kingdom was a Friday. It was more crowded and a much more beautiful day. We dedicated this day mostly to character greetings and souvenir shopping.
The rides we went on included:
Under the Sea ~ Journey of the Little Mermaid
Prince Charming Regal Carousel
Tomorrowland Transit Authority People Mover
Character greetings
At Magic Kingdom, we wanted to meet some characters on our second day at the park.
We met Elena, Cinderella, Tinkerbell, and Gaston. We got fastpasses for everyone, except Gaston. With the relatively short wait time, Tinkerbell was the longest wait of around half an hour.
Informally, we saw Peter Pan at Fantasyland, Aladdin outside of the Magic carpet ride, Alice beside the Mad Tea Party ride, Snow White outside a gift shop at the entrance, and the characters on the stage at Mickey's Royal Friendship Faire.
Changing diapers
Every washroom we been to at Magic Kingdom has a change table for babies. We haven't had the chance to use the baby center though I heard good things about it.
Whether it was M or my turn to change Baby K, both male and female washrooms were equipped with a change table.
Unfortunately, she didn't like the changing table even when we put our changing pad under her.
Breastfeeding
Magic Kingdom with a baby can be overwhelming, but if you need to breastfeed, there are a few spots.
Throughout the park, there are sitting areas under some sort of shade. If you don't mind breastfeeding with a cover (based on your preference), just sit under the shade and do your thing.
If your baby gets easily distracted, you can try going to the baby center where I heard is quiet and nice for you and your babe.
I actually breastfed on a ride, Wait Disney's Carousel of Progress. I sat in the back and she was comfortable. It was air conditioned and soothing for both the baby and myself.
Nap time
M and I were determined to test out our new travel stroller and see if Baby K would nap in it.
One feature we liked was that it could be almost flat. Thankfully, she did nap in the stroller so we didn't have to return to the resort.
Other times when she was fussy due to tiredness, I would nurse her and just hold her while she's napping.
The downside to Baby K napping in the stroller is that we couldn't go on any rides because strollers were not allowed, except for Mickey's PhilharMagic.
Loud Noises
One thing I learned about Baby K is that she gets frightened by sudden and loud music or noises.
I guess I would be shocked to if someone starts playing the trumpet out of nowhere.
One of the best purchases we made for this trip was the Baby Banz headphones. I was able to put it on her and walk through the Festival of Fantasy parade without her waking up.
Like, seriously.
Amazing.
I bought it from Walmart, but I'll link it for you on Amazon so you can buy it online and get it delivered to you.
Eating and Drinking (for the adults)
I mean, we need to eat too and enjoy our experience at Magic Kingdom.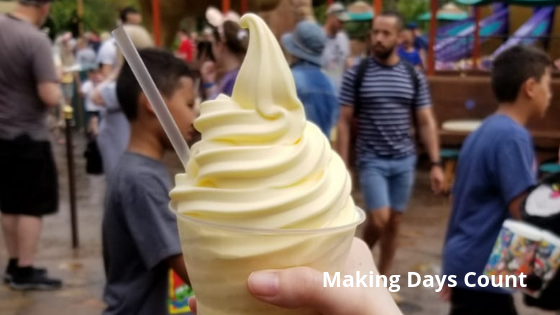 Baby K hasn't learned how to sit by herself for long periods of time yet. We didn't request for a high chair so instead, we took turns holding her.
The food and drinks we had included:
Dole Whip from Aloha Isle
LeFrou's Brew from Gaston's Tavern
Sweet and spicy chicken waffles sandwich from Sleepy Hollow
Frozen Flame from Joffrey's Coffee Cart
The Master's cupcake from Be Our Guest (another post coming up on our experience here)
They were overall pretty good.
We had a wonderful experience at Magic Kingdom with a baby.
Thank you for reading this post. If you're interested in more, be sure to check out my Disney series:
Visiting Disney World's Magic Kingdom with a baby (this post)
Like this post? Please pin it and share it with others. Thank you so much.