Are you going to the Toronto Islands with a baby? We recently went with Baby K and it was so much fun. It is possible to travel around with a baby and have somewhat of a stress-free day. I will share with you how we manage to plan and go about our day in the Toronto Islands.
She had a lot of fun too as she was busy looking around at all the sights and sounds around her.
Before we continue, I would like you to know about my previous post that you can check out after this blog post. It's called How to Travel to Toronto Islands on a budget.
Pin this for later!
Here is my experience visiting Toronto Islands with a baby:
BY CLICKING THE LINKS AND MAKING A PURCHASE, I MIGHT BE EARNING A SMALL COMMISSION AT NO ADDITIONAL COST TO YOU. PLEASE SEE OUR FULL DISCLOSURE FOR MORE DETAILS.
Going to the Islands
Whether you are driving to Downtown Toronto or taking public transportation, we found that bringing a stroller is very helpful. Baby K could sit in the stroller while we get on the ferry boat and also all around the island. A good thing is that you do not need to close the stroller when getting on and off the boat.
Why this is helpful?
When you are bringing a lot of stuff such as baby food, baby carrier, water, etc., you can put them in the bottom of the stroller. I even saw people pushing backpacks around in a stroller instead of a baby. Of course, someone else was holding the baby. I have seen someone who went grocery shopping with a stroller instead of a trolley (with no baby). That is a story for another day.
It can be a little packed when you are getting on the ferry boat, but once you are there, there are tons of space.
We sort of wonder around to get a good view of the CN Tower (more on that in this post) and then realized that everyone from the boat just dispersed around the island.
Nap Time
Now that Baby K is older, she only takes two naps a day. One in the morning and one in the afternoon. When we went to Toronto Island, we went in between the naps as we were only planning to be half a day.
However, if she wanted to nap, there were a few places where she could nap. Hopefully this list will help you too if your baby needs to nap while you are there.
First, she can nap in the stroller. The baby trend stroller we have has the ability for her to lie almost straight. This option is handy if she feels tired and wants to take a nap.
Another option is in the baby carrier. Baby K has napped in the carrier when she's tired and is not interested to look around.
There are many shaded areas around in the island. Also, there are benches where you can rest while your baby sleeps. It is pretty family friendly as you will find tons of places to stop and rest. Take a look at the map and you can see where you would like to go for your baby to nap.
Food for baby and adults
As I mentioned in my previous post, you can bring food for the baby and yourself to Toronto Island. It is cheaper and there are more variety.
We brought an insulated bag and put ice packs in there to keep the food cold and fresh.
For Baby K, we brought some fruits and baby cereal along with her hot water bottle.
I packed some sushi for us adults. You can bring a sandwich or buy something to bring onto the island with you.
If you prefer to buy food on the island, there are some restaurants you can choose from. So don't worry if you did not bring your own food.
There are also lockers available in some areas on the island such as the front beside the information booth or beside the washrooms midway to the beaches. You can put your food there if you prefer to not carry it around.
Changing Diapers
There are washrooms around the island, but I do not recall seeing any family washrooms.
We did not use the washrooms to change Baby K's diapers so I cannot tell you about that. However, if you want to change your baby's diaper, they should have changing stations in the washrooms (at least according to this website).
What we sometimes do is to change her diapers in the stroller (in a secluded spot). You just need to do what you need to do.
Water Park
There is a free water park available for anyone at Centreville. Just walk around and you will find it past the different restaurants.
There are plenty of seats for parents to relax. However, if you are putting your stuff on the benches and going to the water park to play, please be cautious of your belongings.
It looked like a lot of fun. If we knew ahead of time, I would have brought towels and swim suits for Baby K and ourselves. She would have loved it.
Farm Animals
In the Far Away Farm, we saw many different farm animals such as pigs, ponies, and goats. She was so fascinated by what we were looking at. We were teaching her the different sounds that the animals make. Sometimes she would copy us and sometimes she would not.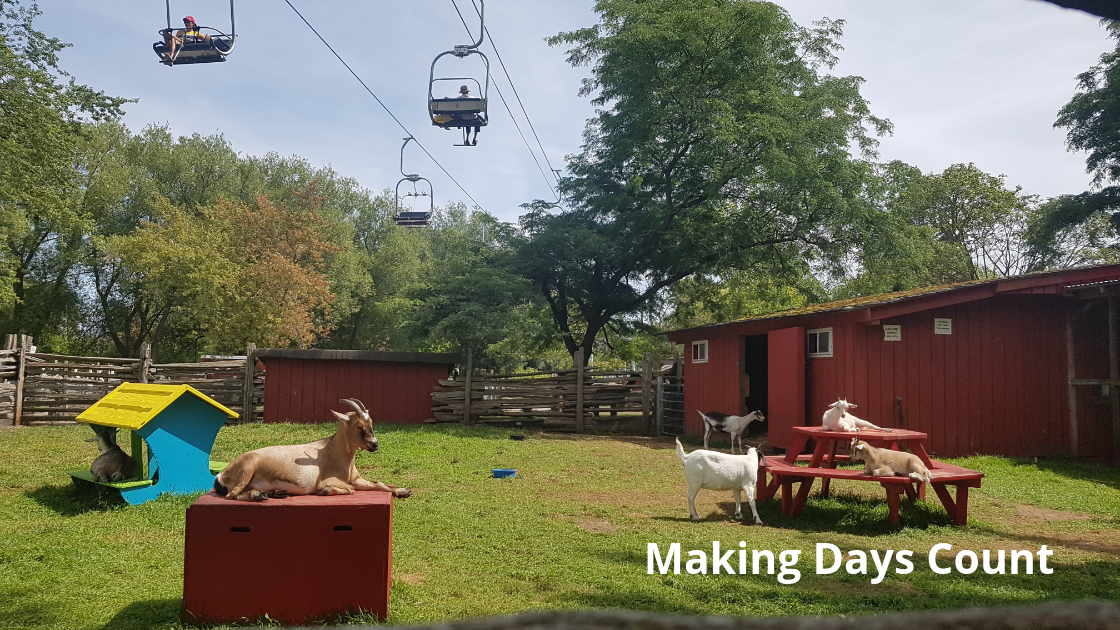 It was such a fun experience for all of us. This was our second time seeing animals as the first time was at Animal Kingdom. The difference is that Baby K is a lot older now and seem to understand when we're talking about the different animals.
Beaches and Dock
Another area you can take your babies to is the dock and the different beaches.
Prepare a blanket where they can sit on, put on sunscreen and a hat, and have some toys for them to play while you enjoy the sun. It'll be an interesting experience for them to feel the texture of sand if it is their first time.
The dock is pretty windy so be sure to keep an eye of your things. We were a little worried that the wind would blow her blanket away as the wind was a little stronger than we thought. It was fine, but just keep in mind.
Thanks for reading this post on visiting Toronto Islands with a baby. Please check out my previous post on How to Travel to Toronto Islands on a budget.
If you're interested in budget travel posts, here are some suggestions:
Please pin the image below and share it with others. Thanks!