We came back from our trip to Walt Disney World in Orlando, Florida. It was so much fun! We stayed at one of the value resorts at All-Star Sports. In this blog post, I will be sharing the good, the bad, and our experience throughout the week there. This is my personal review of the Walt Disney World All-Star Sports resort/hotel.
I'm putting that as a disclaimer because everyone has their own experience depending on the time and season that they go to and also their interactions with the cast members.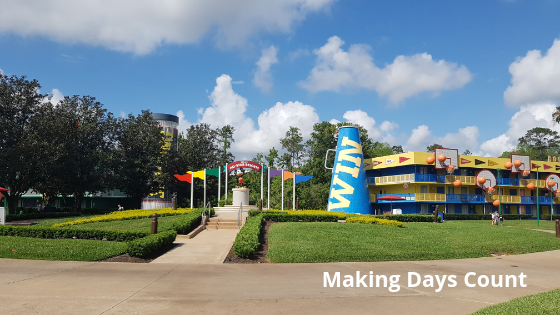 Before you continue, I want you to know that this post is a part of my Disney series:
Walt Disney World All-Star Sports Resort Review (this post)
Choose and read the posts which apply to you. Okay, let's talk about our experience at All-Star Sports resort.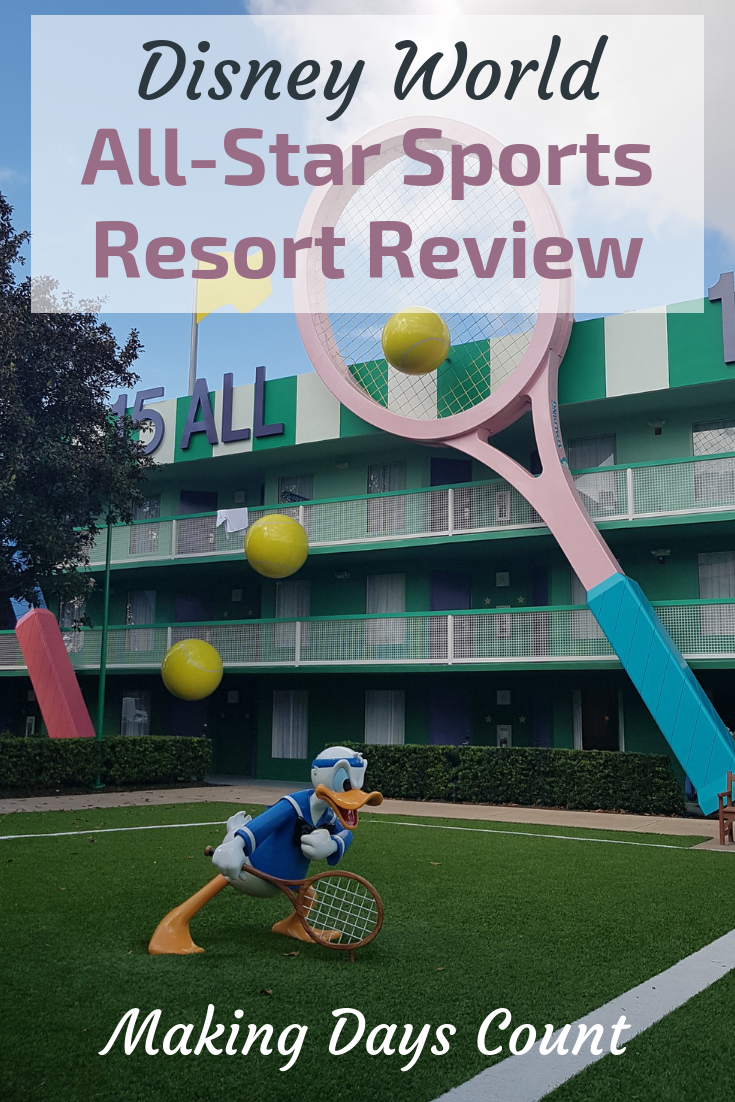 What I love about All-Star Sports Resort at Walt Disney World:
BY CLICKING THE LINKS AND MAKING A PURCHASE, I MIGHT BE EARNING A SMALL COMMISSION AT NO ADDITIONAL COST TO YOU. PLEASE SEE OUR FULL DISCLOSURE FOR MORE DETAILS.
One: Accommodating my bed requests
When I booked the package with Costco, as you can read about it, I checked the boxes for wanting a king bed and a crib.
We arrived quite late into Orlando due to the thunderstorm. I couldn't wait to put Baby K to bed and rest up for Magic Kingdom the next day.
At the front desk, I asked if there was a crib in the room. The cast member checked that there is a note and they will deliver one to us if there isn't one in the room.
When we went to our room, in Building 7 "Touchdown", there wasn't a crib, but there was a king bed. The bed was huge! Bigger than our king bed at home.
Not long after, mousekeeping, as they call it, delivered the crib.
I was pretty happy to get both bed requests. It's not guaranteed, but we were blessed.
Unfortunately, the crib was a bit low for us. I can't really slowly put her down while she's asleep. If your kid can fall asleep by themselves, this crib can work for you. So she slept with us.
The bed was pretty comfortable and had enough room for the 3 of us. Yes, even when Baby K decided to sleep horizontally. Any parents out there who co-sleep and end up with your baby's feet in your face?
Two: Theming of the different areas
What I enjoyed about the resort are the different theming throughout the resort. Yes, they are sports related and larger than life. It's so much fun to walk around and take pictures of them.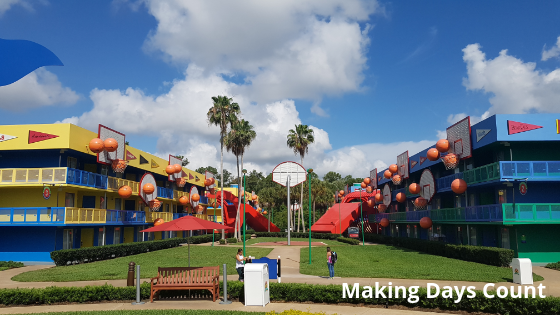 When we went, it was during the spring break season so there were many students around. We stayed in building 7, which had a huge field in the middle with two giant American football helmets on the side. There were students and kids practising their throw and catch.
Even the two pools had their own themes. Disney does a great job here, especially when it is considered a value resort. We enjoyed walking around.
Side note: It'll be nice to check out other resorts too. We went to Art of Animation and here is a picture of what we saw. Maybe I should write a post about our visit there.
Three: Cast Members
When we arrived, it was late, yet we were greeted with a smile. It was such a pleasant experience from when we arrived on the first day until our departure.
They were patient with my questions since it's our first time there.
The staff at concierge were very eager to help and gave information that helped us plan our day. The questions I asked included bus timing (we had an early reservation at Ohana) and luggage storage on the day we were leaving.
If it is your first time at Disney, be sure to ask for your first visit button. We didn't ask for it until our last day while waiting for our Disney Magical Express to take us to the airport.
If it is your birthday, let them know and you'll get a balloon on top of a button. At least that was what I saw for a family who told concierge that it was the daughter's birthday.
Four: Service Your Way
I read somewhere online that you can refuse to housekeep (mouse keeping) and get a gift card instead. This means that they don't come to your room to change your towels or remove your trash.
You can still ask for towels if you need to.
This is called "Service Your Way". We decided to do this because we felt that it was fine if we didn't get housekeeping.
One thing we have to consider is our baby. She has diapers that we need to change and toss out.
So M would actually take the trash out every two days when it starts to get full. There are big trash cans nearby, or you can give it to housekeeping staff who are cleaning the other rooms.
We received $40 in e-gift card for 5 nights stay. That meant free dinner and maybe a souvenir. Yay!
Five: Bus Stops
Since the building where we stayed was not too far from the bus stop, we could look at the Disney app to see when the buses are coming.
We would then try to make it on the bus, if possible. At All-Star Sports, they have these TV monitors with live updates on when the next bus will arrive.
There were clear signs on where to line up for Magic Kingdom versus Hollywood studios.
I guess the only downside here is that there is no shade or covering. There were times that we needed to line up in the rain.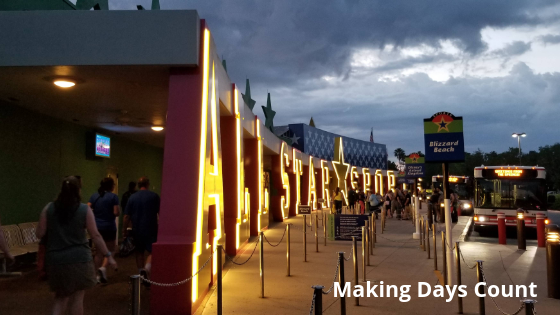 The other good thing is that it's the first stop before the other All-star resorts during the non-rush hours. This means that staying at All-Star Sports, we get dropped off first before Music and Movies.
Also, if you're getting on the bus, there's a higher chance to get a seat after others get dropped off at the other two resorts.
What are the not-so-good parts of Walt Disney All-Star Sports:
One: Room Amenities
All-Star Sports is a value resort at Walt Disney World. They do provide soap and a fridge, and also a hairdryer. That's basically it.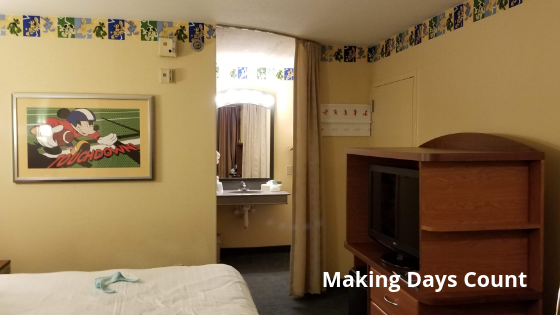 Don't expect a kettle or bathrobes. It's basically minimalist in amenities. If you need hot water or a microwave, go to the food court.
Hot water is free. You can ask the cashier for a cup for your hot water. We filled up our bottles with hot water for Baby K's cereal and formula.
Two: No cover for bus stops
I mentioned this earlier where we had to wait in line under the rain. Just be prepared if you go during the raining season.
Three: Amazon package delivery
It's a good thing that you can send your Amazon package to the resort. They charged us $6 for delivery.
The issue was that we tried to call in the morning for our package, which was a travel stroller. It seemed that it was difficult to get our package through the phone.
The best way to go about it is to go to concierge and they will get a runner to get it for you right away. Be sure to have your order number ready.
Other things to note:
Timing
When we arrived, there were many groups of students both high school and college students. It meant that the buses can get filled very quickly as they travelled in groups.
Our room was facing a quieter part of the resort so noise was not an issue for us.
Room Service: Pizza delivery
On our first night, we ordered pizza as we were tired from our plane ride. Poopy pants and all. More on travelling with a baby later.
We ordered the mighty meaty pizza. It was bigger than I thought and we had enough for the next day's breakfast.
Overall, we had a wonderful stay at All-star Sports resort. It's a simple, no-frills resort that you have access to the parks with the Disney buses and perks such as choosing your Fastpass 60 days in advance, free Magic Bands, and free transportation to and from the airport.
Thank you for reading all the way until the end of this super long post. Remember that it's part of my Disney series:
Walt Disney World All-Star Sports Resort Review (this post)
Like this post, be sure to pin it!