What to wear: How to hide your baby bump
Whether you are not ready to tell others about your pregnancy, or because of work or previous pregnancy complications, sometimes you want to hide your growing baby bump.
I am also writing another post about dressing your baby bump later.
Early in my pregnancy, I did not want to tell others at work that I was pregnant. I wanted to wait until I was ready.
Our family members found out at 10 weeks, my boss, manager, and co-worker that I work closely with found out after 3 months, and I was Facebook official at 21 weeks (I did a Mother's day post/pregnancy announcement).
This post is about how I hid my baby bump until 4 to 5 months. Due to my smaller size, it was not very obvious (except for bloated days).
Here are some clothing tips (you can try and see if it works for you) to hide your bump:
BY CLICKING THE LINKS AND MAKING A PURCHASE, I MIGHT BE EARNING A SMALL COMMISSION AT NO ADDITIONAL COST TO YOU. PLEASE SEE OUR FULL DISCLOSURE FOR MORE DETAILS.
Jackets
Busy design outfits
Dresses with elastic bands at the hip/stomach area
Large scarf or Pashmina
Oversize clothing
Please avoid:
Skin-tight clothing
Babydoll dresses or A-line dresses
Jackets
Jackets are a great way to cover your midsection area if you do not want people to focus there. It also makes you look comfortable and you definitely want that early in your pregnancy.
Busy Design Outfits
Polka dots or other small prints on your outfit will distract people from focusing on your growing belly bump. Please be sure not to wear clothing that is closely fitted even with a busy design.
Dresses with elastic bands in the middle
I find this one very helpful for me. When the elastic is in the middle on top of your belly, it does not create the belly bump shape – this helped my bump not look obvious (even though I just look like I gained weight, just not with a baby).
Large Scarf or Pashmina
If you are pregnant during the colder seasons, you can use a large scarf or a pashmina to cover yourself. Similarly to a jacket, it's fashionable yet serves its purpose. I just use the excuse "I'm cold" if people ask me why I'm wearing my scarf around all the time.
Oversize clothing
Whether it is a t-shirt or a dress that is slightly bigger on you, it will look very cute with some leggings. People won't suspect that you're trying to hide anything as this look is great when pairing with the right leggings and accessories.
These are the outfits that worked for me when I was not ready to tell others about my pregnancy.
Your bump will get bigger and it'll be hard to hide. In another blog post, I will talk about how I dressed my bump.
Do you have anything to add? Please let me know in the comments below.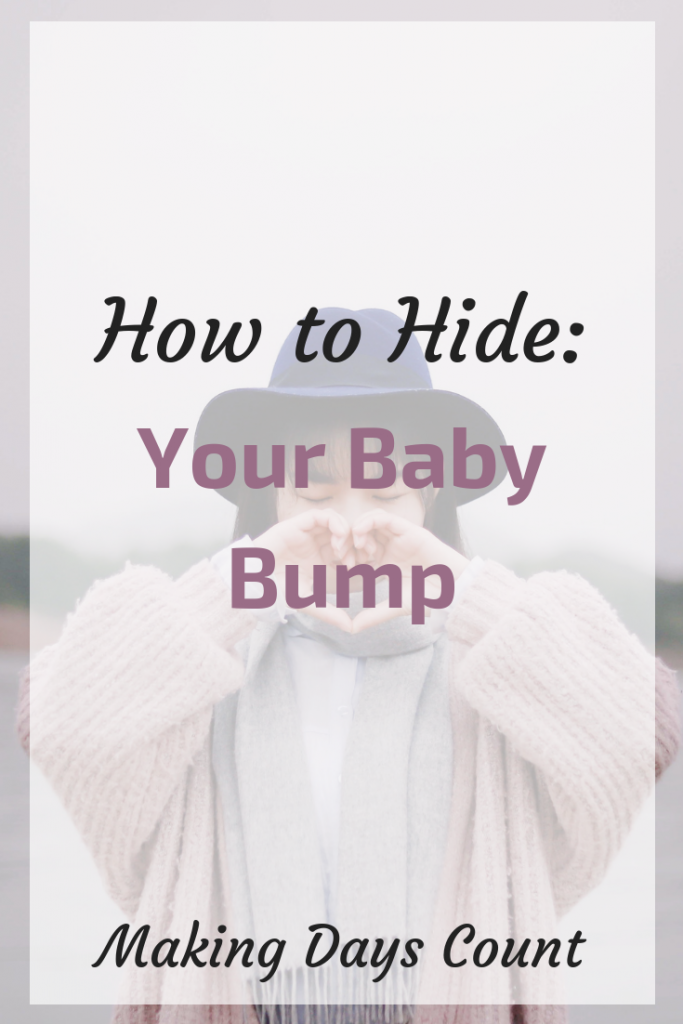 Related: