Winter is here (cue the meme from Game of Thrones). Congratulations to you on your pregnancy. Whether this is your first or last (or anywhere in between), it's very important to take care of yourself during this time. I would like to share with you 13 winter pregnancy tips I've learned from my 2 pregnancies.
When I was pregnant with my first born, I found out at the beginning of the year at 5 weeks. It was nice to find out during the winter so that I could wear loose clothing (which I will talk about later) and not reveal my pregnancy until I was ready.
For my second pregnancy, I was in my 2nd trimester at the beginning of the winter season. This time, I made intentional decisions as to how to take care of myself during the winter and I will share with you what I did.
If you are a new mom, welcome to my blog where I share different parenting tips on life with a baby and a toddler. In this blog post, I will share with you 13 winter pregnancy tips for new moms.
Pin this for later!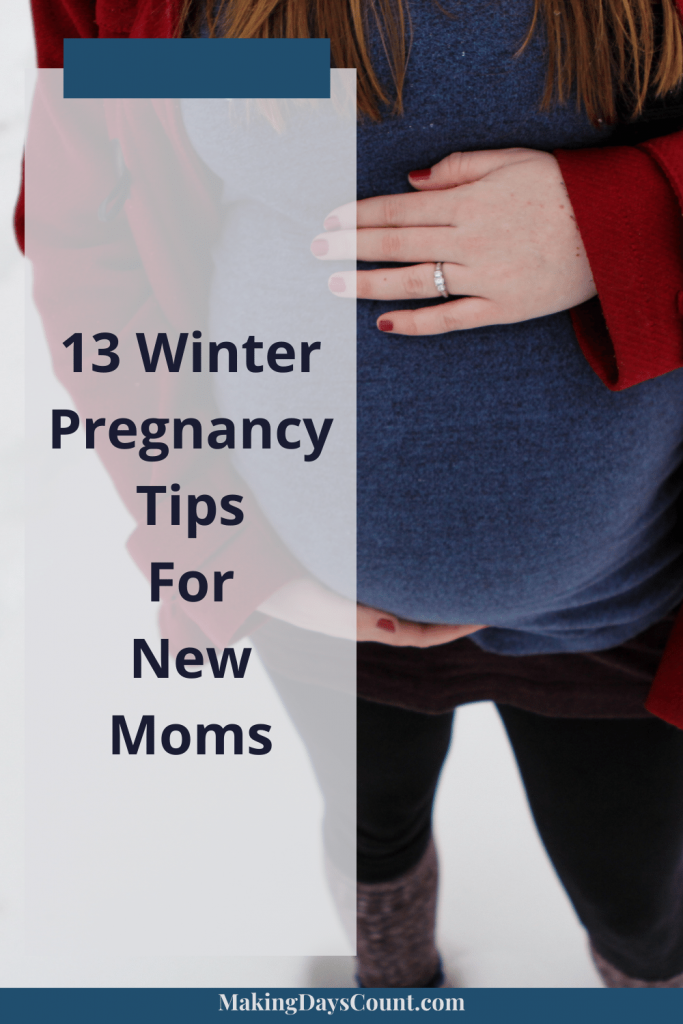 Here are 13 Winter Pregnancy Tips for New Moms:
Disclaimer:

BY CLICKING THE LINKS AND MAKING A PURCHASE, I MIGHT BE EARNING A SMALL COMMISSION AT NO ADDITIONAL COST TO YOU. PLEASE SEE OUR FULL DISCLOSURE FOR MORE DETAILS.
1. Loose clothing
As I mentioned earlier, loose clothing is a great way to hide your bump if you are not comfortable in telling others yet about your pregnancy.
I also like loose and comfy clothing especially in the winter as they provide coverage of the bump.
As you get into the later part of your pregnancy, not everything that you used to own will fit so loose clothing is a great option for you if you do not want to buy maternity clothing.
Once you've given birth, you can use it as an oversize shirt or dress with leggings to make it look cute.
If you are buying clothing online, be sure to check out Rakuten to get some cashback. If this is your first time, you can get $5 extra for the first $25 you spent buying clothes on top of the cashback.
2. Proper Shoes with Good Grip
In the winter, snow and ice are inevitable depending on where you live. It is definitely here in Canada where I live.
Have shoes that have a good grip and be careful when you walk around outside.
Also, if you need to get a bigger size shoe because your foot got swollen, spend the extra money or ask a friend if they have a bigger size shoe for you. It'll make you more comfortable when walking around.
3. Stay Warm
It gets cold in the winter, really cold. Stay warm by wearing extra layers, drinking warm drinks and doing some simple exercises if you are not normally one who exercises.
Keep yourself and your baby warm during this time.
It's important for you not to get sick especially when you are more vulnerable while pregnant. Stay warm, stay safe.
4. Rest when you can
This does not only apply to the winter time, but try to rest when you can.
Your body is working really hard to create this little one (or multiple) so you should rest when you can.
During the winter time, take advantage of the early sunset and go to bed earlier if you are able to. If you have another child to take care of, don't be too hard on yourself and try to get help on other things if possible.
5. Get Moving
Yes, I know the previous point is about getting rest. However, it is also important to move around once in awhile if your body is able to. Get some exercises (simple ones if you are not used to it) and walk around.
An advice given to me was that walking more will help with an easier labor. I'm not sure if it's true, but that was what was told to me.
It's also healthy to not sit around all the time (again, if you are able to). I find that it was good for my mental health to get out once in a while especially during the winter time.
Take a stroll, do some YouTube exercises, and then rest.
6. Have a good back support
It's very important to have a good back support during your pregnancy. Especially during your 2nd or 3rd trimester when the baby is getting bigger and the bump is getting heavier.
This is the back support belt that I bought for my 2nd pregnancy last winter and I really appreciate how it helps me feel better physically.
Another thing to consider is a pregnancy pillow when you sleep.
It is not encouraged for you to sleep on your back so having the pregnancy pillow around your back can also help you be in a good position and also have some support against your back.
You can get a pregnancy pillow online here.
7. Compression Socks
Not every pregnant women gets this, but swollen feet can happen to pregnant women. Compression socks is one of the winter pregnancy tips you must know.
It helps you keep warm and also apply pressure on your feet.
If you have been uncomfortable on your feet due to the pregnancy, try compression socks. There are some compression socks you can buy online. Do check out the reviews to see how other people like it before purchasing.
8. Take Winter Pictures
The winter is so pretty with all the snow. It's a great time to have pictures taken.
You can choose to hire a photographer or just do it yourself.
Some suggestions for winter pictures include:
Pregnancy Announcement
Picture with Your Bump
A picture of your ultrasound or pregnancy stick
By the fireplace with the pregnancy as a gift
Have fun and be creative with it.
9. Stay Hydrated
In the winter, it gets really dry in the air. Stay hydrated for general health and for your baby.
Though I am not familiar with the science behind it, we are often told to drink water for our health.
When I was pregnant, I find that when I am dehydrated, I lack energy. However, when I drink water, I do feel much better so I encourage you to do the same.
10. Keep Away from Germs and Sick People
This is an obvious one, but more so during the winter. People tend to get the flu in the winter or have other types of sicknesses.
Speak up and avoid those people like a plague.
As a pregnant woman, you are more vulnerable during this time so it's best to think about yours and your baby's health and stay away from these people.
11. Moisturize Your Skin
As I mentioned earlier, it gets dry in the winter so remember to moisturize your skin too. Especially your belly while it continues to grow and house your little one.
I used Bio Oil during my pregnancy and it works for me. However, you should do some research to see what works best for your skin, especially if you have preferences or sensitivities.
12. Avoid Extreme Adventurous Activities
With the winter, comes different types of sports and outdoor activities.
Choose ones that you are comfortable with that is also safe for your baby. Skiing, Snowboarding, and other adventurous activities might not be suitable during this time. Just be careful and check with your health care provider if you are unsure.
It is very easy to slip and fall during the winter season so please be careful.
13. Plan a Rest Day and Vacation
Last but not least, plan a vacation during the winter. Get some rest as you deserve it.
Go to a spa, get a prenatal massage, and get pampered before your little one comes. It's going to be so nice for you to have that rest.
These are the 13 winter pregnancy tips I have for you. I hope that you have a safe and wonderful pregnancy.
Related:
Thank you so much for reading my blog post on Winter Pregnancy Tips for New Moms. Be sure to sign up for access to the free printable library.
If you like this post, please pin the image below and share it with others who might find it helpful. Follow me on Instagram @makingdayscount for more mom tips and day of a life with 2 young children.