New Years Eve is coming up very soon. As a mom of a toddler, I was thinking about New Years Eve and what activities my 2 year old can do. In this blog post, I'll share with you 7 New Years Eve activities for toddlers.
Activities with the toddler does not need tons of preparation or a huge budget. Something simple would be nice and the most important thing is for us to spend time with our children.
Pin this for later!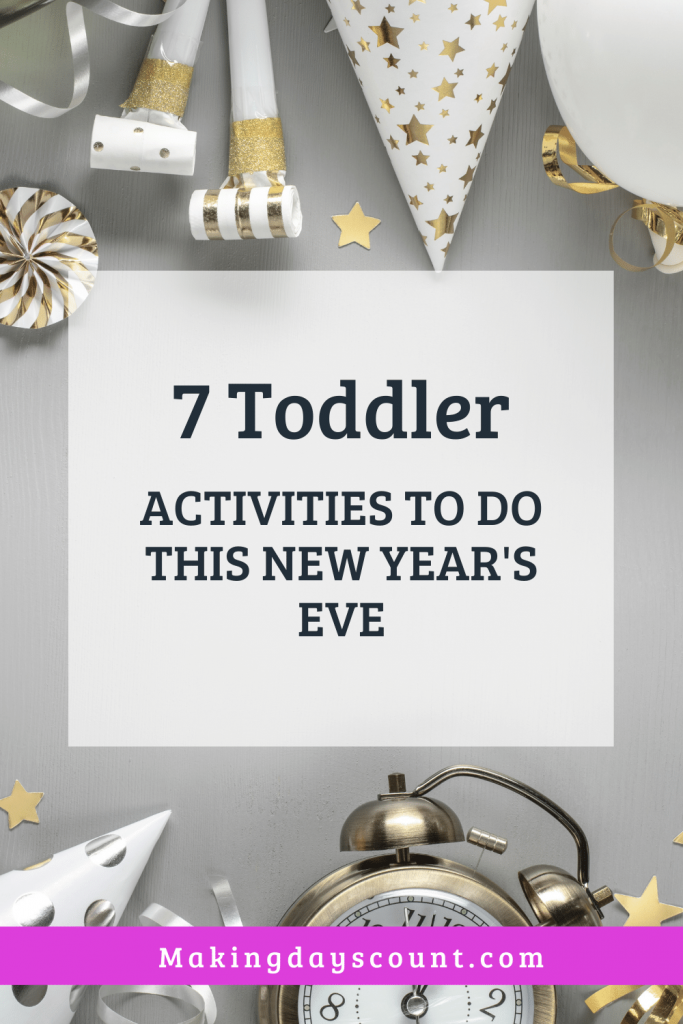 Here are 7 New Years Eve Activities for Toddlers:
BY CLICKING THE LINKS AND MAKING A PURCHASE, I MIGHT BE EARNING A SMALL COMMISSION AT NO ADDITIONAL COST TO YOU. PLEASE SEE OUR FULL DISCLOSURE FOR MORE DETAILS.
1. New Year Sensory Bin
Having a sensory bin is a great way for your toddler to explore and play. Also, it keeps them busy for some time. It's a win-win!
I got all of these items from the Dollar Tree.
Here are what I got:
 The plastic bin
Party blowouts
Fringed Squawkers
Party favors
Shredded paper (I had it previously)
Glasses (They didn't have New Years stuff yet, but this is pretty cute)
I spent a total of $7 CAD including tax. You can also get these party items online here.
My toddler really enjoyed playing with the items in the bin and also learning how to blow the squawkers.
You can also add a New Year hat and glasses for more festive fun!
2. The gratefulness chat
I once heard from an executive at my day job that she would ask her daughters every night what they are thankful for. They'll share what made them grateful for that specific day.
She continued to do this everyday, even now as they are young adults. It was to make them go to bed happy as children, but as adults, it's a great bonding moment.
This gave me the inspiration to try the gratefulness talk with my toddler.
For this activity, you can sit with your toddler and talk about what you are thankful for this year.
You can ask them what they're thankful for. They might tell you food that they enjoy eating but you can prompt them to be thankful for family, friends, and good health.
3. Watching home videos from the past year
There's something about looking back at pictures and videos from the past that makes us happy, hopefully.
Remembering wonderful memories together with your toddler can be a nice time for storytelling and answering questions they might have about what happened.
You can project the pictures or videos onto the TV if you don't want them to stare at your phone the whole time.
As I mentioned earlier that since this year has been different for so many of us, we can take a look at how we've persevered and did our best to make this year a wonderful one for our children.
4. Taking a walk or drive
Depending on the weather where you are, you can take your toddler for a walk or drive around your neighborhood.
Going out and doing something different than running errands, taking a slower pace might be restful and refreshing for you and your toddler.
Check out the different outdoors Christmas decorations and enjoy the bonding time together.
If you have a holiday lights drive through event near you, you can check those out as well. You might need to register and pay for it in advance so be sure to plan early.
5. Making New Year Crafts
Two weeks ago, I wrote a blog post on creating New Years decorations.
They include making a garland, New Year poppers, and decorating the 2021 sign.
My daughter had a lot of fun assisting me in creating these crafts. She's quite proud of it. When we call her grandparents through video, she'll tell them that she made those decorations.
Though we all know that she assisted here and there, it was pretty cute to see how she took pride in helping out to make the decorations for the New Year.
Check out the blog post here.
If you do get a chance to make them, I would love to see them. Please tag me on Instagram @makingdayscount.
Pinterest is also another great place to find New Years crafts for toddlers if you are interested for more ideas.
6. Taking down the Christmas tree and decorations
Another activity that you can do with your toddler on New Years Eve is to take down the Christmas decorations.
You can start the New Year by having a clean slate and a little less stuff around your living room or wherever you have your Christmas decorations.
A few tips to help make next Christmas easier:
Store your Christmas decorations by color so it's easier to find if you like to decorate by color
Fold the gift tissue paper you've received with the gift bags nicely and store them away so that you can reuse them later.
Do the same with the paper gift bags and store them away nicely to reuse at a later date.
When doing these with a toddler, you might have to improvise or redo the packing after they helped.
Helping mom or dad makes them feel valued that they can contribute. So let them help, and do it again later when they're asleep if you need to.
7. Fake Countdown
Last but not least, doing a fake countdown to the new year.
With a toddler, you'll still want to keep their bedtime the same so that they'll have enough sleep for the next day.
However, if you want to keep them up until midnight, that's up to you. You can decide what is best for your child.
For me, I would prefer to keep the same bedtime so that my daughter will have enough rest.
Look online for a Countdown video to the New Year and watch it together with your toddler before your bedtime routine.
My suggestion to do it before your bedtime routine is to give your toddler time to settle down after watching such an exciting video with fireworks.
Wish them a Happy New Year and put them to bed after their night routine.
Note: Here are some of my tips for making a bedtime routine.
It's been quite a year, but looking forward to an amazing New Year.
Related:
Thank you so much for reading my blog post on "New Years Eve Activities for Toddlers". If you like what you read, please pin the image below and share it with others.  Thanks!