Road trips can be really fun. You can check out different places while travelling in your car. With young children, it is a slightly different experience as you will need to cater to their needs and also enjoy the different places you visit as a family. In this blog post, I will share different road trip tips you will need to know as a parent of a baby or toddler/preschooler (or both!).
Within the last two months, my husband and I took our baby and preschooler to two different road trips. One was about 4 hours away and the other an hour away from where we live.
Though I talked about travelling with a baby previously to Disney World and to Asia, it is really different when travelling on a road trip as compared to on a plane.
Take a look at these different tips and I hope that you're able to gain some ideas for your next road trip.
Pin this for later!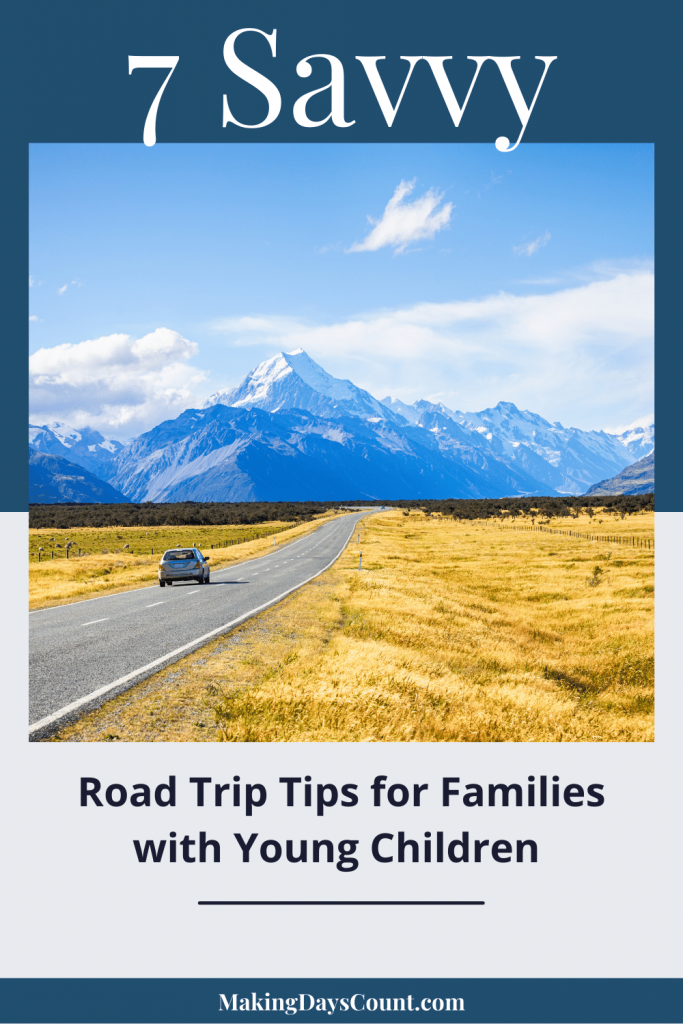 Here are 7 road trip tips for families with young children:
Disclaimer:

BY CLICKING THE LINKS AND MAKING A PURCHASE, I MIGHT BE EARNING A SMALL COMMISSION AT NO ADDITIONAL COST TO YOU. PLEASE SEE OUR FULL DISCLOSURE FOR MORE DETAILS.
1. Think about the Time To Get To Your Destination
It is so important to think about where you are going and how long you are going to take to get there.
This works for travelling in general, more so for travelling in the car. You want to think about what time do you need to get to your destination and work backwards to see what time you'll need to leave.
If your destination is really far and you will have multiple stops along the way, you might want to leave earlier than later.
Especially with young children, you will not be able to drive 5 hours straight to your destination as you might have before children. Plan for more time to get to your destination than a strict schedule.
2. Plan Breaks
While you are thinking and planning for the time to get to your destination, you must plan breaks or stops if it is a long drive.
The breaks could be used to:
Use the washroom
Feed the baby
Change the diapers
Grab a coffee
Get gas
Stretch your legs
For a toddler who needs that time to stretch and do something different instead of sitting in a car seat for a long period of time, this is necessary to avoid them getting fussy and antsy. It's not fun to drive with a whiny or frustrated toddler.
The baby might not mind sleeping in the car for a long period of time, but you will need the break to feed and change the baby's diaper before it becomes too full.
Also, it helps you to get a break and rest a little if you are the one driving or the one sitting in the back entertaining the kids.
3. Pack Entertainment for the Car
If your young children sleep in the car throughout the ride, great! However, it might not always work that way.
There are different things your young child can do in the car.
If you are driving the car:
If you are driving and no one is sitting in the back with the baby, you might not be able to do much besides singing loudly in the car to entertain them. You can also have a toy attached to their car seat like this one so that they can play with it themselves or have a black and white cards stuck to the back of the car so that they can look at it.
No matter which choice you choose, be sure that it is safe and secure for your child.
For your toddler, you can pack books and toys in their backpack so that they can choose what they would like to do.
Here are some ideas of what you can pack:
If you would like to show them a video or movie, be sure to have it ready before the trip.
If someone else is driving the car:
It is easier to entertain them if you are sitting in the back with them.
You can sing some songs with hand gestures, point out what you see outside the window, talk about where you are going and what you would do, and read a book to them.
For babies, you can get these cloth books which are really fun for them to look at and play with.
While for toddlers and preschoolers, you can choose board books which they can flip the pages and ask you questions about what is happening in the story.
4. Meal Planning
Thinking about what to eat, you will need to pack snacks and maybe meals depending on your journey.
For toddlers, snacks are easy to pack as you can put it in a bag for the journey there (and back too if you want). Think about food that are less messy and easy to clean up.
As for the meals, you can choose to precook your meals or find a restaurant on your journey to your destination.
For precooked meals, remember to bring utensils, plates, and other items you might need to eat and dispose for convenience.
If you are looking for a restaurant, do some research beforehand to see what you would like to order and what your children are able to eat from the menu.
For babies who might need hot water for their meals or formula, either prepare it before you leave and put in a bottle like this or find a gas station or coffee house where you can ask for hot water.
5. Bring Garbage Bags
Bring a garbage bag or more for stuff that you want to throw away. Whether they are for snack wrappers or diapers, they are very helpful to bring on your road trip.
You should also bring some smaller bags for clothes that are dirty or for poop explosions (as you'll never know until it happens).
6. Bringing a Stroller and Carrier
Having a baby means that there is quite a number of things for you to bring. If you can, I would highly recommend bringing a stroller and carrier. It's very helpful for your back when you go on road trips.
If you are going on hikes and it is not convenient to bring a stroller, don't forget your carrier (we have this one).
It will help you to be hands-free to bring other things or to hold your older child's hand.
We have the Ergo Baby Carrier (I talked about it here). It's not just helpful for road trips, we do use it on a daily basis as we have 2 young kids.
7. Have a portable Diaper Changing Pad
Changing your baby's diaper while on a road can be stressful if you don't know where to change them.
However, if you have a portable changing pad like this one, you can just change the baby in the car. It is so simple and easy to have everything in one place.
No more worries about where to change them, if the washroom is clean enough, and how you are going to hold everything and the baby.
Get a portable change diaper pad if you don't have one. It's truly something that we use regularly when we go out and very helpful for our road trips.
Thank you so much for reading my blog post on 7 Savvy Road Trip Tips for Families with Young Children. Be sure to sign up for access to the free printable library for things to do with a baby and toddler.
If you like this post, please pin the image below and share it with others who might find it helpful. Follow me on Instagram @makingdayscount for more mom tips and day of a life with 2 young children.