Setting up a nursery can be really exciting as you prepare for your little one. Whether you have a big room or a small nursery, I want to share with you some tips that you must know prior to setting everything up.
Let me tell you a little bit of my story.
I live in a space where the master bedroom is on a different floor than the other rooms in the house. When we had our first child, I knew that I wanted my baby to sleep in the same room as me. It was not ideal for me to go to her room throughout the night going up and down the stairs. As a new parent, it was just too tiring.
Before we had our baby, I had designated a space in our room for the nursery setup. Yes, it was small but it worked.
After she turned one, that was when we put her in her own room. It worked out well for us.
Now, as I am preparing for my second little one, I am setting up the nursery in my room again for the same reason. I'll share my process of how you can take any space, even in your master bedroom, to create a little nursery for your little one.
Pin this for later!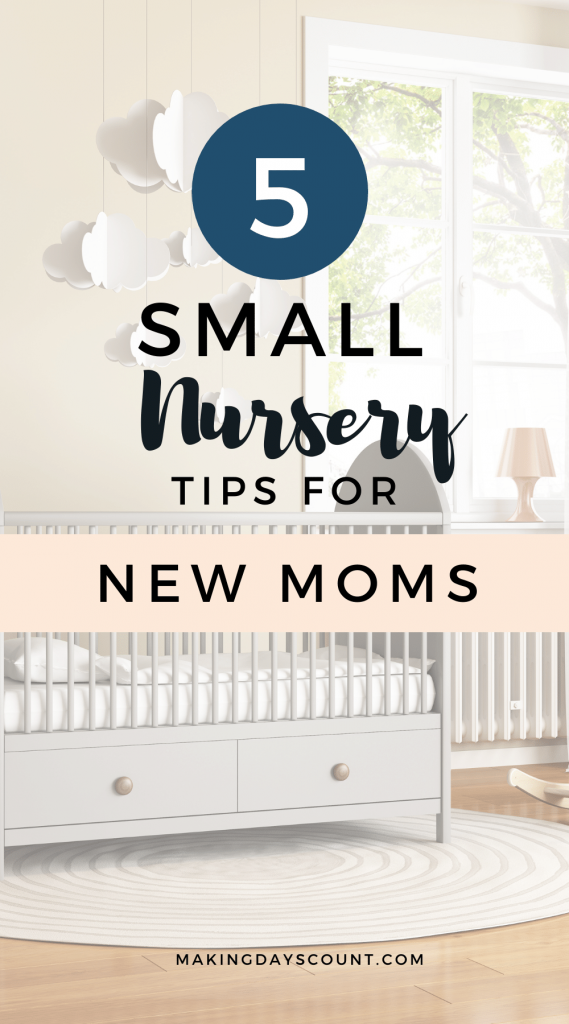 Here are 5 tips on how to setup a small nursery:
BY CLICKING ON THE LINKS AND MAKING A PURCHASE, I MIGHT BE EARNING A SMALL COMMISSION AT NO ADDITIONAL COST TO YOU. PLEASE SEE OUR FULL DISCLOSURE FOR MORE DETAILS.
1. Know and Measure Your Small Nursery Space
Before you go shopping, be sure to get to know your space.
Here are some questions you can ask yourself when looking at a space:
Is this where the baby is going to sleep after he/she is born?
Can it fit the crib or bassinet?
How far is it from my bed to this space? (could be the same room)
What are the essentials for the baby to sleep here?
For us, we decided to have the baby in our room as there is a space for the crib. The previous owner placed a dresser there but I knew that when we were looking at the house, the space would be perfect if we want to put a crib there.
If you have decided that the space is where the nursery is going to be, start measuring. You can use an inexpensive measuring tape like this one.
When you know what are the essentials in the nursery, you need to know how much space you actually have to fit all of those things in the space. Take out your measuring tape and start measuring. Note them down. When you go shopping, this list is essential to fit everything you want in the space.
My list was pretty simple the first time. I need a crib and a chair beside it.
I did not have a changing table or dresser as I was planning to change my daughter on our bed with a changing pad. It worked out for us as the height of our bed is high enough to change the baby without hurting my back.
This second time around, I have the same setup with the same items. The only things I added were the decoration above the nursery and the mobile I bought for my daughter after a month or two.
Knowing your space and measuring will help you limit what you can actually have in the space. This will save you time when you go shopping.
2. Think about Practicality and Design
I talked about this in the previous point as well. You need to think about practicality of the same, and then you think about the design.
Knowing how much space you actually have will help you determine what you can actually buy and have in the space. Go for what are the essentials before buying the nice to have items.
The baby needs a safe space to sleep. That is pretty much it.
If you plan to feed the baby in the nursery, a chair or a lounge chair would be helpful. You can choose a chair that is firm or a rocker if you would prefer. It is totally up to you.
Think about the design of the space. Where is the best place to put the crib or bassinet? Do you need a night light or changing table? Where are you going to put this or that? Can you open or close the door easily after placing this or that item in this spot in the room?
As we are discussing setting up a small nursery, you do not need to fill every single space. Have your essential items and then dress the room up if you want.
With the design, Pinterest is a great place to start. You can think about having a color or animals theme. The options are endless. Do be cautious about having things above the crib such as a floating shelf or a frame. It's always better to be more cautious and safe.
Etsy is a great place to find decor ideas as well. You can find printables to wall stickers to put in your nursery. There are so many options for you to choose from.
3. Shop for your Small Nursery
This is probably the most exciting part of putting the nursery together: the shopping!
However, before you go, set a budget. Know how much realistically you can afford and want to spend on your nursery.
If you do not have a budget for your nursery, do some research on how much things actually cost before purchasing them. Items for the nursery can be big ticket items and get very expensive very quickly.
Whether you buy online or in person, be sure to find out if there is a discount or a loyalty program you can join to save money.
For example, for Amazon, you can sign up for Amazon family and save up to 20% on certain baby essentials. Find out more here.
Another example is that if you are buying baby items online or in the store, be sure to check out Rakuten to see if you can get some cashback. If this is your first time signing up, click here to get $5 cashback for your first $25 purchase.
Now that you have your measurements and you have an idea of the design you like, shopping can be really fun.
It will be easier for you to determine if you like the item for your nursery or not and whether it will fit.
Click or look away if you know that it's not going to fit your space or your budget. Don't tempt yourself! If you really love the item, maybe put it on a wish list or registry. Maybe a few friends or family members might chip in and buy that for you, but put it on a 'nice-to-have' list.
You can always have the essentials first, then slowly add the nice-to-have stuff later on.
Enjoy this experience as this space is a place where you'll spend some late nights and early mornings. You will want it to be a comfortable space.
4. Setup Your Small Nursery Early
Getting your nursery ready is an exciting experience. It will be better for you to setup your nursery early than later. This is because you just do not know when your baby will come and there are so many other things to think about!
Setting your nursery up early also gives you an opportunity to think about whether the layout works or if you need to add or remove an item.
Once this is done, you can focus on preparing yourself for the baby and not worry about it anymore.
Sometimes, it's better to get things done so that it does not take up anymore mental space. It's quite freeing actually.
Plan early and set it up early. It brings you a little joy every time you walk by it before the baby comes. (It does for me anyway!)
5. Change Things Up As You Use It
After setting up your nursery and eventually having your baby, you will see that your baby's needs change as they grow.
Whether it is lowering the crib mattress or repositioning the baby monitor (this is the one we have) where the baby cannot reach for it, you'll have to make some changes.
As I mentioned earlier, it is safer not to put any floating shelves or frames above the crib. When the baby learns to stand, they might grab things within their reach whether you are aware or not. Just be cautious when setting up decorations around the nursery.
Also, you will learn what works best for you and make changes as you see fit.
I learned that in parenting, you'll adapt as you go. Similarly, with the nursery, make the change as you see how it would fit your needs best.
Related: Check out more ideas to decorate your small nursery in my Etsy favorite lists here.
Thank you so much for reading my blog post on "5 Small Nursery Tips You Must Know". If you like what you read, please pin the image below and share it with others. Thanks!