"Colors are so wonderful, shining bright and beautiful" is one of my toddler's favorite songs to sing when she's drawing or painting. There are so many ways to teach colors to toddlers and I will share with you some of the ideas that are easy and fun.
If you do not know the song above, it is from Cocomelon. One of the YouTube channels we learned about during the pandemic that has tons and tons of videos for toddlers and young children. 
Teaching colors to your baby or toddler does not have to be a stressful thing. Yes, it does take time but totally doable. Some children do learn faster than others, but that is okay. My friend's daughter was able to learn her colors with sheep within a short period of time. However, my daughter took a while as we explore different ways of learning colors. Now, she'll let me know what color things are without me asking her.
I will share with you 10 ways and tips on how to teach your baby or toddler colors. Try them out and see what works for you.
Pin this for later!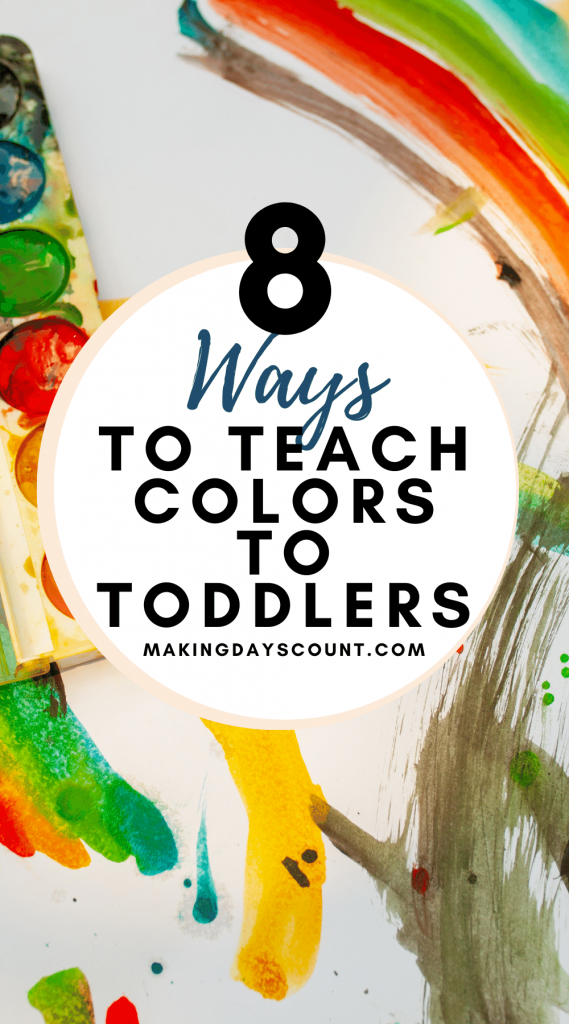 Here are 8 ways to teach colors to toddlers:
Disclaimer:

BY CLICKING THE LINKS AND MAKING A PURCHASE, I MIGHT BE EARNING A SMALL COMMISSION AT NO ADDITIONAL COST TO YOU. PLEASE SEE OUR FULL DISCLOSURE FOR MORE DETAILS.
1. Naming everything
Yes, everything. This is a red car, blue bus, green grass, purple dress, etc. 
Whenever you decide that you want to start teaching your child colors, this is a great way to start. See what is around you and your house and start naming all the colors. 
You can do it in English or a language of your choice. Children are able to pick up quickly even if they do not know how to say it back properly to you. 
You can also ask them questions such as, "Do you want to wear the green bib or the grey bib?" while pointing to the two different bibs as you say it.
It might seem a little silly at first to intentionally name all the colors all around you the entire day, but it's a great way to help them notice the difference in colors around your house.
Your toddler might repeat after you or make guesses as to what color the item is, but keep going and they will remember the colors you teach them.
2. Farm animals
Another way that you can teach colors to toddlers is with farm animals.
I got some farm animals from the Dollar Tree, but you can also get them online here.
You can name the color of each animal that you have and teach them the sounds that these animals make. Some animals have more than one colors, so that would be quite interesting for them to observe.
Another way that you can teach colors is with these sheep.
My friend bought her daughter these and you can dress up the sheep with different colored 'jackets'. Similarly to my first point, you can name the different colors and change the colors to keep things more interesting.
With these sheep, there is a song that you can sing along. Here is a link (not sponsored).
You can get pretty creative teaching colors with farm animals. 
3. Paint Chips
One way you can teach colors to toddlers that is completely free is using paint chips. 
I hole punched my paint chips in the corner and use a binder ring to hold them together. You can also staple or tape them together if you would like. This keeps the paint chips organized and easier for you to find when you want to use them.
You can choose different sizes and shades depending on what you want to teach them. Once you are done, then you can recycle them or reuse them as crafts.
Pinterest is a great place to check out different craft ideas you can do with paint chips.
4. Teach colors by painting or coloring
A fun way teach colors to toddlers is by painting or coloring. I've talked about this activity in different posts.
Here is one you can check out: 8 Easy Toddler Painting Ideas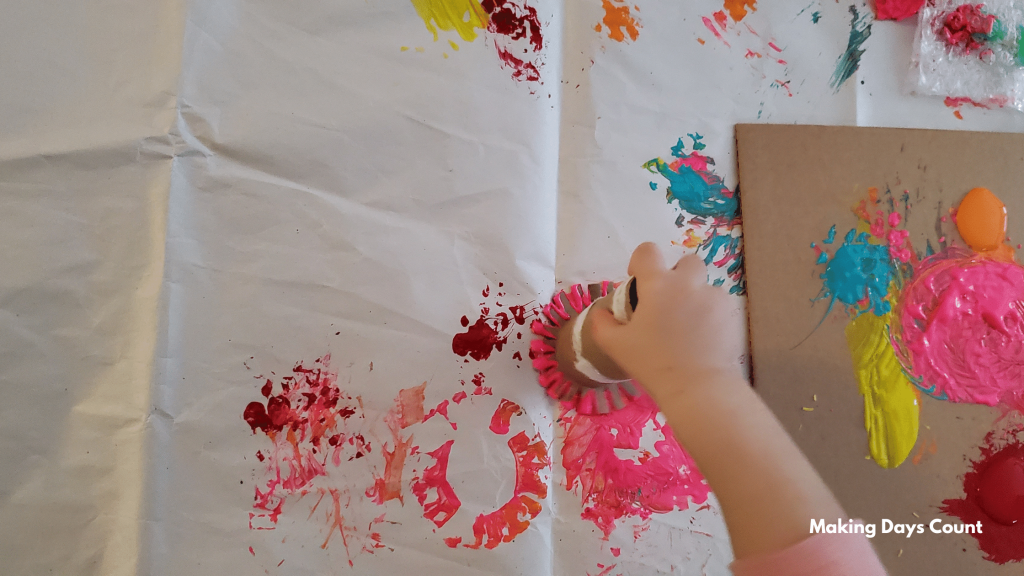 You can teach your toddler colors by asking them which color they would like to use to paint. You can also do different experiments of mixing the colors together to make a new color.
By repetition of painting or coloring, they will start to familiarize themselves with the name of the colors.
They might prefer certain paint colors over others depending on how it comes out on paper or the cardboard that they are painting on.
This can be a messy activity, but so much fun!
If you are doing a painting activity for certain seasons or celebrations, you can choose to focus on certain colors related to the event. You can get these washable paint jars here.
This can be such a fun activity with little to no prep as well.
5. Books
Books is a great way to teach your toddler different concepts such as colors. You can read them out loud with them and let them explore the different pictures inside each book.
My toddler is at the phase where she wants to carefully look at each page and asks us what is happening inside each page. It's quite interesting to see as she tries to understand the world around her.
Here are some books that you can check out:
These simple books are great for toddlers to start learning about colors. Check them out and see which one your toddler would like best.
6. Color sorting with household items and toys
You do not need to buy items to teach your toddler about colors. Household items and the toys you already have can also be used to teach colors to toddlers.
How I taught my toddler with household items was to use construction paper as the base.
I placed the different colors on the floor and asked her to go find items around the house that has the same color. It was a great scavenger hunt and she had a lot of fun going around finding items that are red, blue, purple, etc.
Picture
Besides saying out loud what the colors are for the items, it's a good practice for them to find things that are already around them. They can also learn how to recognize the different shades of the same color.
7. Water play and food coloring
Water play is another fun and messy way to teach colors to toddlers.
I don't know about your toddler, but mine just enjoys adding food coloring to the water. There are a few ways to explore the different colors.
One is just to add food coloring (whether natural or store bought, it's totally up to you) to the different bowls of water.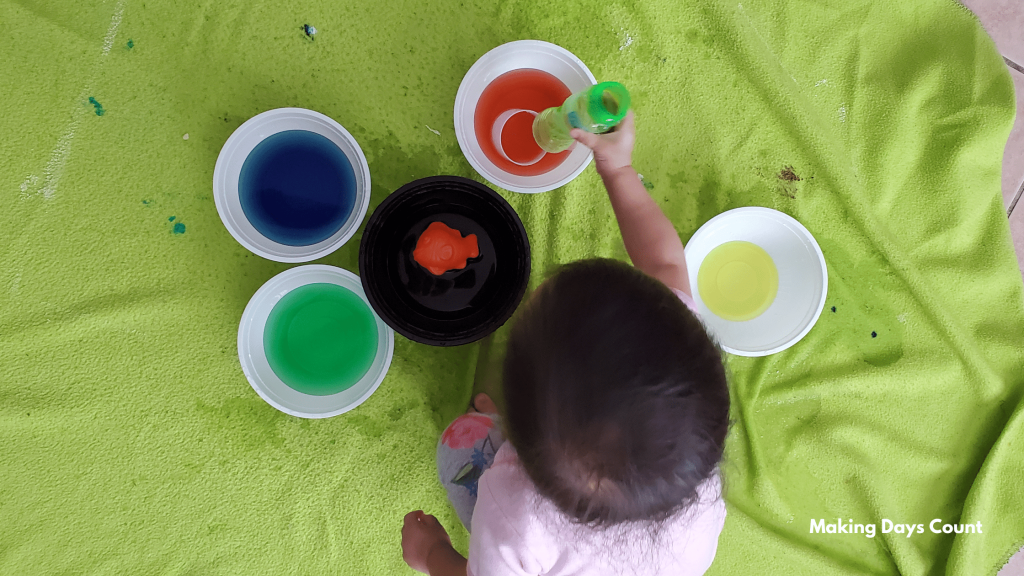 Another way is to fill different cups with water and let your toddler put food coloring in them. Then, pour them into molds and freeze them.
Once they become ice, then you can let them play and watch the ice slowly melt in a container or bath tub.
This simple activity can be loads of fun for your toddler.
8. Songs and videos
As I mentioned earlier in the blog post, songs and videos are great ways to teach colors to toddlers.
You can do a quick search online for colors song and there are so many options out there to choose from.
Here are some of the channels that my daughter watches:
Cocomelon
Bounce Patrol
The Wiggles
Am I proud that she watches so many videos? No, but during a pandemic where we were stuck indoors during the colder months, it was one way to teach her certain things like colors. Also, I have to work from home at the same time. It's just something that parents needed to figure out on how to balance work and taking care of their toddler at the same time.
If you prefer not to show your toddler a video, you can learn the color song by watching the videos yourself. Once you are familiar, then you can teach your toddler how to sing the songs while showing them the different colors.
9. Repetition by method
After telling you all the different ways to teach colors to toddlers, this is the most important way. It is by repetition. Whichever method or methods you are planning to use, be sure to repeat yourself.
No, it's not the start of nagging 🙂
We all learn by repetition. By having the colors repeated to our toddlers over and over, they will absorb it quickly. Also, it keeps them occupied while learning new concepts.
I do encourage you to try different methods so that it will be fun and interactive for your toddler.
Related:
Thank you so much for reading my blog post on 8 Ways on how to teach colors to toddlers. If you like what you read, please pin the image below and share it with others. Thanks!