Flying with a baby can be overwhelming, especially when we are going to an international destination. We were flying to Singapore and decided to take EVA Airlines as it was economical for us. Plus, we have heard great things about it so we decided to fly with them.
It was our first time flying with this airline so I did not have any prior knowledge of them except for the reviews by family and friends.
Before you continue, I would like you to know that this is the first post of a huge series. We just came back from a month long trip to Singapore and Japan. I can't wait to share all the details with you starting with our flight to Singapore via Taipei with EVA Airlines. As I continue to write more, I will update this section and at the end of the post with links to the other Asia travel related posts.
Pin this for later!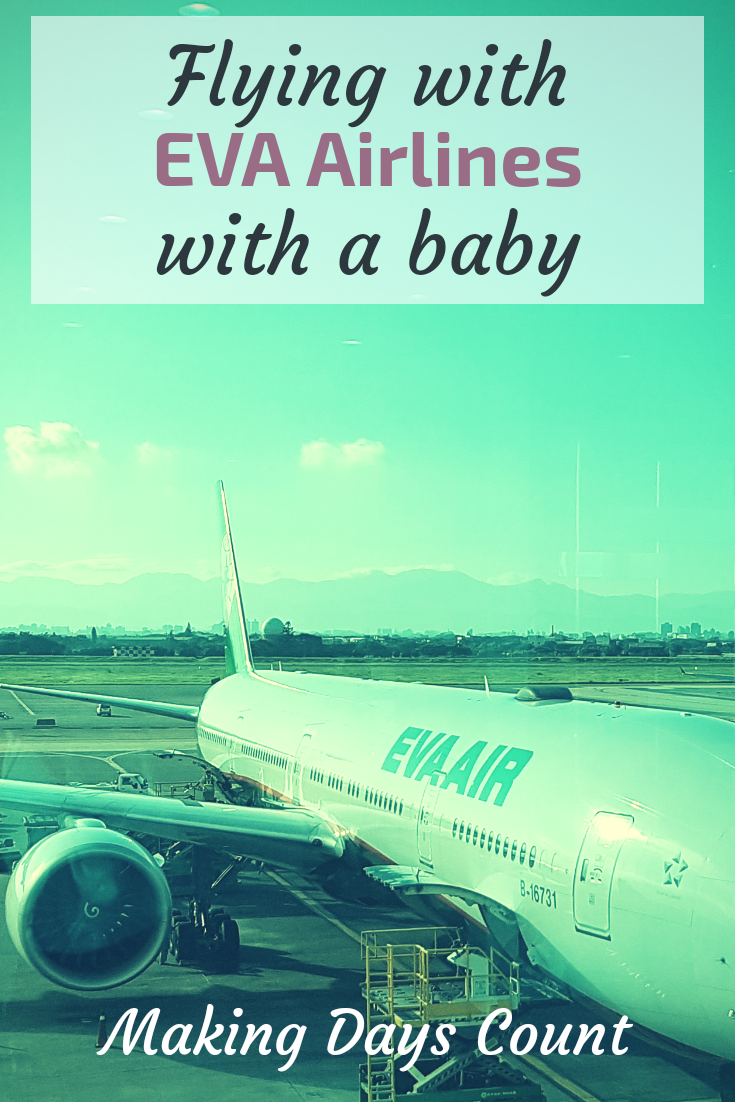 Here is my review of flying with EVA Airlines with a baby:
BY CLICKING THE LINKS AND MAKING A PURCHASE, I MIGHT BE EARNING A SMALL COMMISSION AT NO ADDITIONAL COST TO YOU. PLEASE SEE OUR FULL DISCLOSURE FOR MORE DETAILS.
A little background: We flew from Toronto to Taipei, and then from Taipei to Singapore. On the way home, we flew from Tokyo to Taipei, and then Taipei to Vancouver. We flew with different airlines from Singapore to Japan, and from Vancouver to Toronto (this last leg home was not planned due to missed connection because of the rain in Japan. It was supposed to be from Taipei directly back to Toronto).
Another disclaimer: I am not sponsored by EVA Airlines to write this review. But if they would like to sponsor me and my family for a trip, that would be awesome!
Overall, we had a pretty good experience on the different planes of EVA Airlines. It was our first time and I don't think it'll be our last travelling with them. I will share below what are the things that we liked about travelling with EVA Airlines, especially with a baby.
1. Boarding with young children
When flying with babies and young children, you will get to board quite early to settle down. Usually, you will board after first class and business class. This is not just for EVA Airlines, so you can also expect this when flying with other airlines as well.
The difference that I realize for flying with EVA was that they had these boarding signs. One that staff would hold for people to line up according to their boarding numbers, or for us, families with young children. It really helps you get that special treatment to be able to board and have plenty of space to put your luggage in the compartments above.
If you are bringing a stroller, they will gate check it for you before boarding the plane. When you land, they will let you know where to wait for your stroller. When we were returning back from Asia, we decided to hand carry our stroller instead of using the gate check. The staff asked us if we have a stroller since we were with a baby.
It was nice of them to notice and ask. Maybe other airline staff do that too, I'm not sure.
When we board, the air stewardess checked with us regarding baby food and setting up the bassinet (as we got bassinet seats) right away. I will talk more about this in the last point regarding their overall service.
2. Seats with Bassinets
Before we booked our flight with EVA Airlines, we were thinking whether to get economy or premium economy seats. It was $700 more for premium economy and seemed like the seats are more spacious.
However, we decided not to splurge and just hope for the best as we could use the money somewhere else.
Side note: If you want to try premium economy seats, it is best to book it when you first buy the tickets. The upgrade from economy to premium economy is almost double the price.
When we booked our economy seats, we called in to book our seats and managed to get the ones with a bassinet.
If you can, try to get the bassinet seats.
Why?
Here are the pros:
Bulkhead seats with plenty of legroom
Usually the 3rd seat is free so we got the whole row to ourselves
The Baby can sit or walk back and forth the row without disturbing the people in front
Here are the cons:
There is no place to put your bag in front of you
Your screen must be put away during take off and landing
People might walk in front of you if you don't have a bassinet setup (it actually happened)
3. In-flight meals
For Baby K, they gave her a box with two baby puree jars (same brand different pouches here), a bottle of apple juice, and milk.
The flavors of the baby puree differ but are overall quite similar. Here is a picture of the leftovers.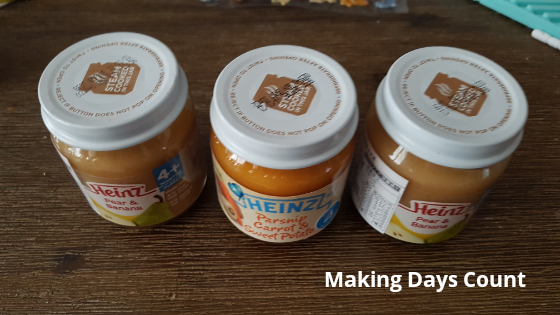 Baby K enjoyed it. If your baby does not have any allergies and are okay to eat these purees, it would help you not worry about bringing food for the entire flight.
As for the adults, there were options of Western or Asian meals. We figured that it was easier if one parent eat first and then the other would eat.
Having the extra seat really helps because one of us could hold Baby K away from the trays while the other eats quickly.
Please let me know how you eat while holding your baby in your seat. I need some tips.
4. Changing diapers on the flight
This point might not be special to you, but it made a difference for me.
Does your baby roll around or does not like to have their diaper change, especially in public? Baby K would usually cry when I change her in public restrooms. Half the plane could hear her when we were flying to Disney and I had to change her explosive diaper.
What I like about changing her diaper on the EVA flight was that the changing pad was pretty decent in size. I would put our portable changing pad (similar one here) on top of theirs and change Baby K.
Here is the best part (for me). They have a bunch of toothbrush and tissue paper in packaging. I gave them to Baby K to hold as a distraction while I changed her. No screaming and no crying.
Amazing.
Maybe she grew up and is more calm about changing diapers in public washrooms. My baby is growing up so fast!
5. Toys and Activities for babies and young children
The air stewardess came around giving out toys or activities for babies. One of Baby K's favorite is this set of orange triangles puzzle (similar idea here). You can put them together to make shapes of animals and the like. However, Baby K just likes to shake it like a key chain.
6. Sleeping on the plane
M and I are okay to sleep on the plane. Some people cannot sleep on the plane and need to stretch their legs once in a while.
With a baby, I mostly held her while she slept. I am still breastfeeding her so it just works for the both of us.
The downside to the bassinet is that you're not supposed to put your baby in there while the seat belt sign is on. It was on for a really long time.
If I felt like I couldn't hold Baby K anymore, I would try to put her in the bassinet or transfer her to M. Sometimes it goes well, sometimes not.
Another wonderful thing about the bulkhead seat is that you'll have more room to move around and get a more comfortable sleeping position.
7. Entertainment for adults
This is not baby related, but when the baby is asleep, we as parents can enjoy the movies or shows selection. It seems that there is quite a different range of Western and Asian movies for us to watch. Titles such as Spiderman: Far from home and Toys Story 4 were on the list.
I would also like to mention that I watched their safety video almost every time. Why? It's performed as a dance and I'm drawn to it for some reason. Maybe it's just me.
They also have games such as angry birds, which is really fun (for me). The only downside to seating at the bulkhead with the bassinet is that you need to put away your screen during take off and landing.
8. Overall Service
On the different flights, it seemed that the air stewardess were really friendly. They checked with us regarding putting up the bassinet, food for Baby K, and also water and snacks between meals.
When they setup the bassinet after being in the air, they would set it nicely with a blanket and pillow for the baby. I thought it was really thoughtful. Please watch your baby at all times even when they are in the bassinet. Some professionals do not recommend a pillow or blanket for babies, but others think otherwise. Please make sure that you are doing what is safest for your baby.
Another thing that was impressive is that the air stewardess from EVA Airlines give you a menu for all the meals you will have on the plane. I was surprised because we were in Economy, and not a higher class. If you require a special diet, you can request it online prior to your trip. Based on what I saw, they usually check with the people as they go to their seats regarding their special diet. Also, you will get your food ahead of everyone else.
When we were flying back from Narita Airport in Tokyo, Japan, it was raining really hard. Due to this, we were not able to fly to Taipei for 2 hours. It was unexpected and there was no meals available on this short flight. The air stewardess came around offering water to anyone who might want it. Also, we could watch movies in our seats while waiting to fly to Taipei.
The overall service of the staff on EVA Airlines made me feel comfortable and confident to fly with them again.
Thanks for reading my experience on flying with EVA Airlines with a baby. To see more on our adventure to Asia, stay tuned as I will update below with more posts as I write them.
If you like what you read, please pin the image below and share this with others. Thank you so much.