I am so excited for you if you are thinking to go to Singapore. Not only the food is delicious, there is so much to see and experience. Though it can seem like an expensive place to stay and visit, there are some free things to do in Singapore.
In this blog post, I will share with you what you can check out for free if you are planning to be in Singapore for a week or two. If you have more time, you can slowly explore different areas and check out walking tours for free.
Before you continue, please know that this is part of my huge Asia series. Please read the other posts here (will update as I continue to write):
Free Things to do in Singapore (this post)
Pin this for later!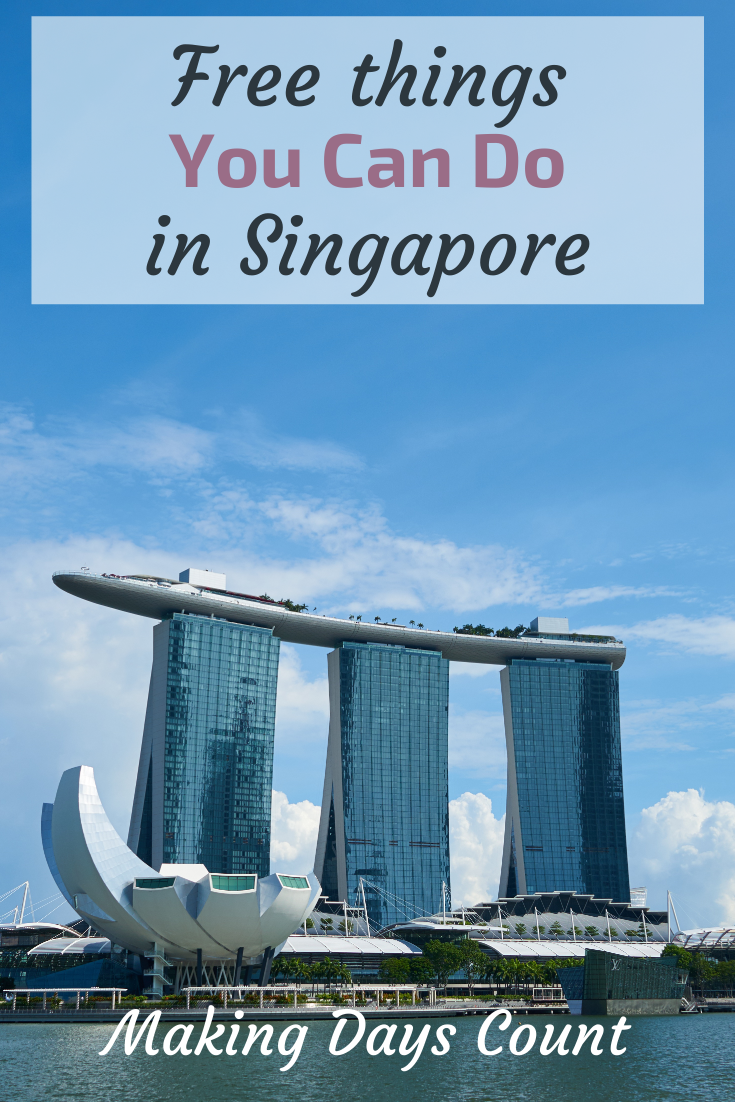 Here are 7 Free Things To Do in Singapore:
BY CLICKING THE LINKS AND MAKING A PURCHASE, I MIGHT BE EARNING A SMALL COMMISSION AT NO ADDITIONAL COST TO YOU. PLEASE SEE OUR FULL DISCLOSURE FOR MORE DETAILS.
1. Gardens by the Bay
Oh, Gardens by the Bay! It's huge!
From walking around the Supertrees to explore the little gardens around it, it is worth exploring. Also, if you go at night, there are two light shows that are free for everyone. Though we did not get a chance to see the light show (Baby K sleeps early), I have heard that it's a great show to watch.
When we visited during the day, we went through a few of the surrounding gardens and it's pretty interesting. They did have seats if you want to rest and a washroom nearby one of the ones we went to.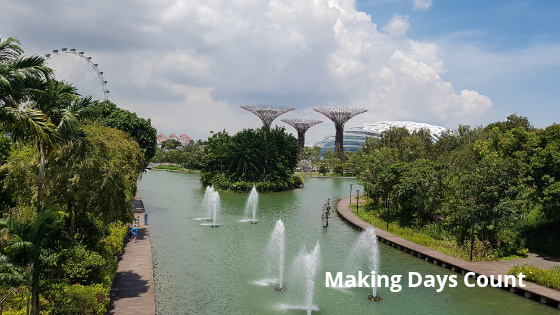 What I also appreciated as a parent with a stroller is that they had an elevator to take us to the main Supertrees area. It's quite convenient and not too difficult to find.
Also, if you have kids, you can take them to the Far East Organization Children's Garden. It's a water park that is free for anyone to use. Especially on those really hot and humid days, it'll be a blessing!
Gardens by the Bay is a great free activity and attraction that you must visit in Singapore.
2. Marina Bay Sands Area
The infamous Marina Bay Sands where you can see Singapore from the poolside is expensive. However, you can get the view of the popular hotel and it's surroundings for free.
At the Marina Bay Sands mall, there are a few places you can check out such as the DC Comics Cafe, the Las Vegas inspired gondola ride (you can watch others ride), or just do some window shopping.
Head to the Helix Bridge and take beautiful pictures of the Marina Bay Sands hotel and the Arts and Science Museum in the background.
You can also walk to the Merlion Park through the Helix Bridge. Here you can take different selfies and also get a beautiful view of the Marina Bay Sands. If you do take some pictures, feel free to tag me at @makingdayscount as I would love to see them.
There is a free light show at night as well. For more information, check out their website here.
3. Botanic Gardens
If you have some free time in the morning, I would highly recommend for you to check out the Singapore Botanic Gardens.
The reason I suggest the morning is because it's not too hot and there are not many people there. It's a big place as you can probably see from the map online.
Take your time to walk around and explore the different gardens. If you have kids, the Children's garden is a fun one to explore. You can walk to the Botanic Gardens MRT station afterwards.
Sometimes they will have a concert at Botanic Gardens, take a seat on the grass and enjoy the music.
The only garden that you need to pay for is the Orchid Garden. It's $5 per adult, which is not bad at all.
Related: 39 Free Things to do in the World's Most Expensive City
4. Changi Jewel Airport
I've talked a little bit about this in my previous posts, but Changi Jewel is a nice place to visit. Yes, I know it's part of the airport terminal. With the waterfall right smack in the middle and shops around, it's just like a mall with a gorgeous waterfall / greenery space.
You can walk around and take pictures of the waterfall from different angles and heights. It's pretty nice. Although you are not able to touch the water as it is protected by glass, it's worth a visit for sure.
5. Free Play Areas for Children
As mentioned in my last week's post, there are many free play areas for children. From The Artground to free Water Play areas located at different malls, you and your kids can explore these play areas for free.
Do some research on where you are planning to go. Though places may be free, you want to make sure that it is at a convenient location for you.
6. Sentosa Island
This might be surprising to some of you, but did you know that you can go to Sentosa Island for free? There is a covered path that links from Vivo City Mall to Sentosa Island.
If you are worried about the heat, it is completely covered. Also, they have a few moving walkways (travelators) throughout the path.
Also, you can just walk around the island without going to any of the attractions. I do believe that you need to pay for the attractions at Sentosa Island except for Fort Siloso. You can take pictures with the Sentosa sign and the huge Merlion in the background.
Don't forget to check out the back path behind the Merlion!
It also leads to the beaches where you can hang out and have a picnic if you want.
When you are done for the day, you can take the train back to Vivo City as it is free on the return trip.
Note to parents: We brought a stroller and a baby carrier (like this one), and it helped a lot!
7. Free Singapore Tour (Only applicable for layovers)
If you are going to be in Singapore for a layover, there is a free tour available to check out a few popular landmarks in Singapore. The tour do suggest that you leave enough time for the 2.5 hour of tour. For more information, check out their website.
This is a great way to see Singapore if you want to explore around without worrying about organizing the tour. The best part of it all is that it is free.
If you are planning a vacation soon, I would highly recommend for you to check out my FREE Travel Planner here.
Thanks for reading my blog post on where are the kid-friendly places to visit in Singapore. To see more on our adventure to Asia, please read the posts below (will update as I write them):
Free Things to do in Singapore (this post)
If you like what you read, please pin the image below and share this with others. Thank you so much.