Singapore is such a great place to visit. Though it also can be known as an expensive place to visit, there are ways to visit Singapore on a budget. I will share with you 7 ways that you can easily plan and save money for your trip to the wonderful Singapore.
We were there with our 1 year old for 3 weeks and we had a lot of fun travelling there.
Before you continue, please know that this is part of my huge Asia series. Please read the other posts here (will update as I continue to write):
Singapore on a budget: 7 Ways to save money (this post)
Pin this for later!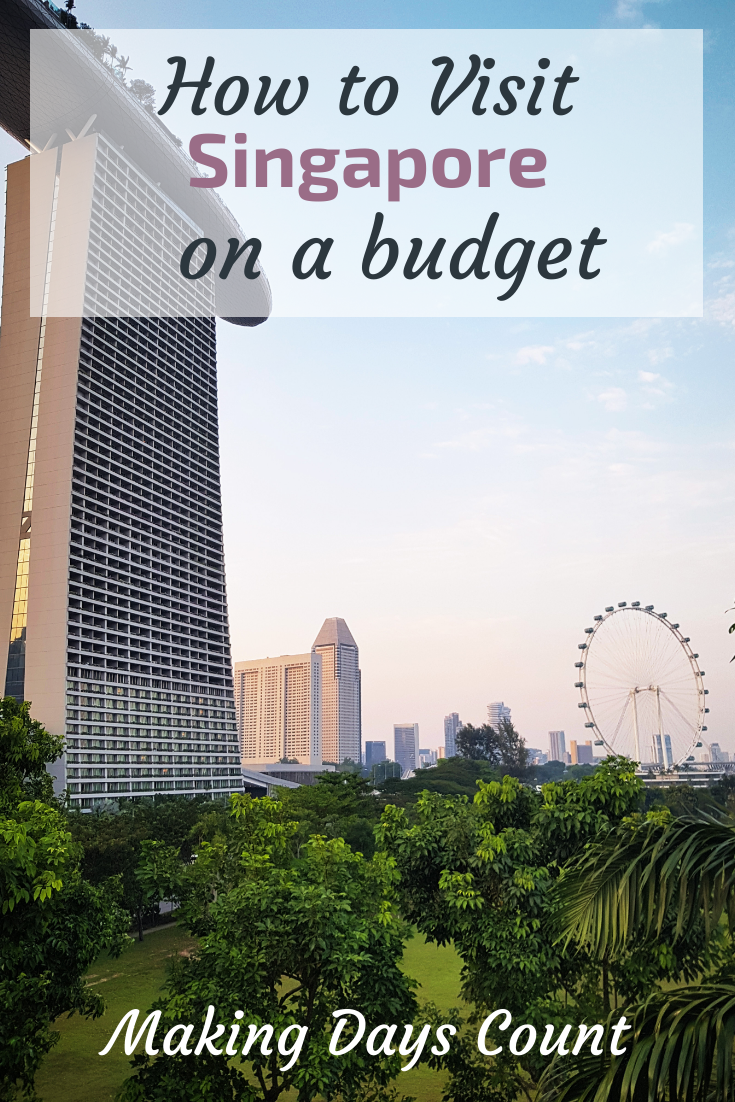 Here are the 7 ways to save money when travelling in Singapore:
BY CLICKING THE LINKS AND MAKING A PURCHASE, I MIGHT BE EARNING A SMALL COMMISSION AT NO ADDITIONAL COST TO YOU. PLEASE SEE OUR FULL DISCLOSURE FOR MORE DETAILS.
1. Using Public Transportation
Singapore's public transportation is on time, clean, and also very affordable. You are able to go to almost everywhere on your vacation list by public transportation.
Please note that you pay based on the distance and time you traveled, instead of a standard fare like here in Toronto (with the TTC).
One thing that you can do to find what's the best way to get to your destination is by looking up Google maps.
It will tell you different modes of transport, but public transportation will still be cheapest.
Be sure to get the EZ link card or the NETS card so that you don't need to pay with cash each time. These cards do cost $5 each.
For one of our trips, we had to take the mrt followed by the bus. We got off the bus at the first stop and it was free. I'm not exactly sure how they calculated the fare, but we were glad to save money that way.
2. Choosing where to stay
There are three main options of where you can stay in Singapore: with someone you know like a family or friend, at an AirBnB, or a hotel.
If you know someone in Singapore and they are happy to host you, you will save a lot of money in this area. Since I have family in Singapore, we did not need to pay anything for our accommodation. Thank God that the timing was right and they were not travelling when we arrive and leave.
The next option and slightly more expensive is to stay at an AirBnB. Huge Disclaimer: As of this writing, it is illegal to stay at an AirBnB in Singapore. However, there are available listings and you may stay at your own risk.
We did not have any experience staying at an AirBnB in Singapore.
Related: AirBnB Review: How I saved 45 Dollars
The third option is to stay at a hotel in Singapore. From budget friendly ones to luxurious hotels, there are quite a few options to choose from.
Look at the reviews and see what others say before booking a hotel. For budget friendly options, you can stay at the Hotel Chancellor at Orchard, Strand Hotel, or Hotel Boss.
Public transportation is pretty convenient, and can get you to all (if not most) of the popular tourist attractions.
3. Eating Delicious and Cheap Food
Singapore does not lack when it comes to delicious food.
From the world renown Hainanese Chicken Rice to Satay on a stick (as you probably saw in Crazy Rich Asians), Singapore's food is pretty good.
If you are on a tight budget, go check out the ample hawker stores all around Singapore. The best tip is to look at the longest line and usually it has pretty good food. Also, go before lunch time to avoid the crowds.
The next option for cheap food is the food court at the malls. With air conditioning, you have the option of eating more comfortably and also have a number of options for food. With the food court, you might be able to have a high chair for your baby if you need it.
The third option is convenience stores such as 7-11. They have hot food options and cold food options. Also, there are so many drinks you can try from these Asian convenience stores. The only downside to this is that there is usually no place for you to sit. You might need to find a food court or back to your hotel room.
4. Saving money on activities
Visiting Singapore and going around to enjoy the different tourist attractions does not have to be expensive.
If you are on a tight budget, here are a few suggestions for you.
You can visit free attractions such as Jewel (Singapore Airport) with the largest indoor water fountain, or Gardens by the Bay where you can see the Super trees and also see the different gardens surrounding it.
If you have kids, I go more in depth in my post: Kid-Friendly Places to Visit in Singapore.
Maybe you are interested to go to Sentosa Island or visit the Flower and Cloud Dome at Gardens by the Bay. Yes, these do cost money, but there is a way for you to save a little bit and still able to go to these attractions.
M and I were looking to go to Sentosa Island and I wanted to see if there is a way to save money.
I found Klook (not sponsored, but I might get a small commission if you purchase something on the site, at no extra cost to you). They had the Sentosa Fun Pass, which was what we were looking for. We ordered online and went to the ticket booth in Sentosa Island to get our tokens.
It was a pretty smooth and easy process. We got to save money in the process so win-win.
Since then, we would always check out Klook to see if we could save money on other activities we were planning to participate in.
5. Get reliable Wi-Fi connections
Staying connected (to the internet) is so important. Yes, even on vacation. Let me tell you why.
First, you can search up the quickest way to get from one place to another. If you use Google maps, they even have the timing of when your bus is arriving (as I mentioned earlier). It is pretty accurate so you do want to be there on time.
Second, you can keep your social media accounts updated with all these cool places you are visiting (shameless plug: Follow me on Instagram @makingdayscount).
Third, you can look up Klook for activities that you can do and save some money by booking with them. We were able to save on Sentosa tickets by booking with them.
Now that you know why (I'm sure you knew already), here is where you can use a prepaid sim card that has 100GB for 7 days for only CAD $9.50 (this pricing is accurate at the time of writing).
Less than $10 is a great deal for 100 GB for the week. I was definitely surprised by how affordable Wi-F is and you can pick it up from the airport, which is pretty convenient.
6. Stay healthy
No one wants to get sick, especially on vacation.
You want to stay healthy by keeping yourself and your family hydrated and protected under the sun. It can be really humid and then chilly when you head inside a mall. I wished that we had a good insulated bottle (like this) and a stroller fan (similar to this). It would really help us adults stay hydrated and keep the baby cool. We will remember to get them next time.
Whether you have your own insurance or not from your country of origin, you still want to avoid seeing a doctor or going to the hospital.
I developed some rash and had to go to the pharmacy and get a cream for it. I don't exactly remember how much it was, but it was at least $10.
It's not that expensive, I know, but we did not plan for it.
Another thing to note is to bring your own medications from home if you think that you might need them. It might be more expensive to get them in Singapore and you would have to look for them as the pharmacy near you might not have the specific one you usually use.
7. Use Student, Senior, or Child Discount when possible
If you are a student or a senior (60 and above), you can save money by paying for student/senior prices. Just be ready to show some identification that can prove your age or that you are studying.
You might be able to save a few dollars here and there, and it will add up to saving more than paying for the regular adult fare.
Also, if you have children, be sure to check the prices online before you go. Sometimes if your child is under 2 or 3, it will be free. You can choose to do those activities that might be free for them and you will only need to pay for your own fare.
There is no harm to check whether you qualify for these discounts, especially when it will save you quite a bit of money in the long run.
Thanks for reading my blog post "Singapore on a budget: How to save money". To see more on our adventure to Asia, please read the posts below (will update as I write them):
Singapore on a budget: 7 Ways to save money (this post)
If you like what you read, please pin the image below and share this with others. Thank you so much.