Springtime is an exciting time! This is when it starts to get a little warmer and a fun time to watch the trees and flowers bloom again.
For toddlers, they might be bummed that they can no longer play with snow but don't fret, there are plenty to do in the spring.
This is a great time to teach about the seasons, weather, celebrations during this time of year, and also about colors as you see different flowers grow again in your neighborhood.
As my daughter becomes more active and loves to explore, I started to think about what activities she can do to encourage her creativity both indoors and outdoors.
In this blog post, I will share with you 5 types of spring toddler activities you can try. From indoor to outdoor activities, there are plenty to do during the spring. You might need to adapt to fit the interest of your baby or toddler.
Pin this for later!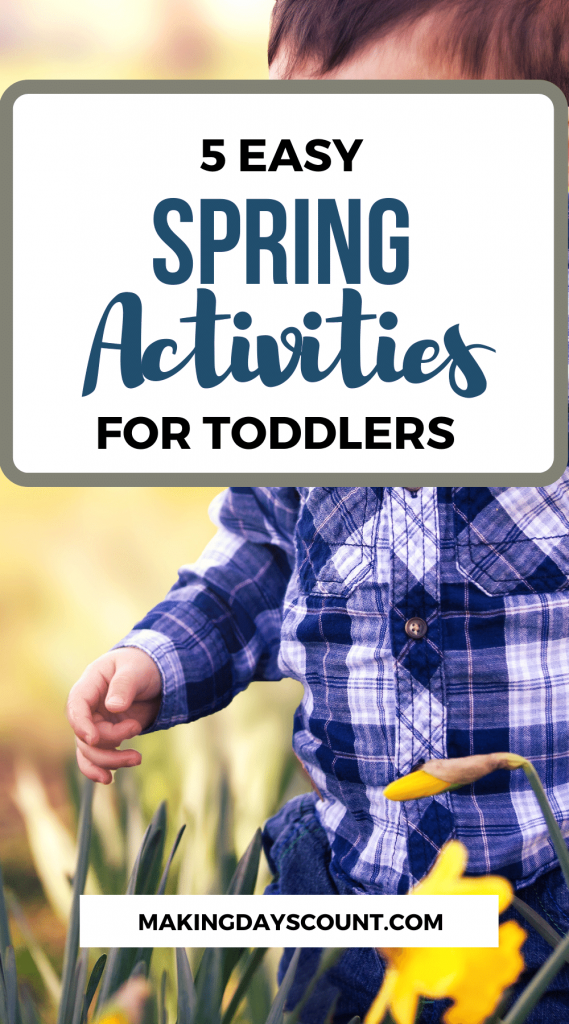 Here are 5 Spring Toddler Activities to try:
Disclaimer: BY CLICKING THE LINKS AND MAKING A PURCHASE, I MIGHT BE EARNING A SMALL COMMISSION AT NO ADDITIONAL COST TO YOU. PLEASE SEE OUR FULL DISCLOSURE FOR MORE DETAILS.
1. Scavenger Hunt
I will share with you two ideas for scavenger hunt that you can do with your toddler during spring time. These are fun and can be modified to fit your child's interest and age.
The first idea is to do a scavenger hunt outdoors.
You can set a list of things you want your toddler to find while on a walk outside. Here are some ideas of what you can look for:
Leaves

Birds

Squirrels

Flowers

Blue Skies
I made a free printable for you that you can use for your scavenger hunt. Sign up below for access for the library of free printables.
Don't worry if you cannot find all the items on the list the first time, you can always try again another day.
The second type of scavenger hunt is the egg hunt. 
This can happen in your home, in your backyard, or someone else's space that you have access to. 
An idea that my friend did with her daughter is that she would get the plastic eggs from the dollar store (or you can get it online here) and put snacks or little toys inside.
It does not necessarily have to be chocolate eggs. 
You can be creative in where you hide these plastic eggs and do it multiple times through the season if you wish.
2. Rescue from Painter's Tape
An idea I saw on Pinterest was this maze created on top of a plastic container with painter's tape.
It encourages toddlers to figure out how to remove the items from under the painter's tape without actually removing the painter's tape. 
What you will need for this activity is a big plastic container, a spoon or something to scoop or clamp, and the items that need 'rescuing'. 
You might want to start with a few big strips of painter's tape spread apart, and then make them thinner but a little more complicated for the items to be rescued. 
Some spring themed items that you can put at the bottom of the plastic bin includes:
Fake Flowers

Fake Leaves

Plastic Easter Eggs
Of course, you can always use tiny items that you already have in your home such as farm animals or little balls. Do a quick search of what you have and it can be really fun for your toddler.
3. Painting Activities
Painting is such a fun activity for toddlers. They can explore the different colors, find out what happens if you mix them up, and have a blast putting it on paper or cardboard.
In my blog post on toddler painting ideas, I talked about the different ways that a toddler can try painting with washable paint. Read more about that here.
During the springtime, you can have your toddler paint with nature. 
Using leaves that you might find on the ground, you can use it as a stamp to stamp on paper. Your toddler can learn that the leaves from the different types of trees have a different type of print. This can be a great teaching moment of what types of trees are there in your neighborhood.
You can also use Q-Tips and blue paint to imitate rain on a piece of paper. You can ask your toddler, what happens when all the rain droplets get together? It forms a puddle on the floor. 
Painting can be really fun and also a great tool to teach toddlers about colors, the weather, and about cause and effect (what happens when you mix two colors, or with my example above about the rain puddle).
4. Going on a walk
A simple yet refreshing toddler activity that you can do is go on a walk.
Your walk does not have to have a purpose, but just to enjoy it and one another.
A suggestion that I have is to find different parks or walking trails around you so that you can take your toddler to check out the areas near you. This encourages good exercise and also exploration for both you and your toddler.
I like to find parks that might have a pond where we can see ducks or other types of birds. My toddler likes to just watch them. Maybe yours will too.
In the winter, we can be stuck at home because of the cold weather so we must take advantage of the slightly warmer weather and go out to have some fresh air.
Do start with a smaller park or trail as your toddler can get tired and will ask to be carried. We all know what that can lead up to, and that is tired parents who came up with this great idea of going on a walking trail. 
Wait, maybe that's just me.
Build the stamina of walking and exploring, then see if you are more adventurous of going on longer and bigger walking trails.
5. Water Table Play
Last but not least, the water table play is a fun spring toddler activity.
There is something about playing with water that excites them. I'm not sure if it's the toys or the fact that water can get everywhere.
I bought this water table from Costco (similar one here) and it has been used both outdoors as a water table in the summer or indoors as a sand table during the winter.
Setup your water table station outdoors or indoors with a mat in the spring. You can introduce some new water toys (here is an option) to play with or bring out the old ones that you've kept in storage for the past two seasons.
Toddlers just have so much fun with these.
Yes, water can get everywhere on their clothes, on the floor, and on their shoes. However, it seems like it does not matter to them as long as they can play with it and splash it around.
You might want to give them a bath afterwards, but the smiles on their faces during a water play session is priceless.
Related:
Thank you so much for reading my blog post on "5 Fun Spring Toddler Activities". Don't forget to get your access to my growing library of Free printables. If you like what you read, please pin the image below and share it with others.  Thanks!