It's so much easier to get gifts for the baby, especially when there is a registry. However, if there is no registry or the parents have not mentioned if they need anything, I'm going to share with you some 2nd time mom gift ideas that are practical and useful.
Though I titled this blog post as gifts for the 2nd time mom, you can also use this gift list for the 1st or 3rd or 7th time mom.
As I am preparing for my 2nd baby (coming within a few weeks as of this writing), I was thinking about the gifts I've received this time around and what I would appreciate more now that I've been through the early stages of parenthood once.
I've come up with these 7 gift ideas that you can share with others or even the parents of the new baby to see if they would appreciate such gifts.
Pin this for later!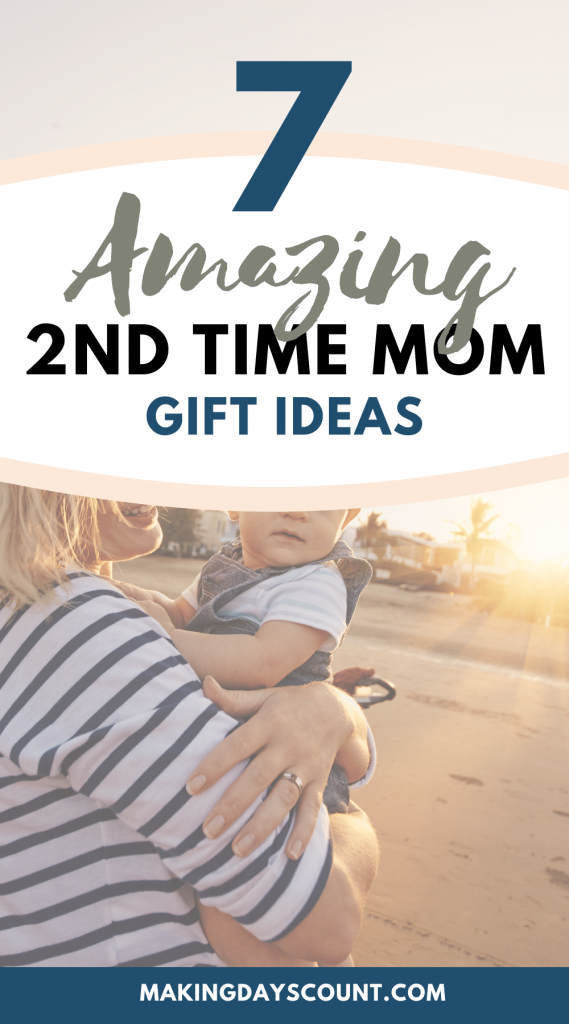 Here are 7 Gift Ideas for the 2nd Time Mom:
Disclaimer:

BY CLICKING THE LINKS AND MAKING A PURCHASE, I MIGHT BE EARNING A SMALL COMMISSION AT NO ADDITIONAL COST TO YOU. PLEASE SEE OUR FULL DISCLOSURE FOR MORE DETAILS.
1. Clothing: Hand me downs or Seasonal clothing
They say that babies grow up so fast and might not be able to wear all the clothes we have for them. As much as part of the statement is true, babies do need clothing to wear. Spit ups happen or poop explosions can come anytime.
Clothing is essential, and if you are thinking to gift to a second time mom, baby clothes may be a good option.
If you have children of your own and they no longer fit in their baby clothes, ask the mom (you are gifting) whether they would like some hand me downs. This saves them a lot of money and helps you to get rid of clothing that no longer fits your children. Just be sure to give them a good wash before you hand them over to this soon to be mama of 2.
When I received boxes of clothing that my sister-in-law gave me from her kids, I was so grateful as I did not need to buy as many this time around. Also, I was able to pull some neutral color pieces from my daughter's clothing for this baby to wear as well.
Another reason that you might want to buy clothing for the baby is because they might be born in a different season as compared to the first child. They might need long sleeves onesie in smaller sizes if born in the fall or winter, or short sleeves onesies in the summer. Depending on when the 2nd child is born, you can also buy the baby clothing based on the season.
Baby clothing is one of the many 2nd time mom gift ideas I will recommend for you to get for her.
2. Memories: Family photography Session
It is very easy to get forget to treasure the little moments when life gets busy.
Another 2nd time mom gift idea is to gift a family photography session. Whether it is a newborn photography session or just one with the family, it's definitely something that they will remember forever.
You can check out your local photographers to see if anyone has a great package for these family sessions and schedule one for the family.
Do check with the parents of the newborn to see when they would be available and comfortable to have this session take place.
It'll be a fun time for the family to treasure these moments before the kids get older. Also, it makes a great story to tell when they grow up.
3. Food: postpartum meals, snacks, food delivery gift card
One of the 2nd time mom gift ideas that people might not think about is food.
You can gift food by either cooking, buying, or gifting a food delivery gift card to the 2nd time parents.
Depending on what your preference (and love language) is, you can decide how you can help the parents not worry about food when the baby comes. Do check with the parents if they have any prior arrangements before sending food over. They might have certain allergies or customs or family traditions that they need to follow postpartum.
If they would prefer to have frozen precooked meals, you can also send those over so that they will just need to heat them up before mealtime.
After I gave birth to my daughter, my mom prepared meals for me to eat so that I did not have to think about it. Also, it was to follow the traditions my grandmother followed to help recovery and increase energy during the postpartum period.
This time around, I think she will do something similar. It definitely helps to just focus on the baby and not worry about food.
If you are thinking to gift a food gift card, be sure to check out Rakuten. You can get $5 back for the first $25 you spent on top of your cashback.
4. Baby Essentials such as wipes and diapers
Whether this the first time mom or 5th time mom, their babies will need essentials such as wipes and diapers.
It might not be the cutest gift but practicality wise, it is much appreciated.
Ask the 2nd time mom if she has a specific brand that they use for the first child and what sizes they will need. You do not want to assume that they will use a certain brand as you do not know the sensitivity of the skin of the baby.
Also, they might want to do a cloth diaper as opposed to disposable ones. Every parent has their own preferences with these baby essentials as it involves their precious babies. It's better to ask ahead of time so that you can see if there are any sales coming up.
5. Big Ticket Items: Crib Essentials or car seats
If there is an age gap between the first and second child, the 2nd time parents might need to get the big ticket items such as crib or car seats.
These items, especially baby car seats, have expiration dates on them.
You might want to share gifting this gift with someone else as it can be quite pricey.
Ask the parents if they have a registry for the 2nd baby or if they still need to get some big ticket items. You can let them know that you would like to contribute to that if they do not mind. Raising up a child and getting the essentials with the help of a community helps the parents more than words can sometimes express.
6. Gift Cards
Sometimes, the best gifts are gift cards.
It is not because you do not put any thought into it, but it is because this is the 2nd baby. They might have most things, but not everything.
A gift card allows them to be able to buy what they need at their own pace.
You can get them an Amazon gift card or look up Rakuten to see what other gift cards they may need for the baby or the older child.
As a soon to be mom of 2, I had to buy new bottles and swaddles for the baby and was very grateful to have gift cards to buy them online. Especially during a pandemic where we are not able to see each other in person, a gift card goes a long way.
7. Time: Babysitting the older one
Last but definitely not least, time is one of the amazing 2nd time gift ideas you can give.
You can offer the 2nd time mom to babysit her older child while she focuses on the baby. Whether it is at their home or at your home, see what the mom is comfortable with.
I cannot truly explain how much appreciation I have for my mom to watch my daughter for a few hours while I work from home. It gives me the sense of relief to not worry about her and yet have the energy and focus to do the work that I need to.
If you prefer to spend the time with the older child and give that as a gift to the 2nd time mom, let the mom know. You can arrange a time that works for everyone and it'll be a great help.
Related:
Thank you so much for reading my blog post on "7 Amazing 2nd Time Mom Gift Ideas". If you like what you read, please pin the image below and share it with others. Thanks!