Half Day Itinerary in Colmar, France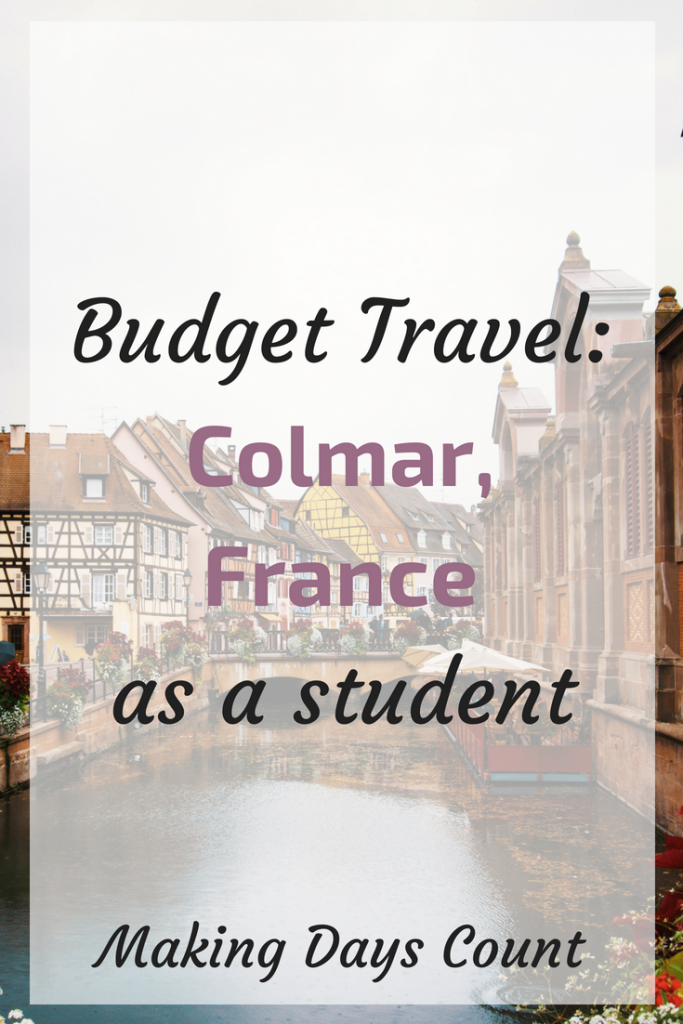 BY CLICKING THE LINKS AND MAKING A PURCHASE, I MIGHT BE EARNING A SMALL COMMISSION AT NO ADDITIONAL COST TO YOU. PLEASE SEE OUR FULL DISCLOSURE FOR MORE DETAILS.
My friends and I decided to go to Colmar, France from Freiburg, Germany (where I did my summer exchange program) for a day trip. We drove there, but I highly recommend using the Eurail Pass if you prefer to travel by train or are new to driving in Europe.
Colmar is a really nice town where the buildings and streets are so pretty. They had a farmer's market where you can buy from the local vendors who make these jams and jellies and other products of course. I think it's helpful if you know some french words in advanced such as "Merci" (thank you), "Excusez-moi" (Excuse me), "Bonjour" (Hello), and "Combien" (How much?).
To visit Colmar by train, I suggest the Eurail Pass which is a convenient way to travel around Europe by train. Click here to get your Eurail Pass.
Breakfast at Jupiler Café
They open at 8 am and it's great, though busy place to start your day at Colmar. People recommend flambées and röstis as it is popular. Also, they have free Wi-fi which is a bonus if you want to share your delicious breakfast on your Instagram or Facebook.
Train Tour on the Le Petite Train
You can take this train tour around Colmar between the months of March and November. It cost 7€ per adult (people 15 years old and older) and 5€ per child from the ages of 6 to 14. Check the website for more details here: https://www.petit-train-colmar.fr/en/

The train takes you to different places and attractions around the city. You can listen to the tour guide to learn more about the interesting facts and stories that took place in Colmar.
Once you have a good idea and know which sites you want to explore more, you can walk around.
Visit Musée Bartholdi
If you are interested in visiting a museum while at Colmar, Musée Bartholdi is a good one to visit.
Get to know the person who created the infamous Statue of Liberty. Do get the audio guide if it is available to understand the museum better. This museum might be a little smaller than the ones you expect, but it's worth to take a look.
Lunch at Au Croissant Doré
We decided to eat at Au Croissant Doré. They had outside seating and we enjoyed that really much. I ordered the Flammkuchen (which is like a flat pizza). It's pretty good for my taste. If you do try it out, let me know how is it for you.
It's also really nice to sit outside and watch and people go by. I even heard tourists with Canadian accents! Now I know why people enjoy sitting outside on the patio just chatting with friends and enjoying the sun.
Relax by Schwendi Fountain
After lunch, you can walk around to see the square where this fountain is located. If you enjoy the slower pace during your vacation, you can just walk around and look at the shops for gifts, or stop by a cafe to try new flavours and get the local experience.
We decided to drive back to Freiburg for dinner and also to avoid traffic if any.
If you are staying in Colmar and are looking to book a hotel room, I highly recommend Expedia so that you can do your research and reviews before making an informed decision before booking. 
Related posts: