Fall is coming soon and there are so much you can do that are budget friendly with your family. Even though the kids will be preparing to go back to school, it does not mean that the weekends must be dull and boring.
You can surprise them with one of the 11 budget-friendly fall activities and enjoy time with them (before they grow up too fast!)
I like the fall because it is not too hot, yet it is warm enough to go out and explore what is around the city.
Of course, with Canada, especially Toronto, it can go from really warm to really cold very quickly.
Some of these ideas are not limited to the fall and you can try them throughout the year with your family.
If you are interested to check out other family fun activities you can do, please check these following posts later:
Pin this for later!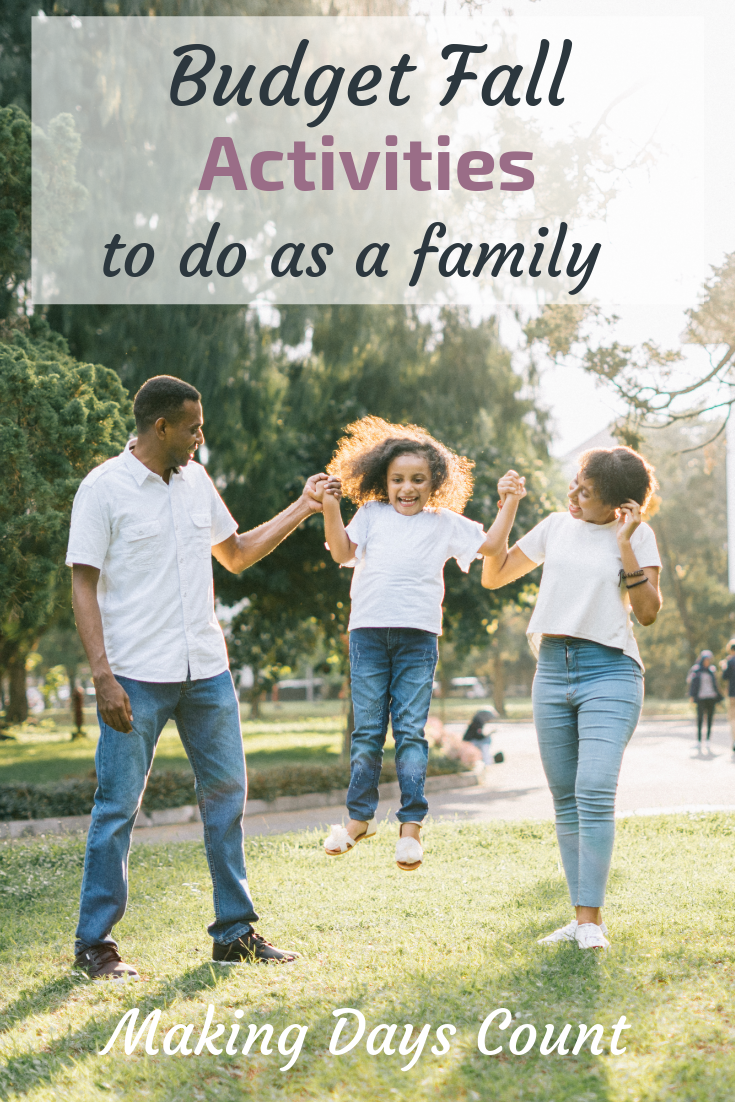 Here are 11 budget-friendly fall family activities you can do:
BY CLICKING THE LINKS AND MAKING A PURCHASE, I MIGHT BE EARNING A SMALL COMMISSION AT NO ADDITIONAL COST TO YOU. PLEASE SEE OUR FULL DISCLOSURE FOR MORE DETAILS.
One: Go to the park and watch leaves fall
Visit the park near you for a budget-friendly fall activity. Go to one where they have huge trees with lots of leaves. You can pile them up and jump into it. Another idea is to have a picnic and watch the leaves fall while you are sipping on tea or hot chocolate.
One important thing that I think families with babies need are the thermal bottle for hot water. This way, you can make the baby's food, whether cereal or formula, on the go.
Two: Visit a dollar store or dollar section of a store for back to school supplies
With the fall season, comes the back-to-school season as well. Visit the dollar store or the dollar section at Walmart or Target to get some back to school supplies.
You can give each child one item to look for and a budget for the item.
This way, it will keep the kids busy while you are also buying necessities for them going back to school.
Three: Watch a movie as a family at home
It is so much fun to watch a movie at home with the family. You can choose a movie on Google Play, Netflix, or even a movie that is scheduled on your cable TV.
Get microwave popcorn from Walmart or Target and have a movie night. This way, it is affordable and everyone can watch the movie comfortably in their pyjamas.
This is something that you can easily do and invite friends over as well. Have a movie night with the family in a budget-friendly manner.
Four: Family Game Night
Whether at home or outside, it is so much fun to have a family game night.
You can look at Groupon for affordable activities such as bowling or race kart driving. If there is not one in your area, maybe look at a nearby town or city to see if there are activities that interest you.
If you are thinking to have a family game night at home, you can buy Twister or board games like Catan.
You can play these games on different game nights and also check out other games such as Pictionary or make your own game like broken telephone. It is an easy way to have fun with each other without breaking the bank.
Five: Go to an arcade with a set budget for each person
Choose an arcade that is nearby and bring the family there for an hour of fun. Set a budget for each individual before going to the arcade.
For example, $10 per person might get you 20 tokens each. Everyone gets this set amount and they can choose the games they want to play. Once, they are done with all their tokens, they can hold on to their tickets that they've received and wait until everyone is finished.
When everyone is done, go to the prize collection section and let each person pick their own prize.
However, for this activity, you need to be firm and stick to your budget.
Six: Search and visit a fair or fall festival
During the fall, look for budget-friendly fairs and festivals to attend. Whether a food festival or a family -friendly fair, there is a lot to see for the whole family.
If you are bringing a baby, I highly recommend putting them in the Ergobaby carrier. It would easier to walk around and also the baby is pretty comfy.
You can look online to see what is available around you or a city nearby. One thing that you might want to consider is transportation and entrance fees. If you are driving, it would be better if there is free parking (and you can save your money for something else).
Seven: Visit a petting zoo
Do a quick search on where the closest petting zoo is, or if there is a travelling one coming to your city.
Why I'm suggesting for you to go during the fall is because it will be less crowded, allowing your kids to have more time with the animals. It will be a new experience for everyone to see these animals in real life.
Also, these petting zoos might be free or ask for donations. Another way they might make money is to charge for food to feed the animals. You can decide how much you want to spend there.
Eight: Make crafts as a family
It would be so much fun to make crafts as a family. Kids love to work with their hands and let their imagination run wild. You can provide the base of what you want everyone to do and let each person decorate their own way.
One thing to note is that things can go wrong or in a totally different direction, but go with it and make the best out of it. It would be such a great story to tell when your kids are slightly older.
Pinterest is such a great place to start. Warning: Just pick one. Don't get overwhelmed by the beautiful, complicated crafts. Start with an easy one. Slowly build your confidence before trying a more complicated one with your family.
Related:
If you love to bake and your kids are old enough to not put everything in their mouths, bake cookies as a family. Or apple pie. Whichever you prefer.
With the fall season, you can choose fall-related flavours such as caramel or maple. It'll be fun for the kids to get involved. If you have a grandparent who would love to bake, invite them over and it will be a great bonding time.
What I realize with cooking and baking is that not only it can be fun, it is all the more rewarding at the end. I mean, you get to eat. What could be more rewarding?
Ten: Make Thanksgiving or Remembrance Day cards
With Thanksgiving and Remembrance Day coming up in the fall, you can get started on making these cards.
Write what you guys are thankful about and who you are grateful for. For Canadians, you can also make a poppy card or paper poppy to wear at work and school.
If you are inviting people over for Thanksgiving, you can get started on the invitations. The kids can make cards to family members and friends appreciating them for x reasons.
Eleven: DIY outdoor family photography session
Last but not least for this budget-friendly fall list, arrange for a photography session.
Dress everyone in matching colours, pick a time when everyone is least cranky, go to the park or a nice building to have your pictures taken.
If you know a photographer or aspiring photographer, you can get them to take your family pictures. Another option is to set a timer on your phone or camera. Experiment to see what works best.
Also, bring snacks to avoid a meltdown from taking too many pictures.
Thanks for reading. Please be sure to check out other budget-friendly items you can do with your loved ones here:
If you like what you read, please pin the image below and share it with others. Thank you so much for stopping by.