If your 2nd anniversary is coming up and you need some gift ideas, I am here to share with you some ideas that won't break the bank.
We've been married for two years (double the time when this post will be up). I feel like I'm still in the honeymoon stage where marriage is just awesome and I love him so much.
Or I'm just really blessed to have such a wonderful husband.
Please note: I wrote this post two years ago before I started this blog. I was writing drafts to post when I would start a blog one day. As I am going through my drafts for ideas of what to post, this caught my eye. I decided to finish it and post it (hence, this post is two years late). Oops.
Before I continue, here are the other anniversary gifts posts that I wrote about:
Pin this for later!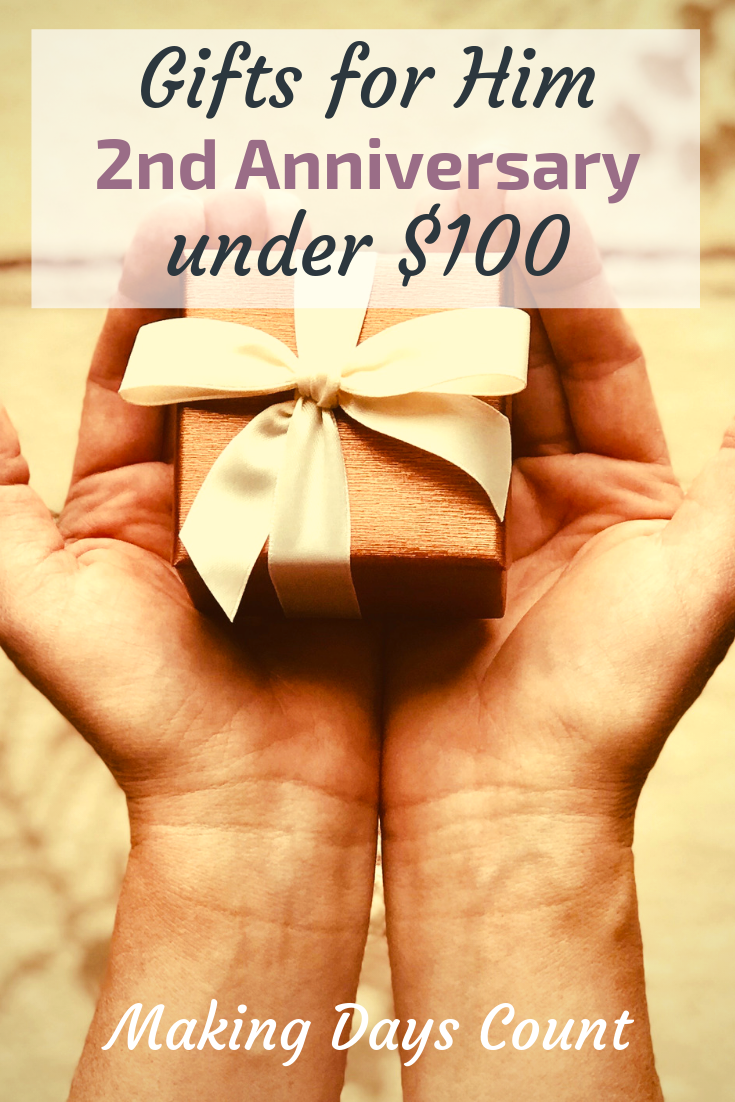 BY CLICKING THE LINKS AND MAKING A PURCHASE, I MIGHT BE EARNING A SMALL COMMISSION AT NO ADDITIONAL COST TO YOU. PLEASE SEE OUR FULL DISCLOSURE FOR MORE DETAILS.
One of my love languages is giving gifts. I found out more about love languages by reading this book the "The 5 Love Languages: The Secret to Love that Lasts".
I wanted to give something that is meaningful and yet practical to him. He doesn't really need anything. He's the type that would get something if he needs it. So, I really have to think outside the box for this anniversary gift.
The second anniversary gift is cotton.
It's considered as a traditional gift, not a mandatory one.
Pinterest is such a great search tool when I need to find answers for something like this anniversary gift. Follow me here if you haven't join the Making Days Count family.
I was looking online and found these baskets of cotton with a variety of gifts inside. There were some baskets that had gifts that were made from cotton, and others with just gifts that start with the letters.
I was really inspired to do something like that, but not in a basket. What I did was that I brainstormed a list of items that I think would be nice of him to have and that he'll actually use or consume. I gave him one gift every day and 2 gifts on our anniversary day.
Here was what I got M for our 2

nd

 wedding anniversary:
C – Comfortable House Slippers from Uniqlo.
I wanted to get him comfortable house slippers and it'll make his feet relaxed and at ease after a long day at work. Mine was long overdue (it was coming apart) so I took over his and got him these new house slippers. They are so soft, I'm very impressed. There was a Uniqlo near my workplace so I went by and got a few items from there. You can get a similar pair of slippers here.
O – One pair of socks.
I also got these from Uniqlo since I was there at the store. I remembered M saying that he needs new work socks. They have an area dedicated to just men's socks just like the online store. I wanted to get one pair of really nice quality socks and I just picked one of the darker colour socks.
Here is a link to some crew socks you can buy online.
T – Two bags of popcorn
There was a charity sale going on selling popcorn so I decided to include it as a part of the gifts. I know, it's not cotton related, but he enjoys popcorn once in a while.
It's definitely a win-win situation as we can contribute to charity and at the same time, enjoy popcorn. Yay!
T – T-shirt
This was not really a t-shirt, it was an under shirt. I bought this shirt, also from Uniqlo, because it has this heat tech and I thought that it'll be good for the winter. We do live in Canada where it can get very cold in the winter. It looks good and he doesn't need to wear too many layers when the temperature hits negative 20.
O – One card
I love receiving cards from M so I wanted to give him one too! If you're looking to buy a card online, check Etsy out.
N – (I don't remember) Necktie
I can't remember what I gave him that starts with the letter N, but an alternative would be a necktie or a tie made out of cotton.
I hope that this gift list help you too when you're trying to figure out what you want to get your spouse for your anniversary.
It can be something very simple as a picnic at a park, or elaborate gifts similar to the basket idea. What you get your spouse depends on what you think their like, or even their love language.
If you would to like to learn more about the different love languages, click here to read The 5 Love Languages: The Secret to Love that Lasts .
I had so much fun putting together this list and the total amount spent was under $100.
What are good gift ideas you have for men? Please let me know in the comments section below. I'll start collecting ideas for next year!
Thanks for reading. If you are interested in other gift ideas, check these out:
If you like what you read, please pin the image below and share this with others. Thank you so much.