If your 4th year anniversary coming soon and you need some gift ideas? Well look no further, in this post I will be sharing some of the fourth anniversary gift ideas I found online.
This year M and I have been married for four years. It does not seem that long ago when we said our I do's. As I am researching for what to get him, I thought why not share with my readers some of the gift ideas I found for our fourth anniversary.
According to Google, 4th year gifts are usually fruits and flowers, or linen and silk if you are in the UK. If you want to give more practical gifts, you can give him appliances. It's really up to you.
Before I continue, here are the other anniversary gift I gave to M that I wrote about:
I guess I did not write for the 2nd year and the 3rd year. Maybe I will write about it after this post so you can get inspired of what you can get your significant other.
Pin this for later!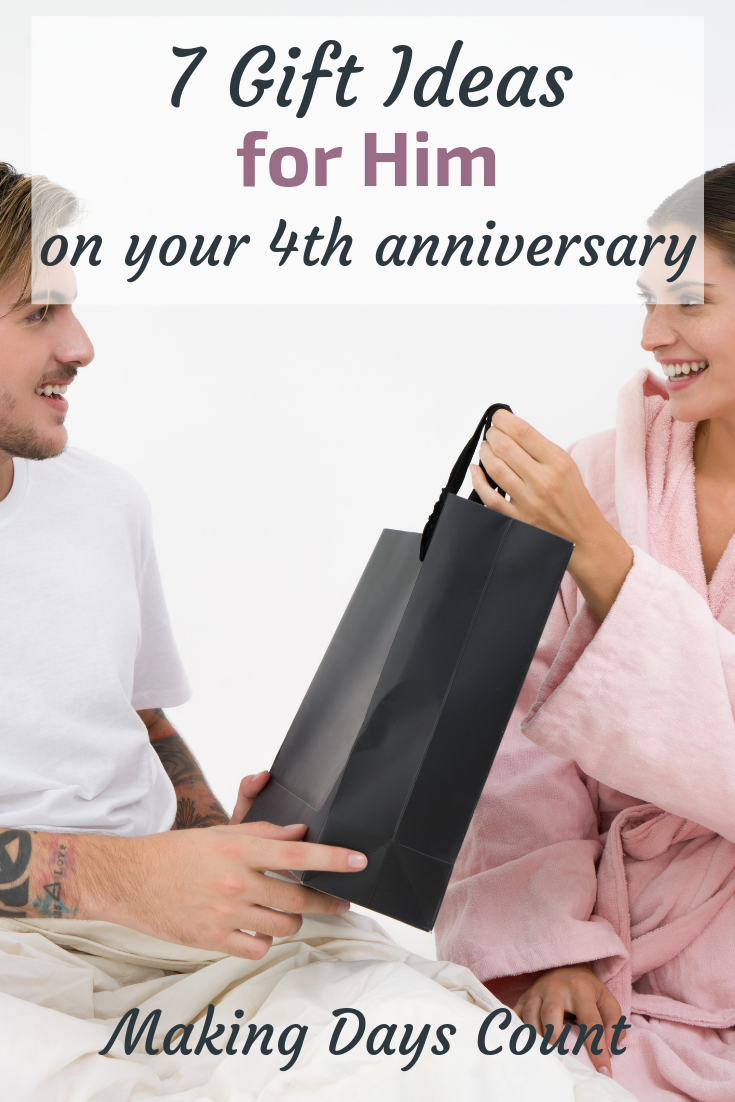 Here are some 4th year anniversary gift ideas for him:
BY CLICKING THE LINKS AND MAKING A PURCHASE, I MIGHT BE EARNING A SMALL COMMISSION AT NO ADDITIONAL COST TO YOU. PLEASE SEE OUR FULL DISCLOSURE FOR MORE DETAILS.
1. Coffee maker
If you have a significant other who loves coffee, a coffee maker would be a gift that keeps on giving. He will get to enjoy his coffee the way he likes it in the morning, or throughout the day if he really loves coffee (and is home, of course).
Also, if you get to use it as well, it's a win-win for both of you.
What I like about this coffee maker is that it comes with a dishwasher safe travel mug. He can make his coffee and just take it to go to the office or for a meetup with friends.
I think that this would make a great 4th year anniversary gift for your coffee lover. As of this writing, it is less than CAD $20, such a great deal!
2. Mini Fridge for his man cave
We are in the process of renovating for his man cave. Yes, I do get some say as M appreciates my opinion on decorating and stuff like that. If your guy has a space where it is just for him to hang out with his friends, or for him to exercise, this mini fridge would be a good idea.
He can put all his drinks and maybe some snacks in there when he is watching the game with other guys or for his after workout routine.
Before you buy this mini fridge, be sure to measure the space where you think he would like it to be placed. If the man cave is a good walking distance to the kitchen, it would be perfect for him to have this mini fridge.
3. Personalized Robe
Men enjoys comfort too, whether they say it or not. Get him this personalized robe where he can enjoy while lounging or just chilling with you.
Does it look so comfy that you want to get one for yourself as well?
You can customized this robe to have just the initials or even have his name on the robe. This would be a really special personalized gift for your significant other on your 4th anniversary together.
4. Baskets of Fruit or Fruit Bouquet
You can send him a fruit basket or a bouquet of fruits such as Edible Arrangements (not an affiliate). If you send it to his workplace, he can share it with his peers.
Also, it's such a healthy gift if your man loves to stay fit and healthy. Depending on your budget, you can choose the size and what do you want on your fruits bouquet.
5. Card with fruit humor
Another gift along the lines of fruit or flowers, you can give him a card with a hilarious fruit.
Here are some examples:
I love you from my head To-Ma-Toes by Lucy Designs Bits.
What I like about this card is that it's so cute and can not only be used for anniversaries but also birthdays and Valentine's day.
Next example, this one focuses more on being together. We make the perfect pear by Pro Tea Paper Co.
Isn't this so cute? There are so many options on Etsy if you want to give the perfect card for your anniversary.
6. Silk Tie
You can also give him a silk tie if he wears one, especially for work purposes or weddings.
There are so many designs out there, just browse to see which one captures your attention. If you prefer to buy this gift in person, you can always visit the mall near you to see if they have silk ties available. Feel the texture of the silk ties and choose the design that most appeals to you.
7. Grill
Last but not least, a great gift would be a grill. If the weather where you are is still warm, he can use it this year. However, for us, it's the fall in Canada and it will get cold really quickly so it might not be ideal.
A solution to that is an indoor grill. Let him grill the burgers and vegetables while you prepare the other dishes (or he can cook everything). I don't judge how your relationship works. Haha.
This grill (as of this writing) is less than CAD $90, which is a good deal. All you need to do is shop for the ingredients and get ready to eat an amazing meal.
Thanks for reading. If you are interested in other gift ideas, check these out:
If you like what you read, please pin the image below and share this with others. Thank you so much.