When I had Baby K last fall, I did not know what to do besides stay home and take care of her. It was getting cold and I just was so tired by the late nights and the tiring process of feeding her. I was a new mom and I wished that I could go back and tell myself that I could do things with a baby in the fall besides being home.
If you are becoming a mom for the first time or if your baby is home with you during the fall, I will share with you some ideas that you can do with them. I will definitely do them with Baby K this fall season before I go back to work.
If you are interested in other budget activities with the family, here are some related posts:
Pin this for later!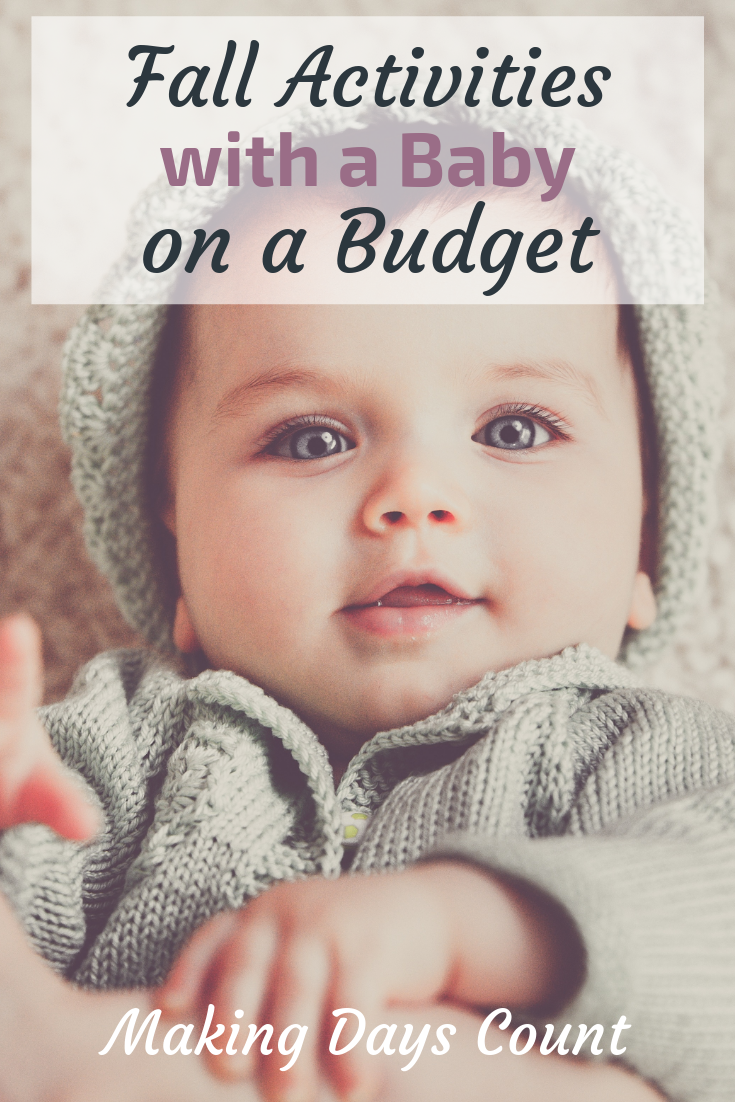 Here is a list of activities you can do with your baby in the fall:
BY CLICKING THE LINKS AND MAKING A PURCHASE, I MIGHT BE EARNING A SMALL COMMISSION AT NO ADDITIONAL COST TO YOU. PLEASE SEE OUR FULL DISCLOSURE FOR MORE DETAILS.
Update on June 2020: Please know that this post was written in September 2019 prior to COVID-19. Please make the best decision for you and your family.
1. Visit a pumpkin farm or an apple orchard
The pumpkin and apple picking season is around the fall time. Choose a farm near you, bundle your baby up warmly, and go visit.
If your baby is really young, it might be good to carry them in a carrier while you walk around as a stroller might not be convenient. However, if your baby is starting to walk around, invest in some good shoes for them so that they can explore the place with you holding their hand.
Bring some extra clothes and snacks as it might be tiring for both you and your baby. If you are breastfeeding or a bottle, be sure to prepare beforehand as you might spend quite some time at the farm.
2. Go to a library or community program class
Check out the library in your area to see if there are any free classes for babies. Another place you can check out is the community center or look online for free programs that you and your baby can attend.
In our area, there is a free play drop in program where any one can bring their children to during the hours allocated. There are many toys available for your baby to explore and also to meet with other babies around the same age. For us, they do require registration, but it is completely free.
It is nice to just go out and have your baby socialize with others. Also, you can meet with other parents who might be going through the same stages as you are. It's a great place to chat if you want to meet new parents as well.
Update (June 2020): There are zoom classes or circles available for you to join if you are more comfortable. Check your local library and community for available classes to join.
3. Walk around the neighborhood and park
A nice thing to do during the fall is to take a walk around your home. It not only gives you fresh air and encourages you to do some exercise, it's also good for your baby not to stay home all the time.
Watch the falling leaves and sip your coffee while enjoying the breeze. It also helps not to be stuck at home all day watching the baby sleep. Yes, they are very cute when they are sleeping, but fresh air is pretty nice.
Now that it is not as hot, it is more comfortable to walk around (unless you really like the summer!). For us in Toronto, Canada, it gets cold really fast so I like to enjoy the fall while we can.
4. Play Indoor games
When it is cold outside, it is essential to figure out what fall activities you can do indoors. Babies are easily entertained by boxes, containers, things with lights and sounds, and also by you.
I talked more about what Baby K likes recently in this post: Toys My 9 month old baby love.
If you want to explore more into sensory play, check this list compiled by Jackie here: 15 Sensory Play Ideas for Babies. They looked like so much fun and you can definitely do them indoors during the fall. This is perfect for the time when it's super windy and chilly outside. You can still have fun indoors.
5. Read and relax by the fireplace
When Baby K was younger, she did not really understand when I was reading to her but she was curious with my facial expressions while I read. Now that she is older, she loves to flip the book open and close. When I read a page, she likes to press down to the pages every time. I'm not sure why, but it is hilarious to watch and yet frustrating that I cannot finish reading her the story. Haha.
If your baby is napping, you can just rest by the fireplace. I learned that it is so important to rest when the baby rests too. It gives us the energy for the next awake session.
If you have older children as well, you can appoint one person to read while everyone else snuggles by the fireplace and listens to the story read aloud.
6. Attend a fall festival or parade
There are so many festivals during the fall time. Check your community calendar out to see if there are any that are of interest to you. Some might be food related, others just music and kids activities. Do check the time and also how to get there. Some might offer free parking or directions of how to get there by bus. Choose whichever that is most convenient for you and your baby's schedule.
Sometimes, it is best to go before the lunch rush or later in the afternoon after the baby is well rested from their nap. Avoid when it is your baby's nap time or peak time. With the crowds, you do want to be cautious especially when you have a young one who can catch anything easily.
The best idea is to strap your baby in a carrier facing you if they are younger, and walk around. You can also bring a stroller if there is space for it.
Related: Baby Essentials for attending a Summer Festival
I talked about essentials for attending a summer festival not too long ago. Please check it out and then tweak it to fit the fall season.
Update (June 2020): I'm not sure whether festivals and parades would be best at this moment in time, but not a bad idea once it becomes safe again.
7. Make fall-themed arts and crafts
The internet is a place full of resources for these fall-themed arts and crafts. I really like the hand print ones where you can draw a turkey, but it is a little challenging if your baby is wiggly like mine.
Here are some websites worth checking out: (They are not mine, but still very cool)
If you do make some of these, please tag me on Instagram @makingdayscount. I would love to see all of them.
Thanks for reading this fall activities with a baby post. If you like this post, please check out other similar posts here:
If you like what you read, please pin this image below and share it with others. Thank you so much.