Congratulations on your 5th year wedding anniversary! It truly must have been a wonderful adventure as you do life together. This year, we've celebrated our 5th anniversary and I want to share with you some 5th year anniversary gift ideas for him.
5 years might not feel like a really long time for you, but truly it is a good amount of time to spend with your spouse.
Especially during this pandemic where you might be working from home like we are, and spending a lot more time together in your home.
Cheers to 5 years of ups and downs and loving each other more!
I can't wait for you to check out some of these interesting and unique gifts you can give him on your 5th wedding anniversary.
Pin this for later!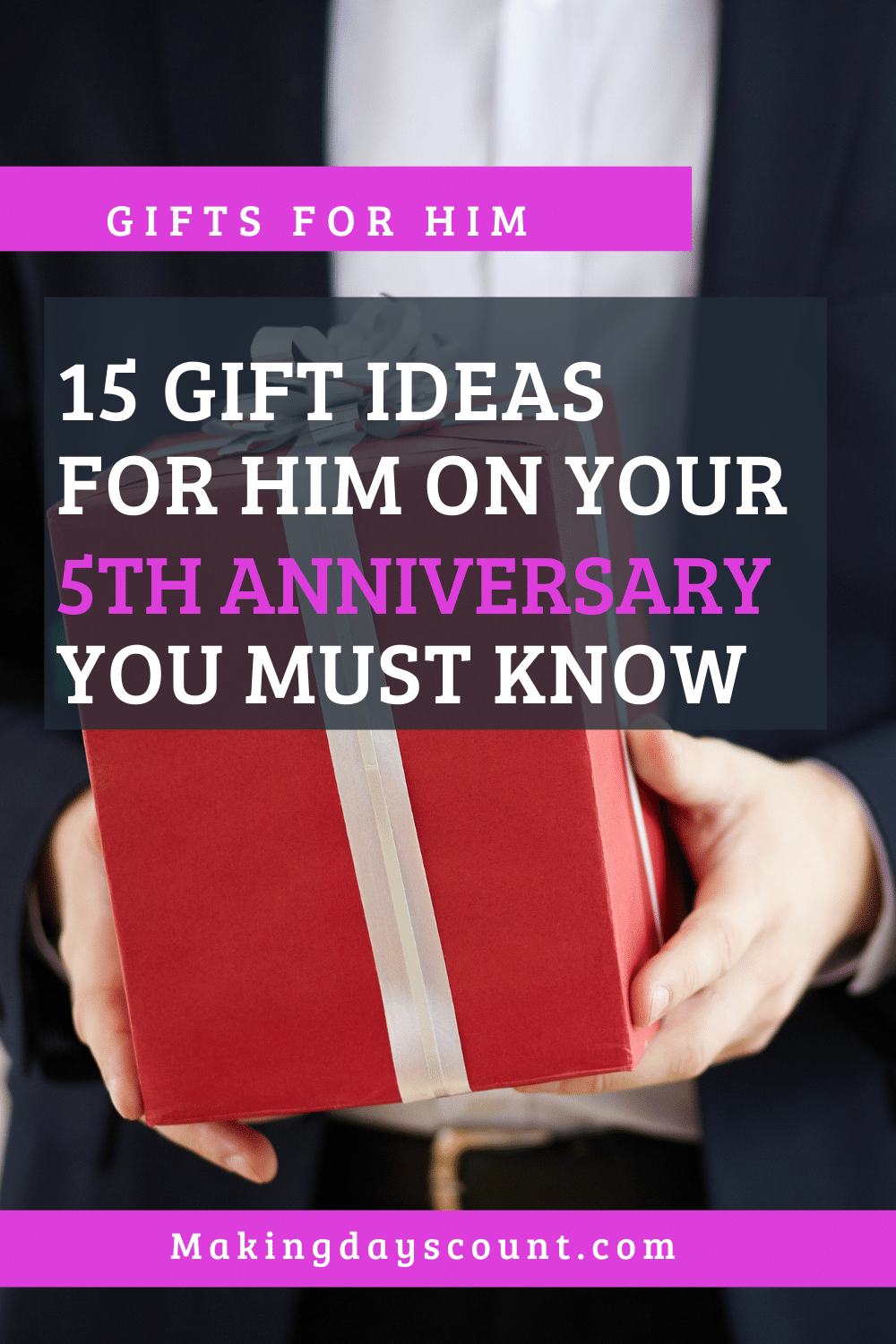 Here are 15 gifts you can get your husband for your 5th year anniversary:
BY CLICKING THE LINKS AND MAKING A PURCHASE, I MIGHT BE EARNING A SMALL COMMISSION AT NO ADDITIONAL COST TO YOU. PLEASE SEE OUR FULL DISCLOSURE FOR MORE DETAILS.
Traditionally, the 5th wedding anniversary's gift is wood. However, in modern times, you can also get flatware or sapphire gifts. Depending on what you and your spouse enjoy, here are some gift ideas I want to share with you.
1. Wood world map
Travelling around the world is so much fun. If you guys love travelling and have been to different countries, this will be an amazing gift.
The wood world map will help you see all the different places that you have been and always plan for your future trips.
Or perhaps, there is a country that you would love to visit again.
This gift is great for him and also for you if you both love to travel.
I also really like the fact that it is made out of wood, so the quality should be good for a long time. It can remain on your wall and move with you as you see fit. Also, it's a great opportunity for your kids, if you plan to have or already have children, to see where you have been.
Another great feature of this wood world map is that you can tell all the stories of where you have been if you have guests who come by and all the recommendations you have of each place.
Let me know in the comments below or on Instagram @makingdayscount which is your favorite place to visit.
2. Wood Watch
There's something about a man wearing a nice looking watch. Maybe it's just the advertisement, but I find that when my husband wears a watch that looks nice, it feels more put together.
For our third anniversary, I got my husband a leather strap watch, he really liked it. He wore it to work every day.
On this anniversary, I was thinking whether to get him a wood watch like this one since he liked the other watch so much.
These wood watches can be personalized with a message at that back as well if you have a special quote or saying you would like to include.
If your husband likes to accessorize, a wood watch would be a good gift for your 5th anniversary.
Take a look at the different styles here and see which one you like the best on him. If you want, you can also get a matching wood watch for yourself as well.
3. A walk in the woods
Your gift to your husband on your 5th anniversary does not have to be expensive. It could be as simple as a walk in the woods.
If you like to hike and explore nature around you, this will be a quick and fun getaway.
See what hiking trails are near you or even a park that you have not been to before.
We went to Edwards Gardens and walked down Wilket Creek Trail. It was pretty nice to just have that time for the both of us without worrying about our toddler. Her grandparents graciously agreed to watch her at that time.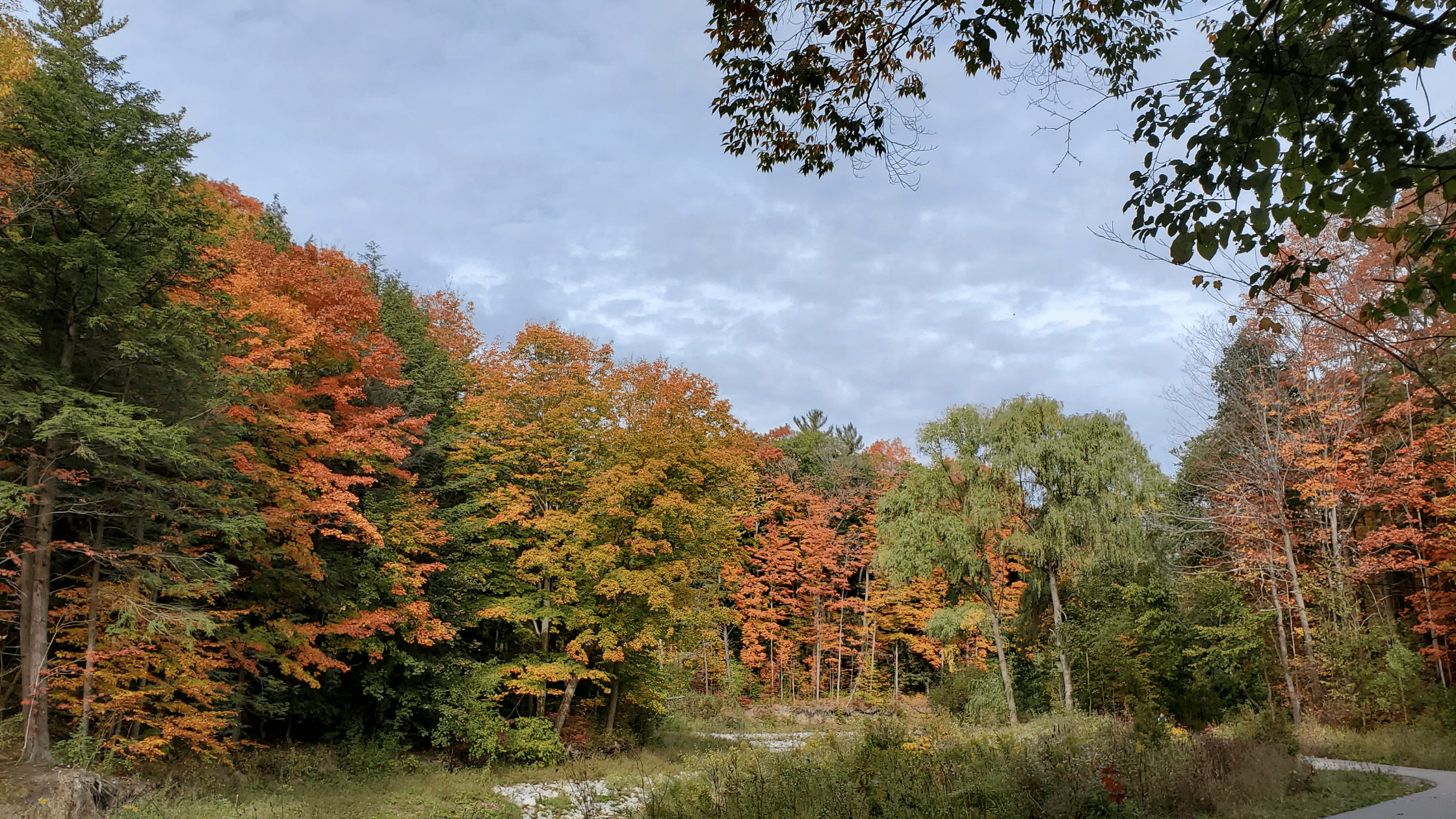 If you are in the Toronto area, I would highly suggest you to check it out as it's a nice walk during the fall.
Another idea is for you to go to a provincial park such as Algonquin in Ontario, Canada and maybe rent a cabin nearby. This way you will have a few days to explore the area and check out the different trails with your spouse.
I would recommend for you to check out AirBnB if you are renting a cabin or home (If you click on this link, you will get a CAD $45 off your first CAD $90 home booking).
4. Wood card
There's something about having something handmade is such a wonderful gift.
Giving your hubby a wood card with a design that you love can be really nice.
You can check out Etsy for different wood card designs and also personalize it to your liking.
One thing that is very special about this gift is that you can also support a local small business and artist with your gift. So, this is a win-win gift!
5. Tools to work with wood
This is a great gift for your hubby if he loves to build things or does the renovations around the house.
Perhaps he needs some new tools for his latest projects.
It'll be a great gift if you know exactly what he needs and where to get the tools that he needs.
However, if you are not sure, you can also get a gift card to the home hardware store. He can get exactly what he needs and has been looking for.
6. Man Cave Wood Sign
If your man has a man cave, a basement, a shed, or some personal space that is only for him in the house, you can get a wood sign for his man cave.
There are so many options out there that you can check out for these beautifully made wood signs.
If he is into beer and witty signs, here is one beer-related wood sign option.
Etsy is a great place to check out all the different types of wood signs that these local artisans make. I highly encourage you to check them out.
7. BBQ Grill Set
You can buy your hubby a grill set for when he barbecues. Though it's not wood theme as a traditional gift, but a great modern gift!
He can have his very own new set of grill accessories when he is busy cooking and preparing delicious food for you and the family.
This BBQ grill set has so many accessories that it'll be fun for him to figure out which one he wants to use first!
8. Wooden USB stick
If your hubby is more into technology and more tech savvy than the other people you know, this Wooden cover USB stick is a great gift.
You can personalize the cover to truly reflect your love or write a message that will remind him of you every time he uses the USB stick.
Not only is this USB stick a practical gift, but also very stylish even on a table or drawer.
Check out these designs for the wooden cover USB sticks.
9. Bucket List Book
This is a gift for both of you.
Getting a bucket list book with a beautiful wooden cover is not only practical but also a great decorative and conversation piece in your home.
You can make your own bucket list and write down everything that you want to accomplish in the book. From places you want to travel, food you want to try, and activities that you want to try can be written down in the book.
You can also write down things you have done and cross them out, but keep them there so you can look back at the wonderful things you have done.
Check out these bucket list books to see which one you really like and also to give as a gift.
10. Wood Drink Coasters
Whether for a beer, or a hot cup of coffee, wood drink coasters would be a great gift.
This practical yet thoughtful gift will be sure to please whenever he needs to get a drink.
It'll also save your table from water stains, so might be a good gift for you too.
Here are some wood drink coasters that you can check out. See what type of designs and wording captures your attention and maybe also your hubby's as well.
11. Wood Ring
Another great gift for your 5th anniversary is a wood ring.
If your hubby loves to accessorize, this wood ring is durable and beautiful at the same time.
What I really like about this other ring option is that you are able to also get one for yourself to match if you wish to.
Write a message or a code in the ring that symbolizes your love together forever.
Check out these wood ring options here.
12. Personalized Tablet Holder
These personalized tablet holders are so beautiful! You can get one with your initials or your family's name on one.
What I like about tablet holders is that they will help one to have a better posture when using it without straining their neck (hopefully!).
You can also use them to support your phone, or to read a magazine.
If this gift is placed in a common area in the house, other family members can use it as well. This is a nice gift for the whole family too.
13. Wood Shower Mat
You can buy a wood shower mat as a gift for the both of you.
If you want to get something that you can both use, this is a wonderful gift. Based on reviews, they said that it is quite comfortable for your feet when you get out of the shower. It can even make it more of a spa experience.
If you do get this wood shower mat, let me know how it is for you.
14. Wood docking station and organizer
Similarly to the tablet holder, this wood docking station and organizer is a practical and beautiful looking gift.
If your hubby likes to put everything in one place (or if you would like him to), this organizer has ample space for the things that he needs to have access on a regular basis.
Check out these wood docking station and organizers, as a gift for your 5th anniversary.
15. Engraved Steak Knife Set
This engraved steak knife set is such a cool gift for your hubby.
You can pair this gift together with the cutlery set I mentioned earlier in the post.
With this gift, you can personalize it to say his name, or a phrase that he likes, or even your family name.
At the end of the day, whatever you choose, you know your husband the best after these 5 years of marriage. Happy anniversary and I wish you both the very best!
Related:
Thank you so much for reading my blog post on "5th Year Anniversary Gifts for Him". If you like what you read, please pin the image below and share it with others. Thanks!