French Polynesia is a beautiful country with many island destinations that you can visit. The water surrounding the islands are beautiful and you can go island hopping to enjoy what the country has to offer.
From the gorgeous water bungalows to swimming with the sharks, you can have a lot of fun exploring the place.
However, there are mistakes that you want to avoid to get the best experience and I will be sharing with you some of the errors we made. Also, it would be a bummer for you not to have the best experience especially when you paid so much for this trip to French Polynesia.
The islands of French Polynesia include Tahiti, Bora Bora, and Moorea. Of course, there are other islands as well, but these are the ones that we visited.
Before we continue, if you are interested to read more about visiting different island destinations around the world, feel free to check these blog posts out:
Pin this for later!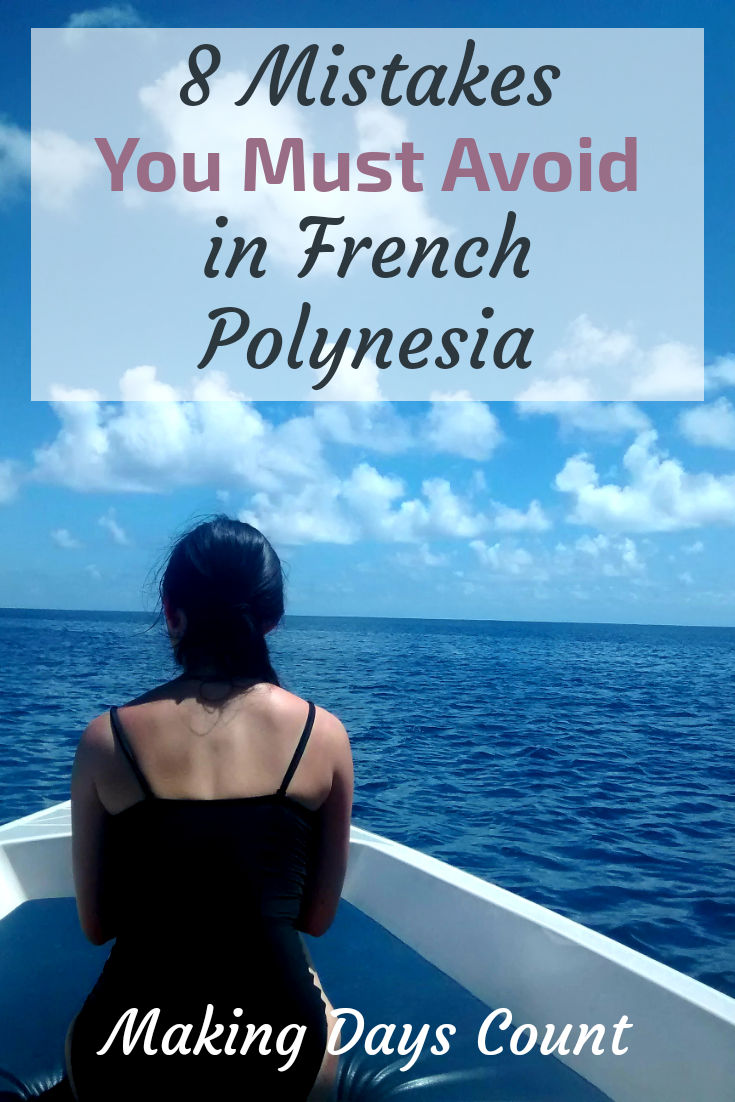 So without further adieu, please continue reading below for the 8 mistakes you must avoid while visiting French Polynesia. Number 3 is totally real and super embarrassing.
Here are 8 mistakes to avoid in French Polynesia:
BY CLICKING THE LINKS AND MAKING A PURCHASE, I MIGHT BE EARNING A SMALL COMMISSION AT NO ADDITIONAL COST TO YOU. PLEASE SEE OUR FULL DISCLOSURE FOR MORE DETAILS.
1. Going during hurricane/cyclone seasons
Before you look at when is the cheapest time to go to French Polynesia, be sure to check out when is the hurricane or cyclone season. You want to avoid going during that time for sure.
Choose a different season that might be slightly more expansive but a lot more enjoyable. When we went in March a few years ago, there were rainy moments but it was not constant.
What was nice when we went, it was not too packed and we could enjoy the sun at the beach and snorkel near our hut and the surroundings at our own pace.
Please do not go during the hurricane season, especially when you're paying so much money to go to French Polynesia.
2. Forgetting sunscreen
Sunscreen is so important whenever you go to sunny places like these islands. Not only you should put them on in the morning, do remember to reapply consistently.
M and I didn't reapply our sunscreen after snorkelling and we got burnt so quickly.
It was not pretty.
Please be smarter than us and put sunscreen on all the time. We wished that we only tanned but nope, burnt with peeling skin for the rest of our honeymoon. Don't be like us.
3. Not checking your passport after you check in
This is a true story. When we checked in to the resort, we had to give our passport to them so they can make a copy for their records.
At the same time, there were 2 other ladies checking in. What I didn't know was that when they returned our passports, they gave us M's passport and one of the other ladies.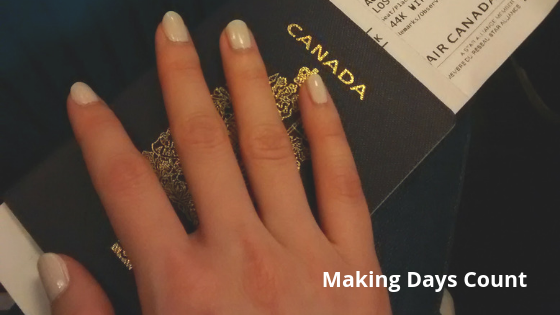 In my defence, it was our honeymoon and I was not careful to check that we got back the right passports. Okay, yes, really no excuse.
When we were leaving, at the airport on this island we're staying at, we looked at our passport and realized that I don't have mine. I guess the other ladies didn't realize either.
The plane was leaving in an hour back to Tahiti. I was freaking out. The counter called the resort to find the lady, but she was at dinner so they couldn't find her.
This is an extremely stressful situation for someone on their honeymoon. Please check your passport when the front desk gives to you. Be smarter than me.
The airport staff insisted that we take the plane to Tahiti and they will arrange for my passport to be delivered to me. The thing was that we were supposed to fly back to LA later the night.
We flew to Tahiti, met with a supervisor and they arranged a free stay at a sister resort of the one we stayed at.
Long story short, I got my passport the next morning and was able to fly back to LA at night.
It was so embarrassing as the front desk of the Tahiti resort staff knew me as the passport girl.
Again, don't be the passport girl, aka me.
4. Only staying at the resort
As beautiful as staying at the resort can be, you want to take the opportunity to explore the island.
I highly recommend for you to try at least one or two excursions that will take you around the island or into the water.
For Moorea, I highly recommend Francky Frank Moorea Tours. The guy is informative and hilarious at the same time.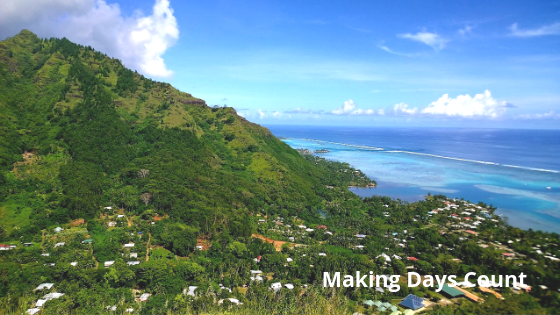 He is considerate of who is on his tour and recommends different things that everyone can do while on the island. You can truly experience his love for the place and he talks about his life and family as well.
For Bora Bora, we went with Lagoon Service Bora Bora (not an affiliate). Our tour guide Ramone is hilarious and he took our GoPro down with him when he went swimming with the sharks. M and I are not the best swimmers so it was such a treat to see the footage afterwards. You get to swim with stingrays, sharks, and other schools of fish. We loved our experience.
If you prefer to explore on your own, you can rent a bike or boat online or at your front desk too.
5. Overplanning the activities
On the flip side, you need some downtime at the resort. It is not necessary to schedule every single day of your trip there.
You can call it a beach day or relax at the pool day. This is the day or days that you just take it easy and rest.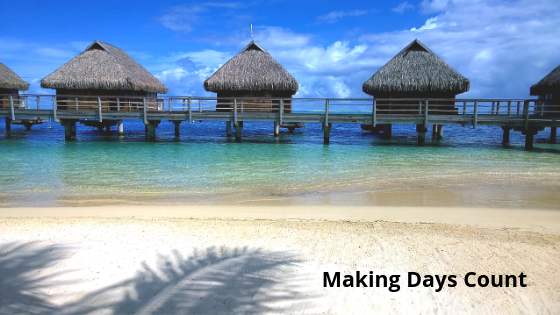 It's a vacation after all.
When we were not at the excursions, we were resting at a resort room or hut. During this time, M will snorkel around the resort or sunbathe in the balcony area.
6. Overlook the free activities at the resort
Even though you paid a lot for the resort, don't forget that there are free activities provided.
From mini golf to free kayak and life jackets, you can do a lot at the resort. Just ask the front desk for ideas or look online to see what others have said about the resort you are staying at.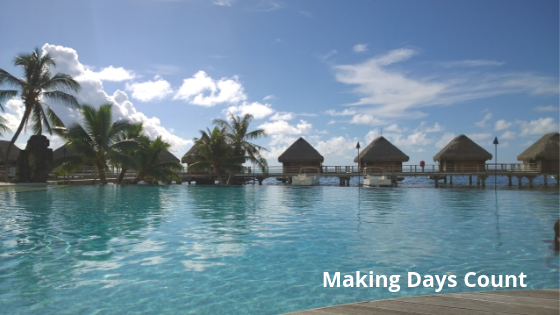 I mean, since it is free, why not?
7. Ignore the delicious local food and drinks
Unless you are allergic or have food sensitivities, it may be a great idea to try the local food and cuisines.
You can look up beforehand which restaurants you want to try.
In Moorea, we really like Rudy's restaurant. I remembered that the fish was really fresh and delicious. Also, they provided car service to our resort which was a bonus.
8. Fail to budget for the trip's expenses
French Polynesia is not the cheapest destination, and you do need to save up for it. This is because they might need to import things to the islands, which then increases the price of food and souvenirs.
When budgeting for food in French Polynesia, do some research on what you want to eat and allocated more than necessary. Some fancier restaurants do take credit cards, so let your bank know in advance if you will be travelling.
You don't want to be caught off guard with these prices.
If you want to save some money, islands such as Tahiti and Moorea have supermarkets where you can buy food and snacks if you want to splurge on one or two meals during the day.
French Polynesia is an amazing place to visit. Please be sure not to make the same mistakes we did and have a great vacation.
Thanks for reading. If you are interested to learn more about our travels, here are some posts for you to read:
If you like what you read, please pin the image below and share it with others. Thank you so much.