You are planning your little one's 1st birthday party and the cost can add up. Whether it's food, decor, or favors, these things along with other details can be expensive when added together.
After all, it's their first birthday. It's a celebration of their first year and of you thriving (or surviving) the year. Hooray!
We just recently had Baby K's first birthday party (as of writing the post) and it was so much fun. We spent quite a bit on her birthday, especially on food. It made me think how I could save money on this party. I want to share with you some ideas that I thought of and some that we used for this party.
Before we continue, please know that this blog post is part of Baby K's first birthday series. Here are the other posts:
1. How to Design a Birthday Invitation for Free
2. 9 Motherhood Lessons: My First Year
3. DIY First Birthday Games: Who Knows Baby Best
4. Cheap Party Decor: $5 Paper Plate Wall
5. How to save money on 1st birthday party (this post)
6. My 30 Hour Labor and Delivery Story
Pin this for later!
Here are ways you can save money for your baby's 1st birthday party:
BY CLICKING THE LINKS AND MAKING A PURCHASE, I MIGHT BE EARNING A SMALL COMMISSION AT NO ADDITIONAL COST TO YOU. PLEASE SEE OUR FULL DISCLOSURE FOR MORE DETAILS.
1. Keep a small guest list
The first way to keep the cost down for the 1st birthday celebration is to have a small guest list. There is no need to invite everyone you know. Invite immediate family and a few friends. Less people means that you need a smaller space and  less food which is probably the bigger cost of the party.
For us, we invited our family members and 2 baby friends and their families to Baby K's 1st birthday party. It was a total of 25 people, including babies. This number might seem big to some, but for us, it was just right.
2. Have it at your home or someone else's home
Another way to save money is to have the party at home. This will cut the cost of a rental space and all the fees that come with it. You will have to clean before and after the party, but it would be worth it.
Also, if your baby needs to take a nap, you are already home and easily put them down. The guests can continue to stay if you wish for them to.
What I enjoyed about having Baby K's 1st birthday party at home is that I could take my time to visualize how the setup would be and set up the decorations way ahead of time.
3. Go to the Dollar Store for decorations
I talked more about this in this post, but the Dollar store can be your friend in saving tons of money for decorations.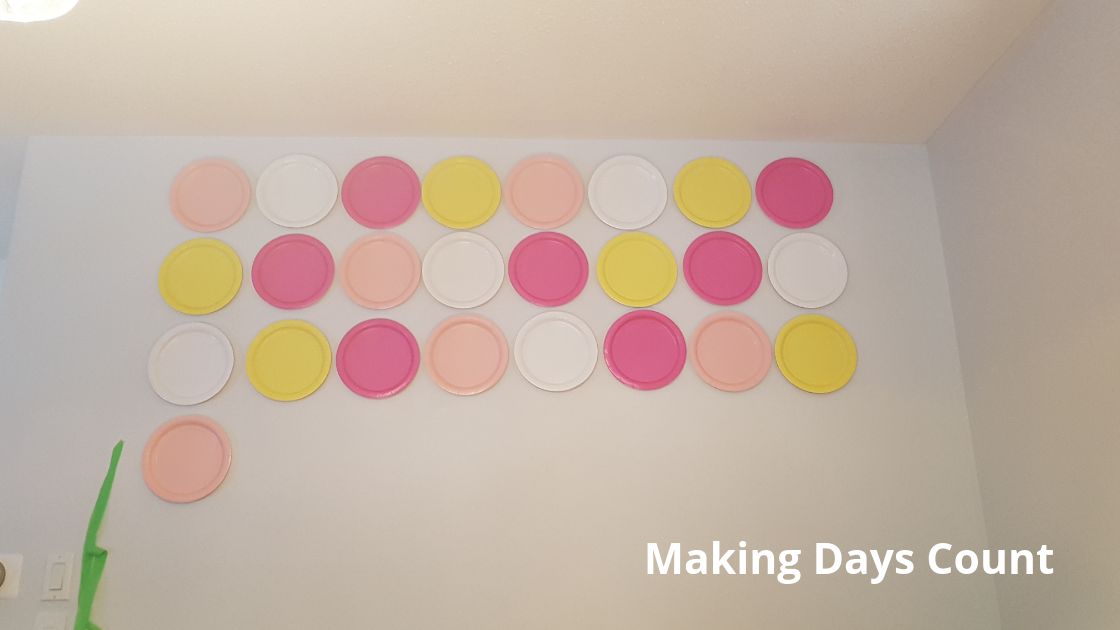 For one, I made these paper plates wall which only cost $5 before taxes. There are other decorations such as balloons, streamers, happy birthday signs, candles, etc.
You might be worried about the quality, but if it's for one time use, why not.
Yes, I talk a lot about the Dollar Tree. Here are some posts:
4. Use your baking skills
If you are talented in baking or are an amateur baker, you can consider baking the birthday cake or cupcakes. M recommends and enjoys using his cake decorating set from Amazon. Sometimes I share what he makes on Instagram @makingdayscount.
Your guests will appreciate the homemade cake. Also, it'll be quite a story to tell your child when they're older. It could be a tradition for every birthday.
5. If you have a friend vendor, ask for discount
If you are too busy or rather pay for someone else to bake or prepare the food, ask a talented friend.
However, please pay them for their services.
They might be able to give you a discount if you ask nicely. Or even better that it is their gift to your 1 year old. But, it's up to them.
6. Forgo party favors
Do you really need party favors? The adults don't need it. It's not a wedding. I think they will be okay.
For us, I had toys for the babies to play with so that they can have a fun time. There were 2 older kids who are around the preschool age. I bought them activity books from the Dollar store.
Maybe it's just the 1st birthday so I can get away with it. You can decide what you want to do.
7. Have a potluck
One of the best ways to save money is to have a potluck. Instead of gifts, you can ask each family to bring a dish.
In this way, your guests can decide to make the food or buy from a restaurant.
To make things easier, you can specify whether they bring an appetizer, meat, vegetables, or desserts.
If someone has a specialty, ask them to cook that so people can enjoy the dish.
You can always add these really cute food signs beside the dish so that everyone knows what they are eating. What I love about these ones are that they are printable and you can change the text to fit exactly what you need. There are so many designs available on Etsy.
8. Wear clothing you already own
Many people might want to buy a new outfit for the baby for their 1st birthday party. It'll be cute they say.
I almost became one of them. Maybe the many people I'm referring to its just me.
I saw this adorable dress that Baby K could wear. Took a picture and sent to M. He asked me why she needs it. I replied that it's for her birthday.
The end of this story is that I did not get it but it was fine. Why? I found a red dress that was new in her closet. It was really pretty and works well. The best part of it all, I did not spend extra money on a new frock for Baby K.
For M and I, we wore our Sunday or Saturday best clothing and called it a day. Wear what you already own and know what looks good on you.
Thanks for reading this How to save money on your baby's 1st birthday party post. To see more of Baby K's birthday series, please check these posts below (I will try to update them as I write more):
1. How to Design a Birthday Invitation for Free
2. 9 Motherhood Lessons: My First Year
3. DIY First Birthday Games: Who Knows Baby Best
4. Cheap Party Decor: $5 Paper Plate Wall
5. How to save money on 1st birthday party (this post)
6. My 30 Hour Labor and Delivery Story
If you like what you read, please pin the image below and share this with others. Thank you so much.