Are you going to the Toronto Zoo with your baby? Is it on your list of places where you want to experience with your child for the first time?
If you are one of those parents like us who are just really excited to bring their baby around the zoo, this post is for you.
I've heard people telling me that the baby is too young to enjoy the zoo as they might not understand. That may seem true but really, it's for the parents. Also, it's free for babies so why not?
Going to the Toronto Zoo is an exciting time and you want to be prepared. We went in the summer, so there might be a few changes. First, it's cheaper now for adults during the winter or cooler season. The second is that is highly related, is you will need to bring more layers for yourself and baby.
Before I continue, please feel free to check out how we got these tickets for free here.
Pin this for later!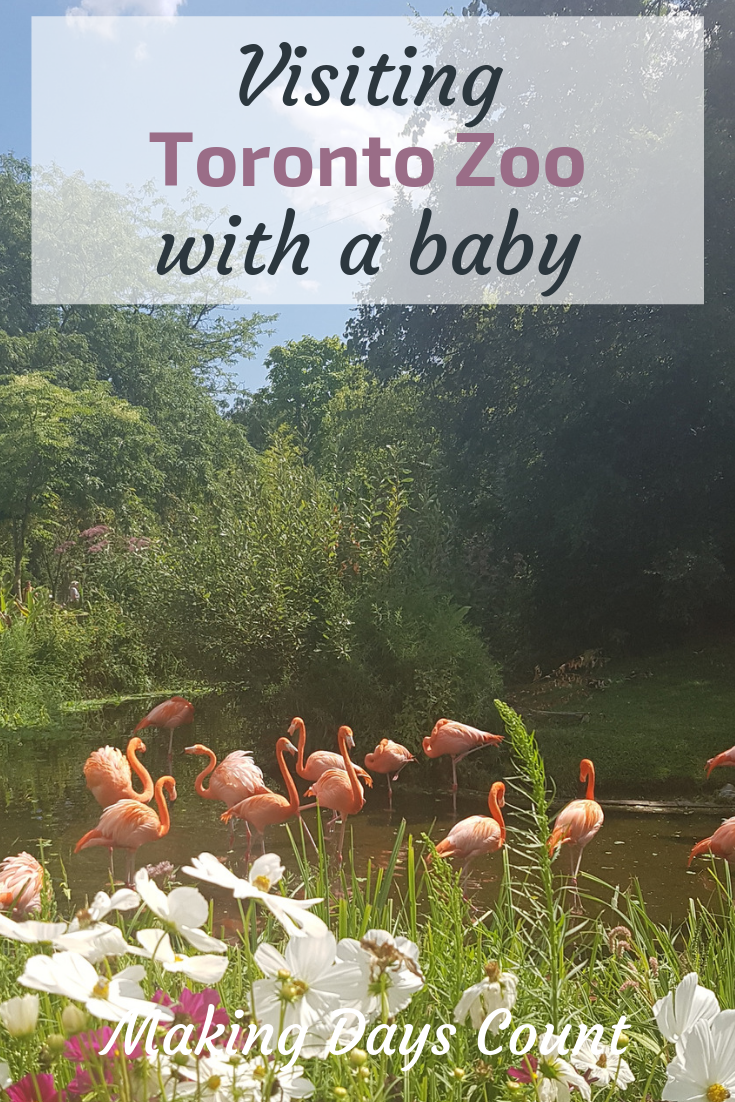 Here is my experience visiting Toronto Zoo with a baby:
BY CLICKING THE LINKS AND MAKING A PURCHASE, I MIGHT BE EARNING A SMALL COMMISSION AT NO ADDITIONAL COST TO YOU. PLEASE SEE OUR FULL DISCLOSURE FOR MORE DETAILS.
Parking and Entrance
If you are driving to the Toronto Zoo, you need to pay for parking. As of now, it's $12. You can either pay when you enter or at a machine when you leave.
We decided to go to the zoo after breakfast, and was still able to get a close parking spot to the entrance.
Due to our free tickets, we went through the prepaid line. It was really quick and easy. One thing I noticed is that there's actually a booth right beside the prepaid line. It was a really short line because no one seem to be aware of it. It's the one on the furthest right.
One difference from Disney's Animal Kingdom is that you do not need to go through metal detectors or security checking your bags. You go straight into the zoo after buying your tickets. Yay! More time to enjoy the zoo.
Changing diapers
One thing that we notice is that the washrooms are available, but a good walking distance to one another.
When we first changed baby K's diaper in the family washroom at the entrance, it was not bad. It was not the most spacious but still acceptable.
Later in the day when we wanted to change her diapers, there wasn't a washroom nearby. We decided to change her by the bench. One of us held her upright while the other quickly change her. Good thing that we did not get peed or pooped on during this process.
I guess one tip is to plan ahead and change your baby when you see a washroom nearby.
Shows (Closed for the season?)
The Toronto Zoo has 2 shows that takes place at the Waterside theatre. Unfortunately for us, we did not have time to see the shows. I cannot tell you about it but if you do have time, please let me know how it went.
We decided to explore the Toronto Zoo in a clockwise manner. If we did it counter clockwise, we probably would have made it to one of the shows.
If you're tired of walking and exploring (and carrying the baby), the shows would be great for you to rest and enjoy the animals at the same time.
It might be closed for the winter. Please check their website for more details.
Accessibility for strollers
While walking around the zoo, I notice that it is very stroller friendly. So much so that they even rent out strollers if you need one.
Whenever there is a flight of stairs, I'm able to easily find a ramp for strollers and wheelchairs.
Even in the buildings where the animals are indoors, we could push our strollers right through. I am very impressed.
If you are planning to carry your baby around as well, I would highly recommend for you to bring your baby carrier. Here is the one similar to ours.
Variety of animals
The reason why we all want to go to the zoo is because of the animals. Now I'm not an expert of zoos or animals, but we enjoyed our time there.
From giraffes to flamingos, it was pretty interesting.
Side question: do you know why flamingos are pink? If you know, let me know in the comments below.
We were able to see many animals, except for Elephants as they moved them to a warmer place (I have heard). The penguins were so cute. The gorilla was showing off his climbing skills. The black panther is still relaxing under a shade.
Overall, it was great.
I was surprised that for one of the iguanas, they covered a portion of the glass. Why? It was to allow the iguana to gradually get used to visitors as it was new to the zoo.
Here are some pictures we took:
Food and Drinks
Did  you know that you can bring in your own food and drinks to the Toronto Zoo? You can save so much money this way.
I decided to bring the same food as the one I brought to the Toronto Islands: Sushi.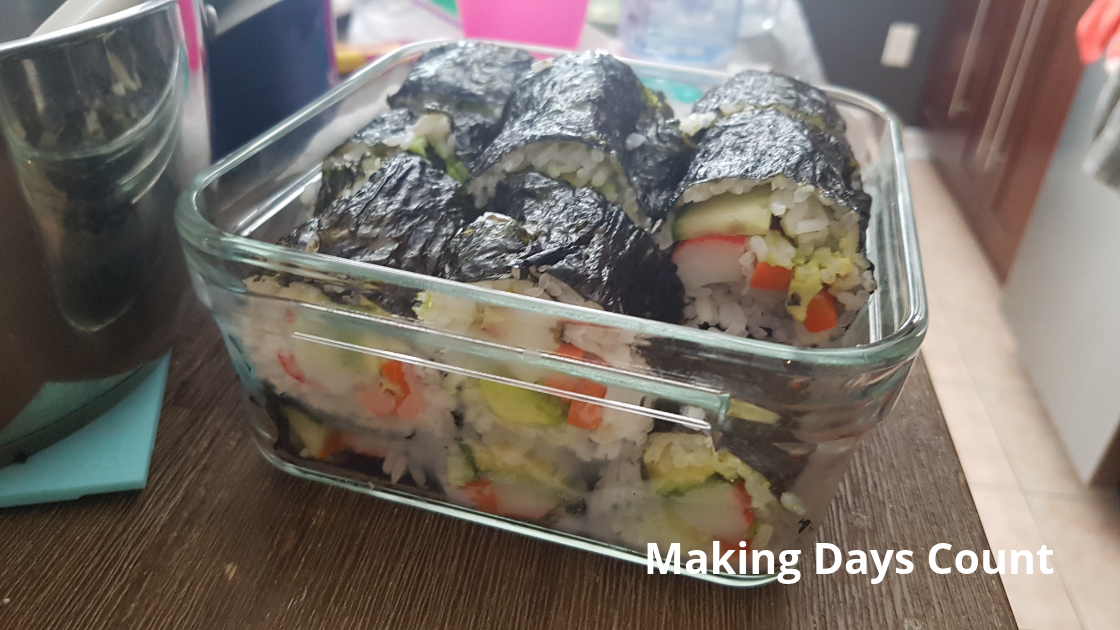 We also brought our drinks and an ice pack to keep it cool. If you prefer to buy food at the restaurants, they have different combos you can choose from. I would still suggest that you bring some snacks from home to save a bit of money.
Also, I believe that there are water fountains in the park to refill your water bottles. Please correct me if I'm mistaken.
For Baby K, we cooked some fresh food for her in the morning and served it to her at lunch. You can also bring some fruits and cut them into smaller bites for the baby. The morning of can get really hectic, so you need to figure out what works for you and your baby.
If you are planning to breastfeed, there are benches through the Toronto Zoo. Take a break, feed your baby, and continue your journey around the zoo.
Splash Island
This is another area that we didn't have time for, but it looked like so much fun.
You can take your baby to the water park area of discovery zone and have a blast. There were so many kids running around enjoying themselves.
I brought Baby K her swim bottom (similar one here) and towel, but it was getting late. Maybe next time.
Thank you so much for reading this post on going to the Toronto Zoo with a baby. For other baby related travel, please feel free to check out these other posts :
If you like what you read, please pin the image below and share with others. Thanks.