Are you going to the Happiest Place on Earth, Walt Disney World? I am so excited for you to begin your adventure. If you are staying at a resort in Disney, there is a free shuttle bus to your resort called the Disney Magical Express.
In this blog post, I will post a review of our experience taking this bus from the Orlando International Airport (MCO) to our Disney Resort and vice versa.
Before I continue, please know that this blog post is a part of my Disney series when I share my experience from beginning to the end.
If you would like to catch up on my Disney series, check these out:
Disney Magical Express: A Review (this post)
Pin this for later!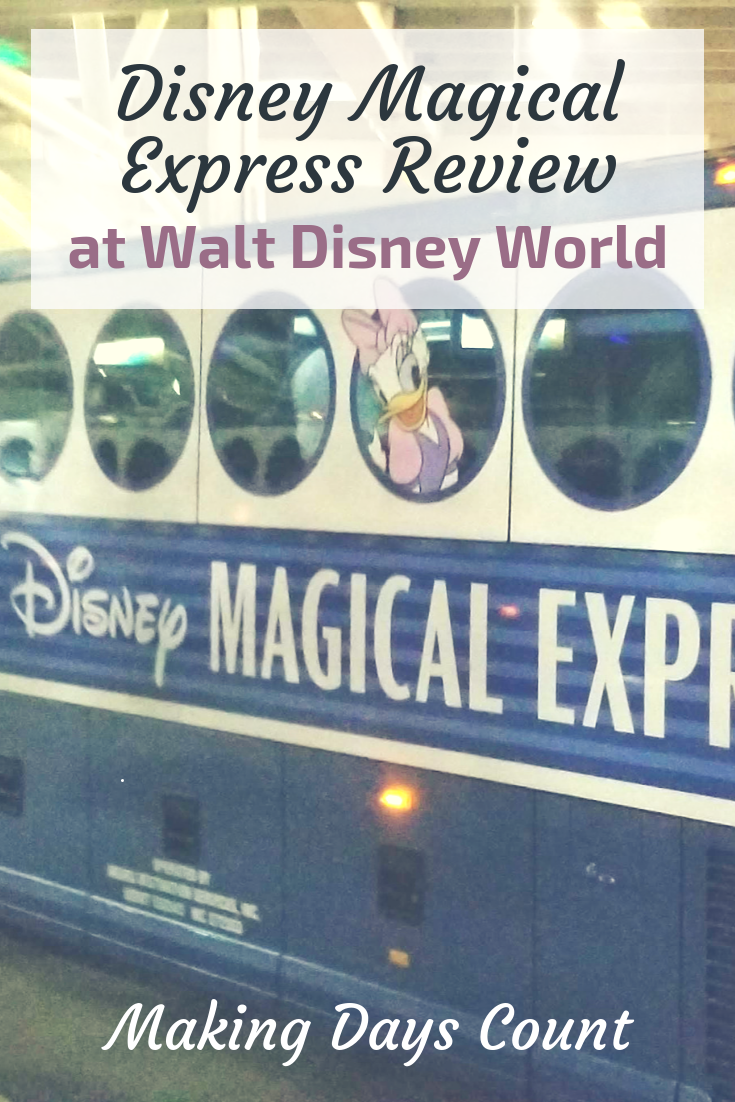 Let's get onto the review.
Here is my review of the Disney Magical Express:
BY CLICKING THE LINKS AND MAKING A PURCHASE, I MIGHT BE EARNING A SMALL COMMISSION AT NO ADDITIONAL COST TO YOU. PLEASE SEE OUR FULL DISCLOSURE FOR MORE DETAILS.
Please know that this is a FREE service provided by Disney for all Disney resort guests. For more information, please read Disney's website on the Disney Magical Express.
A little bit about how we reserved our ride:
After booking our package with Costco as mentioned in my "Last Minute Trip to Disney", I wanted to make sure that we reserve our spot for the Disney Magical Express to our resort. This was a last minute trip and I did not want to stress about how to get to Disney.
You can make your reservation online or call them. We did ours online but received an email that they could not find our reservation. It could be because we booked through Costco. After calling them and giving them our booking reference number, we were able to sort out and get a reservation.
If you are booking through a travel agency, they might be able to handle this for you. Calling them seemed to work for us, but you can try booking online first.
After you get your confirmation, you will receive a mail with a letter that you need to bring with you prior to boarding the bus at the airport and your luggage tags. I cannot speak about using the luggage tags as we only went with carry-on luggage.
From Orlando International Airport (MCO) to Disney All-Star Sports Resort
Boarding the Bus at the Airport
When we arrived at the Airport, we went straight to the Disney Magical Express terminal which was a pretty far walk from where we arrived. The airport is huge.
Upon arrival, you will see Disney cast members standing there and directing people where to go. It is hard to miss as you will see many signs pointing where you should go.
When you check in with the cast member, remember to show them the paper you received in the mail. If you have your Magic Band, you can just scan it and they will have all the information in the system.
Unfortunately for us, they were unable to find us in the system. A good thing is that I brought the paper so they used that to sign us in. The cast member also asked when we are leaving and our flight number as well. This will help them prepare for your departure (yes, I know you just got there).
They will then tell you which line to line up and someone will direct you to the bus.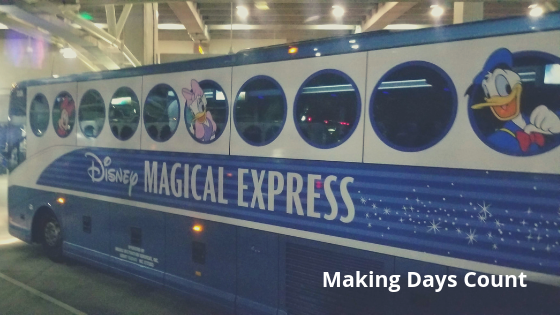 You might need to wait for a bit before the bus departs as they will be driving passengers to different Disney resorts. Good thing for us is that we were the first stop so we could get off quickly.
Driving to the Resort
It was really late when we arrived at the airport so Baby K was pretty cranky. It was also due to a thunderstorm that the plane had to wait an extra 20 minutes before landing. Read more about our experience flying with a baby here.
I was so happy to have her in the carrier as we leave the plane as it helps her to be close to me. The baby carrier also helped us to be hands-free and we can carry other things like the diaper bag and our luggage.
The journey to the resort was a nice one. They would play a trivia game on the screen in the bus to entertain you while you wait and also on the way to the airport. The bus driver would also give fun facts about Disney and seemed very informative.
We were also able to see the fireworks in the sky at Disney because it was around the time when the fireworks were happening. Overall, it was nice to not think about how to get to the resort and get a relaxing start to our vacation.
From Disney All-Star Sports Resort to Orlando International Airport (MCO)
Confirming when your bus is leaving
A few days before we had to leave Disney World, we went to our concierge to confirm the details of our bus going back to the airport. They will let you know the time and where you should wait for the bus.
For us, it is in the same area as the regular Disney bus so it is easy to spot when the bus is coming. Also, there are benches for us to sit and wait for the bus.
Another note is that Disney resorts have an option for you to store your luggage after you check out before you need to leave the resort. This is free and you can see a bunch of people lining up to store their luggage. If you are unsure where it is, please check with your concierge.
What we did not know is that they will also let you know when your bus is leaving the day before. We found a letter hung outside our resort room door that states what time we should go to wait for our bus. It is around an hour or less than when you need to be at the airport. Be sure to keep the paper as you will need to give it to your driver before boarding.
Going to the Airport
When the Disney Magical Express bus came, we boarded our bus pretty quickly. The great thing about staying at All-Star Sports Resort is that you get picked up before the other All-Star resorts. This means that you can sit where you like before others get on. We chose to sit in the front so we can get off quickly.
The seats once again are pretty comfortable. The only downside is that the trivia games on the screen are the same so we could guess what the answers are.
When we were going to the airport, it was still bright so we could see more of Orlando than we did on the way to the resort. The bus driver was pretty nice and he would give some fun facts about Disney to entertain us on the way to the airport.
The Disney Magical Express is definitely worth it for us since it is included as part of our stay at a Disney resort and I would highly recommend for you to book it for your trip.
Thanks for reading. I would love for you to read the other blog posts on my Disney series. Check these out:
Disney Magical Express: A Review (this post)
Thanks again for reading. If you like what you read, please pin the image below and share with others.